As I do upon occasion, before I get to the events of my week, I would like to comment on an issue that is of great importance to me.
The Governor and the Legislature in the commonwealth face excruciatingly difficult choices this week. Final decisions about the budget bring together the fact of an economy in deep recession, declining state revenues and multiple human needs among the citizens of the commonwealth. Those human needs — for nutrition, housing and health care — must be a high priority for the Church and its ministry.
Our agencies — Catholic Charities, the Caritas Health Care System and the Office of Planning and Urban Affairs — are stretched to the limit these days, but that is the work we should be doing.
A particular issue of concern to me is the possibility that funding for health coverage for 28,000 legal immigrants may be cut in whole or in part. The Church, through Catholic Charities and through our parishes, is in direct and regular service of the immigrant community.
My hope and my request is that a way can be found to sustain health coverage for these legal members of our community. Their resources are few and their support system is always stretched thin. The commonwealth has done a very commendable job of providing health care to the citizens of Massachusetts. It would be a tragic mistake to let these 28,000 members of our community lose access to the precious good of health care.
– – –
Each year Communion and Liberation organizes a symposium on education, which is one very important theme in the teachings and writings of CL's founder, Father Luigi Giussani, who was himself a great educator.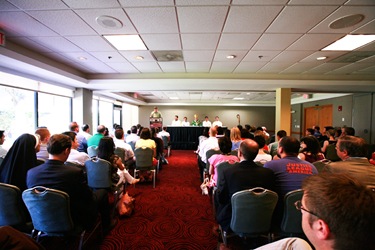 Father Giussani began the movement in the late 1960s, seeking to mend the erosion of faith in Italy. He reached out to young people, inspiring them to develop personal relationships with Jesus Christ through three pillars: culture, charity and mission. The Vatican recognized Communion and Liberation as a lay association in 1982, and it can now be found in nearly 80 countries around the world.
On Sunday, I was able to have Mass for the group. The keynote address was delivered by Christopher Bacich, the leader of Communion and Liberation in the U.S.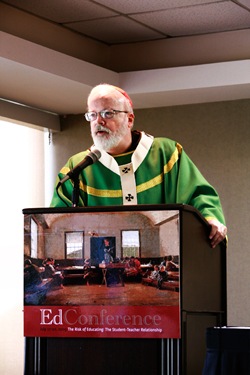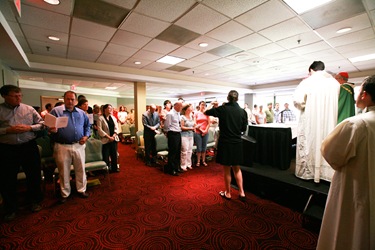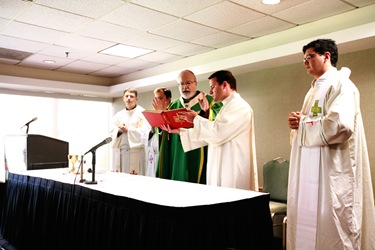 The Boston community was founded 20 years ago. We are very blessed to have the presence of the Communion and Liberation movement in the archdiocese — both priests who belong to the fraternity of St. Charles Borromeo, as well as consecrated laymen in the Memores Domini.
– – –
Later that day, I had a visit from the Paraguayan ambassador and his wife, Eladio and Elizabeth Loizaga. They were finishing their term of eight years at the United Nations.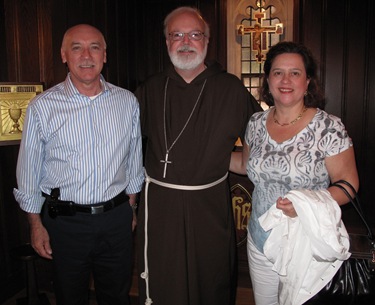 As they prepared to return to Paraguay, they asked to come visit me in Boston. They had been parishioners of mine when they were first married and worked in the embassy in Washington, D.C. I baptized their children and they were involved in marriage preparation there. I understand their children are still very active in the parish.
I was very pleased to hear that he is still playing soccer with the diplomats from the United Nations, including Archbishop Celestino Migliore, the Permanent Observer of the Holy See to the United Nations!
– – –
On Monday, I had a meeting at the cathedral with the presidents of the Catholic colleges and universities in the area to discuss ways of working together to strengthen Catholic education in the archdiocese. I wanted to thank them for the help they are giving to Catholic schools and to talk about the kind of support we are looking for going forward.
With us were Sister Janet Eisner of Emmanuel College, Father William Leahy of Boston College, Dr. Mary Jane England of Regis College, Father Mark Cregan of Stonehill College and Dr. Ronald Champagne of Merrimack College as well as our secretary of education, Mary Grassa O'Neill, and several members of her office.
We talked about forming a "Catholic Education Strategic Alliance" which would allow our 135 Catholic schools to benefit from the expertise of the faculty at our local Catholic colleges. Meanwhile, the colleges will be able to deepen their commitment to ensuring the future of high quality Catholic education from pre-K through graduate school.
Our goal is to have the alliance formed and active within the next six months.
– – –
That same day, I met with the consul general of Portugal, Paulo Cunha Alves. He has just arrived at this new post, and it is certainly a very important consular position for Portugal because of the large number of immigrants in New England, particularly from the Azores. He brought me a lovely book about Portuguese culture.
– – –
On Tuesday evening, I attended a men's group Holy Hour at St. Therese Carmelite Chapel in the North Shore Mall in Peabody.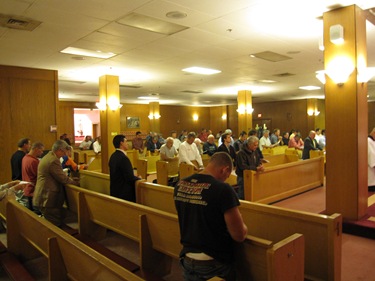 There was a wonderful turnout. The men participated in adoration, confession, conferences and we ended with benediction.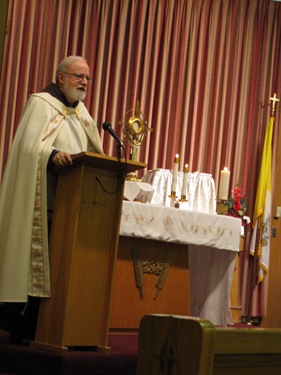 As I told the men, it is my ardent desire that the Boston Catholic Men's Conference will help us to form men's prayer groups like this — where they can come together and learn about the faith as well as support each other in a life of prayer and in their vocations as husbands and fathers.
Father Herb Jones is the superior of the Carmelites, and the Carmelite friars have been running that chapel for 50 years. It is one of the chapels that Cardinal Cushing started.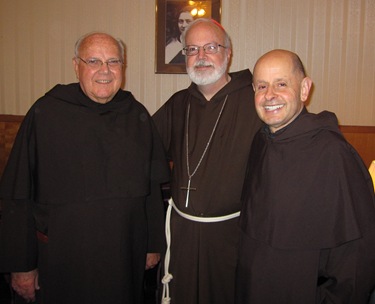 That's Father Herb on the left
– – –
The following day, I attended a luncheon to honor Msgr. Jim Tierney who, for 19 years, has headed up Regina Cleri. It was a chance to publicly acknowledge his fine work and thank him.
The staff presented him with a lovely clock as a gift.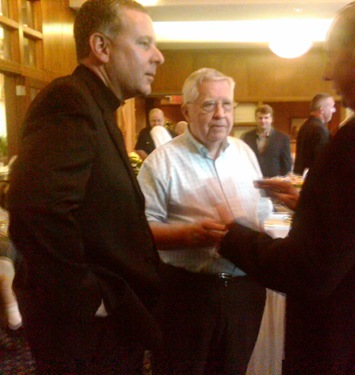 Regina Cleri is a wonderful community for our retired priests, and Msgr. Tierney served them with such dedication and a real sense of fraternity, which has truly made it a home for the residents who are there. He will continue to live there in his own retirement.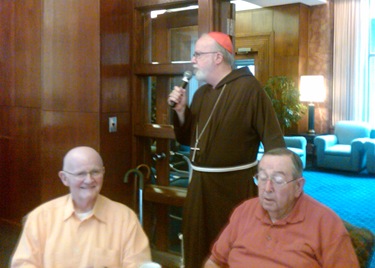 We are very grateful for the good work of Stephen Gust, who is serving as interim director, and also Covenant Health Care, run by the Grey Nuns, which is helping us to administer Regina Cleri.
– – –
Thursday, I was honored to receive the Seven Seals Award from the Massachusetts Employer Support of the Guard and Reserve.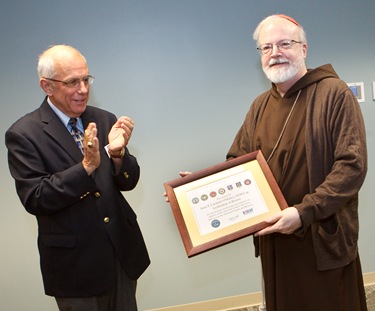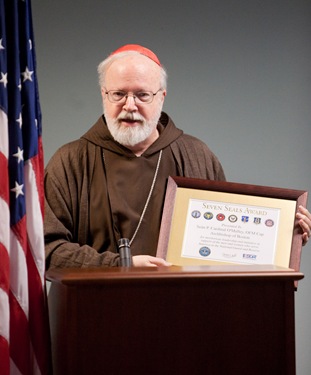 The Seven Seals Award is the highest state award given from the group, which is a component of the Department of Defense. The award is given in recognition of significant and enduring support of the Guard and Reserve.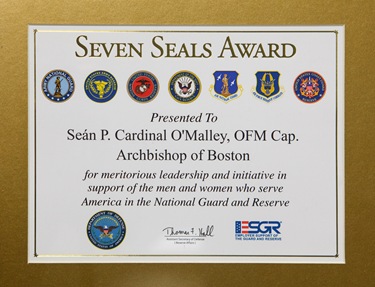 The Archdiocese of Boston has a rich tradition of support for our armed services and continues to provide chaplains to minister and provide the sacraments to those who serve our country.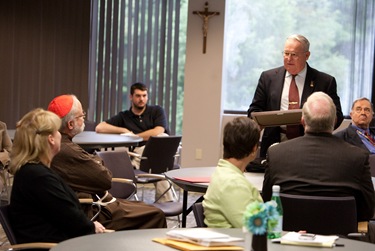 I am grateful to, and proud of, all of the chaplains who have served in this capacity, both past and present.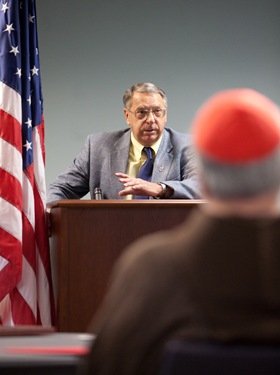 Joining us for this event were representatives from the ESGR and several Boston priests who have served as chaplains for our troops: Msgr. John McDonough, Father Dan Hickey, Father Ed Condon and Father Richard Erikson. They are representatives of the many priests who provide spiritual care for those in the armed forces. I pray that God continues to bless all of our troops and the military chaplains who care for them.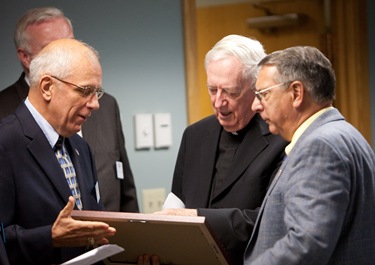 Members of the ESRG show Msgr. McDonough the Seven Seals Award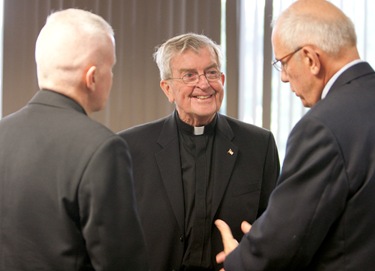 Father Dan Hickey, who served as a chaplain to troops in Vietnam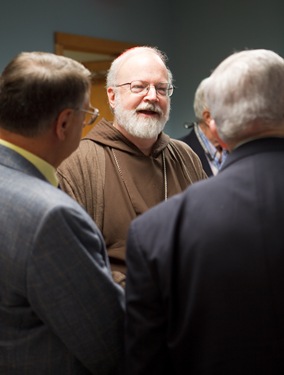 Until my next post.
In Christ
Cardinal Seán