This week we mark the 30th anniversary of Pope John Paul II's historic visit to Boston and the United States. The Holy Father's visit to Boston was both inspiring and energizing for millions of Catholics here and across the country. His presence radiated brightly across the city and all of the archdiocese during what would be a rainy and windy day.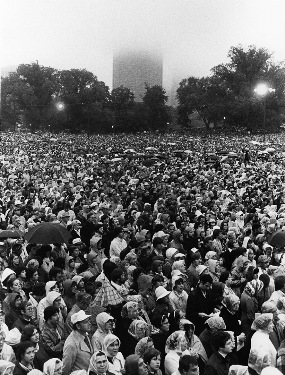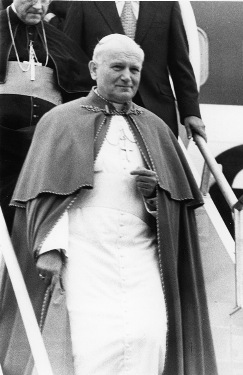 Pope John Paul II offered hope to the world. He guided our Church for more than two decades, touching the lives of millions of people, young and old, calling each of us to trust in the goodness of our Lord.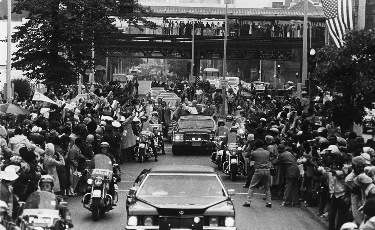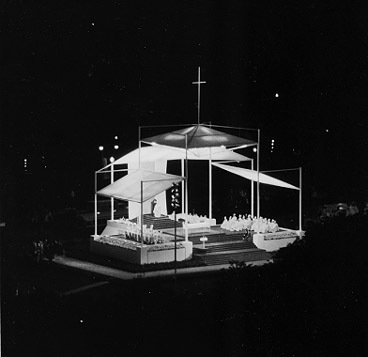 His presence and his imprint on our Church remain as strong today as it did throughout his entire pontificate. In his funeral homily for the late Holy Father, then-Cardinal Joseph Ratzinger, who himself would be elected Pope just two short weeks later, said, "We can be sure that our beloved Pope is standing today at the window of the Father's house, that he sees us and blesses us.
Pope John Paul II continues to bless Boston and all of the Catholic Church just as he did 30 years ago on a windswept rainy occasion of his visit to the United States.
– – –
The Archdiocesan Pastoral Council has organized and is promoting a convocation discussing the social gospel of the Church. They're very excited about the possibility of being able to present to our people the very rich teachings of the Church on social justice — life issues, economic justice, immigration, and so many areas of our lives. We're grateful to all those who have been working very hard at preparing this.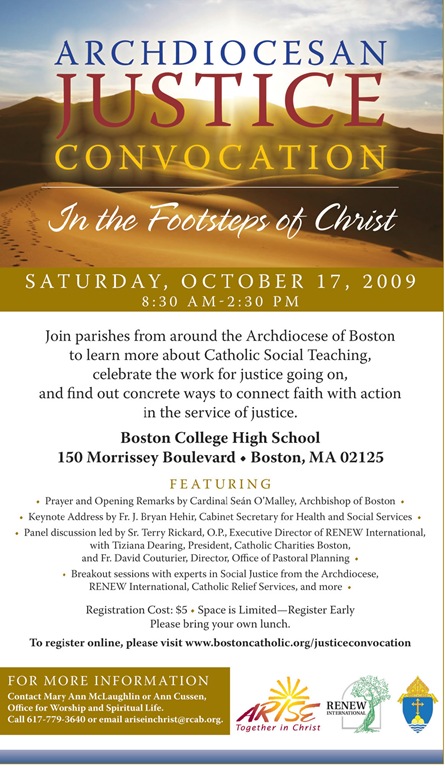 The Archdiocesan Justice Convocation is on October 17, from 8:30 a.m. to 2:30 p.m. at Boston College High School. Please register early to ensure your spot at this important convocation. I encourage you all to attend!
– – –
Last Wednesday night, Blessed John XXIII National Seminary had their annual Lawn Party. It was a great success, with about 400 in attendance. In all, I believe they raised close to $250,000 in funds for the seminary.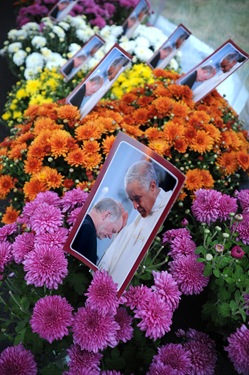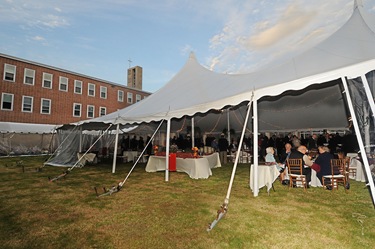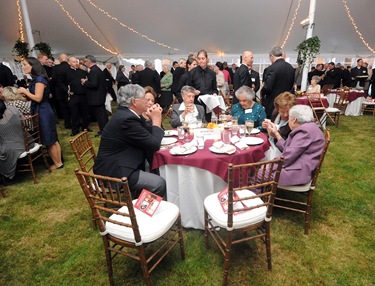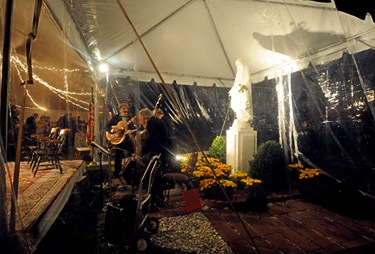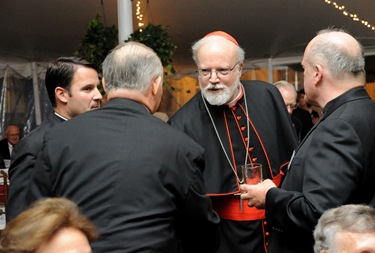 During the evening's speaking program we heard from two seminarians who spoke about their lives and how they heard the call to the priesthood.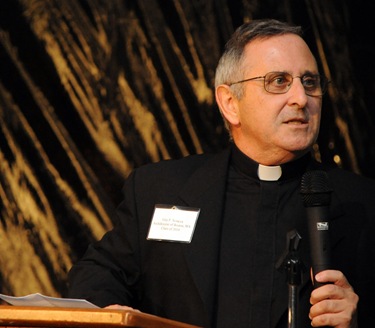 Seminarian Guy Sciacca
Several bishops from the neighboring dioceses attended, which indicates the wonderful support that Blessed John is receiving.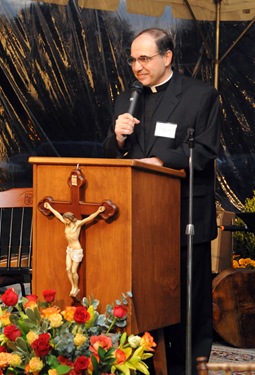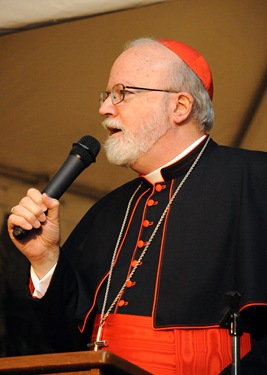 Currently, there are seminarians from over 30 dioceses studying there.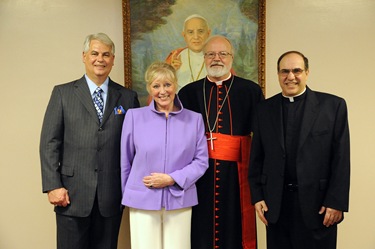 We're very grateful to the rector, Father Peter Uglietto, and Dr. John and Mrs. Gretchen LaRossa, who were in charge of the event
We all wished Father Peter Uglietto a happy birthday since the next day was his birthday.
– – –
On Thursday afternoon, I celebrated a Mass with the priests and bishops of the archdiocese to mark the 25th anniversary of my episcopal ordination. The Mass was at St. Theresa of Avila Parish in West Roxbury.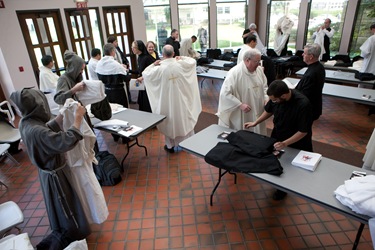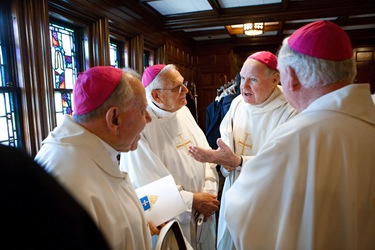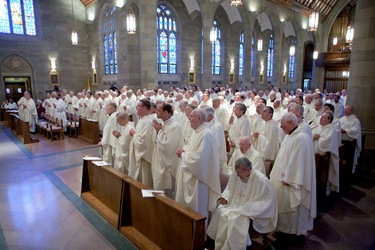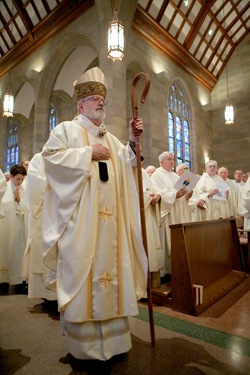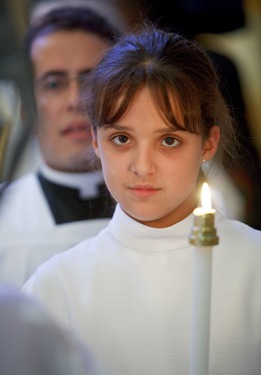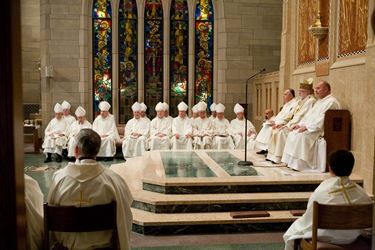 A number of priests suggested that I celebrate a Mass to mark my silver anniversary and to have an opportunity to gather with the priests. The bishops from the region and His Eminence, Metropolitan Methodius of Boston also came. Metropolitan Methodius shepherds the Greek Orthodox Church in the Boston area.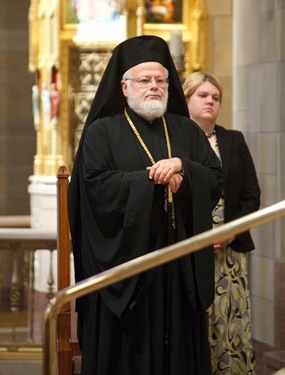 After Communion, I was in for a big surprise. Our Central Region Bishop, Robert Hennessey, presented me with a beautiful crozier, handcrafted of silver in Italy, as a gift from the bishops and priests of the archdiocese. I remarked that when I saw Bishop Hennessey walking out of the sacristy with the crozier, I thought there was a coup d'etat!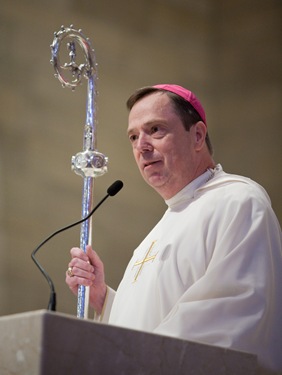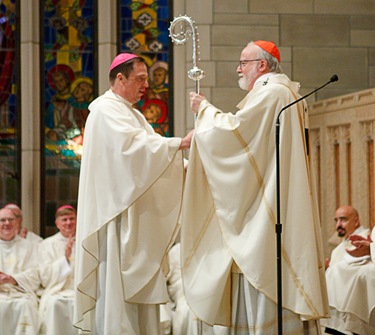 The homilist at the Mass was Father Robert McCreary, who had been one of my major professors in the seminary.
He is a wonderful theologian and very spiritual friar. He was one of the two chaplains — the priests that assist a bishop-elect during the ceremony — who was present when I was ordained a bishop in the Virgin Islands. The other chaplain was Father Paul Brody, who has gone home to God. Father McCreary was very generous in preaching. I want to share a recording of Father McCreary's homily with you.
[audio:homily_McCreary_20090924.mp3]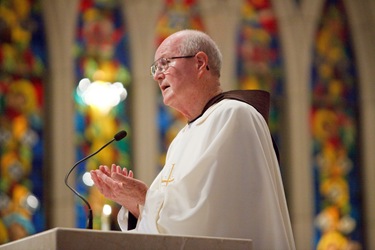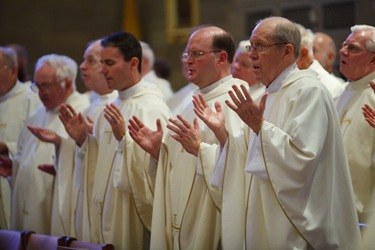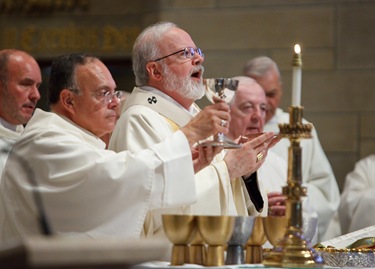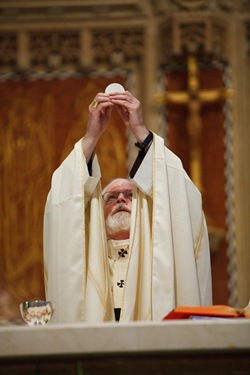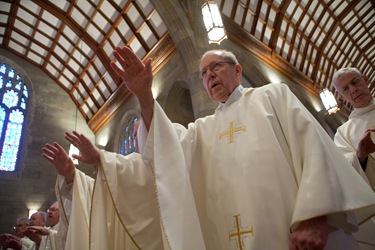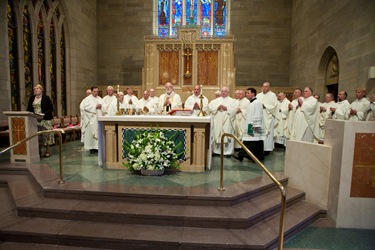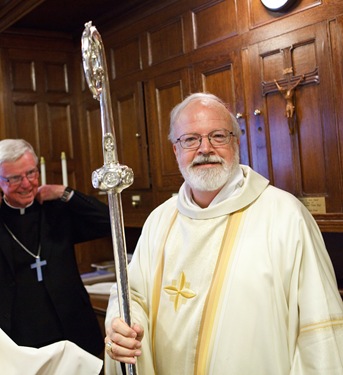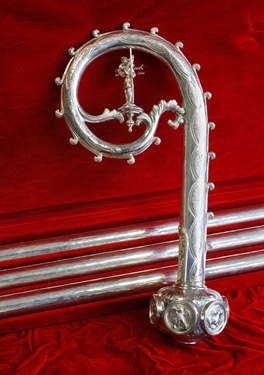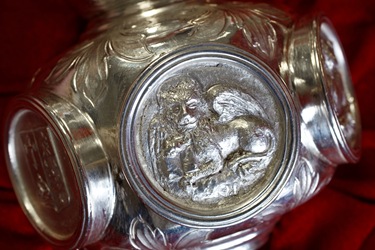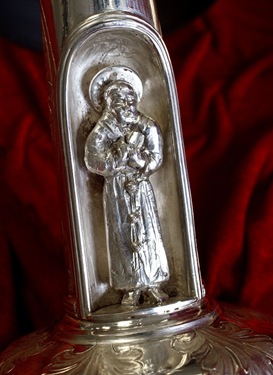 Afterwards, I had a very nice luncheon at St. Theresa's with the priests.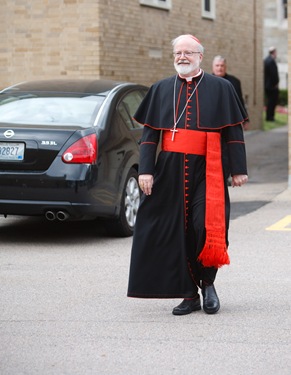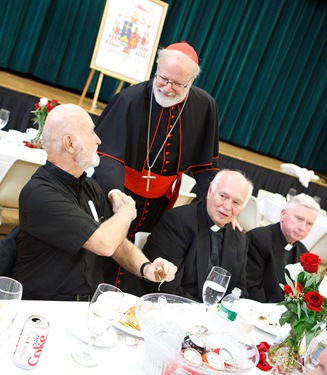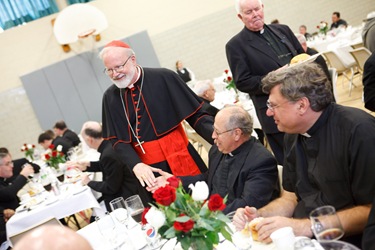 That evening, I had dinner with the bishops at the cathedral.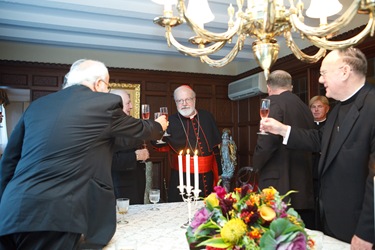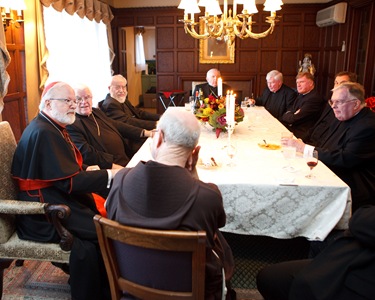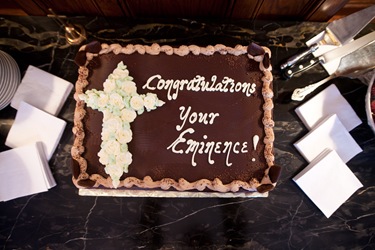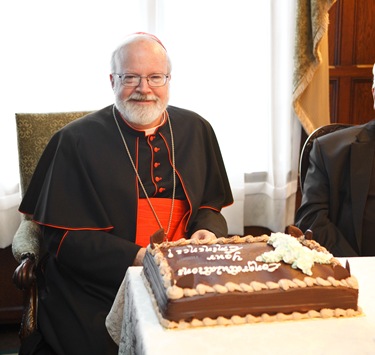 Later, I attended a very beautiful concert offered by the community of Jesus, Gloria Dei Cantores, to mark my Episcopal anniversary. They sang liturgical music in Russian as well as Gregorian chant. It was a lovely celebration.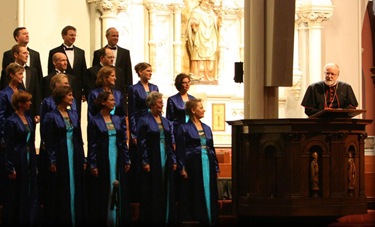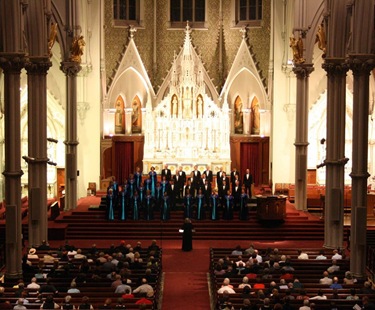 – – –
On Friday, I attended a meeting with Tom Peterson and his associates about an exciting initiative called Catholics, Come Home.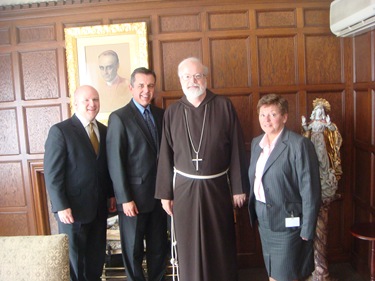 They have developed some very beautiful programs to invite people to return to the practice of the faith. He was reporting to us about the great successes that dioceses have had using these. In the dioceses of Phoenix and Corpus Christi the organization aired commercials on television, prompting an upsurge in Mass attendance of more than 15 percent and a significant increase in the Sacrament of Reconciliation. The initiative is being expanded to 15 more dioceses across the country this Advent, including the diocese of Providence, RI.
We were talking about the possibility of presenting this group to our priests and people here to see if this might be a good way for us to evangelize and to have outreach to inactive Catholics and those who are un-churched.
CatholicsComeHome.org's "Epic" commercial is a beautiful representation of our Church's history and mission.
– – –
From Sept. 25 to 27, St. John's Seminary hosted a Conference on Priestly Celibacy, entitled, "Chaste Celibacy and Continence of the Diocesan Priest."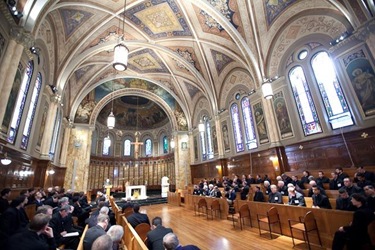 Over a year ago, I had a conversation with Cardinal Francis Stafford (who, at that time, was still heading the Apostolic Penitentiary) in which we both realized how important it is for us to present, particularly to our seminarians and priests, the very deep theological meaning of celibacy.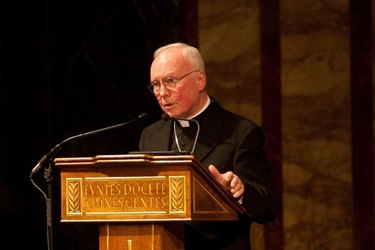 Cardinal Stafford
We were very lucky to be able to assemble an extraordinary group of speakers, including Cardinal Marc Ouellet of Quebec, Cardinal Stafford, and Archbishop Allen Vigneron from Detroit, as well as Father Stefan Heid from Cologne, Germany.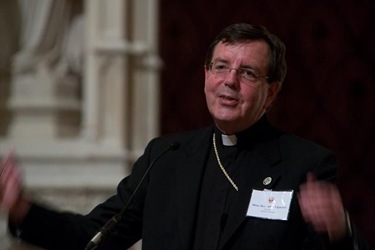 Archbishop Vigneron
Father Heid, like Father Christian Cochini, a French Jesuit, has written extensively on the apostolic origins of celibacy.
It's a theme that interests me very much because people often have difficulty understanding clerical celibacy. You read in the popular media that it was invented in the Middle Ages to protect the real estate holdings and avoid nepotism and such things. But, the real meaning of celibacy, in faith, is the celibacy of Christ, which he invites the apostles to participate in. That was a tradition in the Church right from the first century.
Father Heid made a magnificent presentation. We were happy that the seminarians were able to participate in it so much.
We had two sessions at the seminary and one evening session at Our Lady Help of Christians in Newton that was open to the priests in the archdiocese.
The evening session at Our Lady Help of Christians
Most of those participating were seminary rectors from about 60 seminaries around the country. St. John's will publish the talks.
It was certainly an extraordinary event and one that was very timely given the fact that the Holy Father announced the Year for Priests after we planned it. This was certainly a very important way to celebrate the Year for Priests by focusing on celibacy, which is an important charism for the Catholic priesthood.
– – –
On Sunday, I presided at the 150th Anniversary Mass for Our Lady Star of the Sea Parish in Marblehead. I celebrated Mass and afterward had a chance to greet some of the parishioners.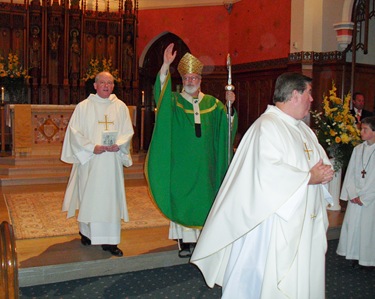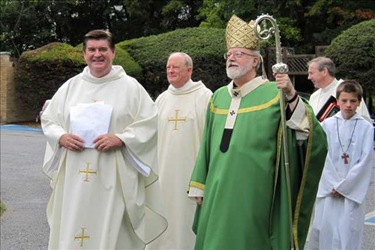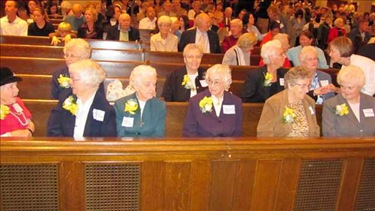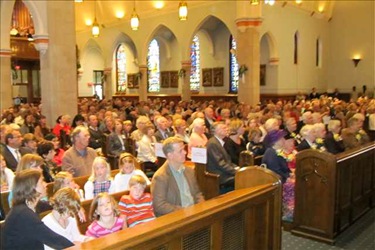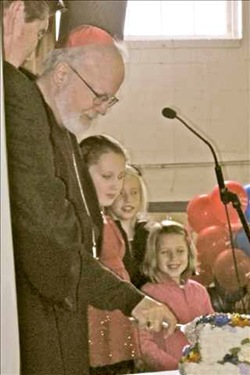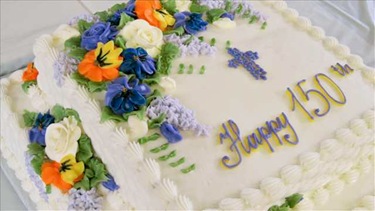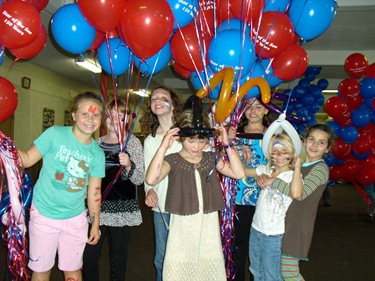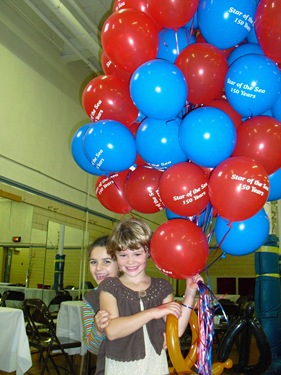 It was a wonderful occasion and I was pleased to see Father Michael Steele is doing such a good job there.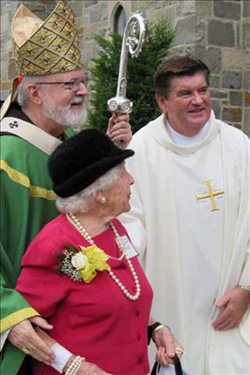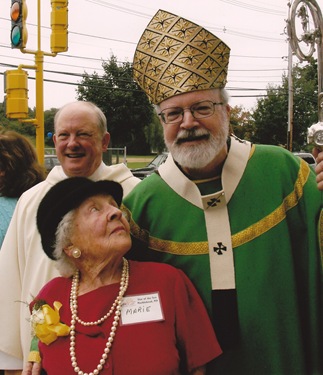 This is a photo with Marie Adams, the oldest parishioner at Our Lady's. She's 91!
– – –
This week I want to mention that Father Bob Kickham, one of my priest secretaries, let me know that the senior league hockey team he plays on recently won their division championship after sweeping several challengers.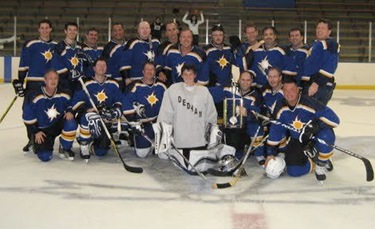 Though the team's name, "Shock", is a little jarring, Father assures me that they are all good family men, involved with activities in their local communities and at their churches and synagogues, and that many volunteer their free time for youth sports and other activities for young people. Congratulations to the team!
– – –
Finally, I want to let you know that I am preparing this post from Ars, France where I am on a pilgrimage with a group of priests from the archdiocese. We are attending an international retreat for priests to help mark the Year for Priests. (Ars is where St. John Vianney, the patron saint of priests, performed his priestly ministry.) But more on that next week…
In Christ,
Cardinal Seán