Hello again to you all!
Last Thursday, at the Pastoral Center, I celebrated Mass for leaders and board members of archdiocesan schools, agencies, and other affiliated organizations.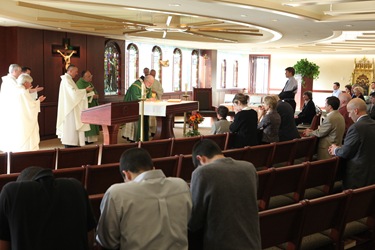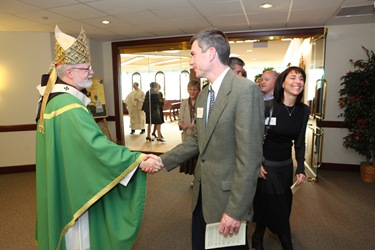 Following the Mass, they gathered in the Flatley Conference Room here at the Pastoral Center for a discussion on strategies for effective board governance. Father Richard Erikson, Neal Finnegan, Ken Quigley and Mary Grassa O'Neill served as panelists for the discussion.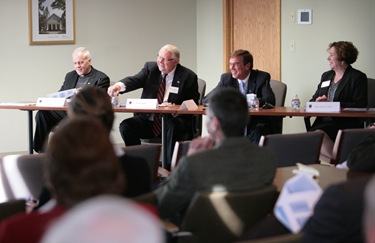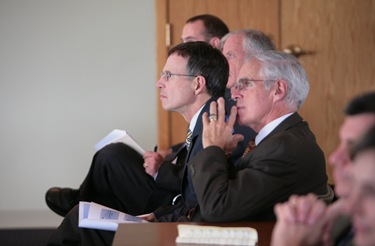 We are very grateful to them, to Kevin Kiley who did such a great job organizing the event and to all those who took time out of their busy schedules to attend. Their presence shows their great dedication to our Catholic institutions.
– – –
Later that evening, I attended a St. Andrew's Dinner at Central Catholic High School, in Lawrence.
St. Andrew's Dinners, which we hold periodically, give young men considering a vocation an opportunity to ask me, seminarians, and other professed religious about vocations in an informal atmosphere.
The attendees came from all over the archdiocese, but most of those at this particular gathering were from Lawrence. It was a large group, about 70 young men.
I gave a brief talk, as did a number of seminarians and one of the vocation directors. Because a large number of the participants were Hispanics, we asked two of the seminarians to address them in Spanish. In addition, Brother Rene Roy, the school's vice president, spoke about his vocation.
As I mentioned, we hold these gatherings periodically. So if you or someone you know thinks they might be called to the priesthood, I encourage you to visit the website of our Vocations Office to find the date and location of our next St. Andrew's Dinner.
– – –
On Saturday, I presided at the ordination of seven new transitional deacons for the Jesuits at St. Ignatius, on the campus of Boston College. It was something of a first for me. Though, on a number of occasions, I have ordained priests for the Jesuits, this is the first time I have ordained deacons for them.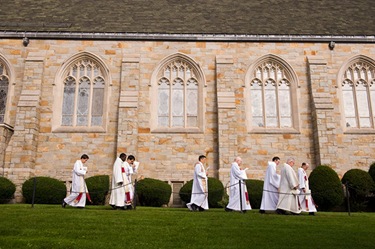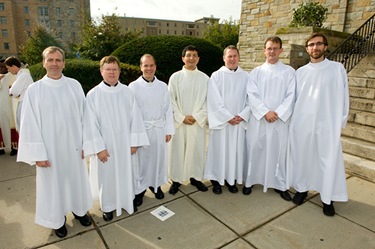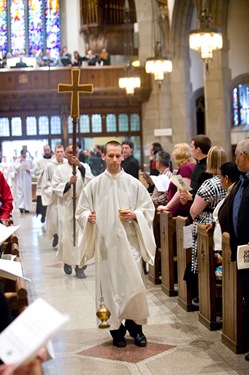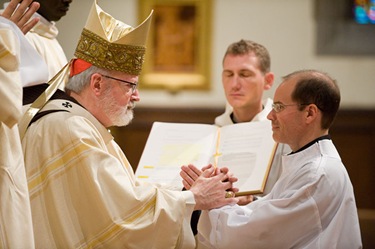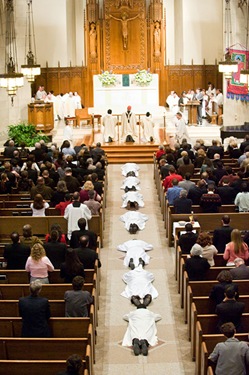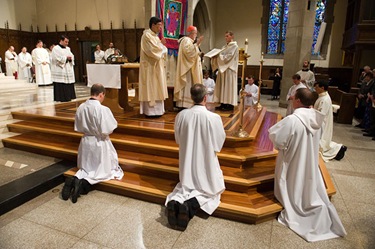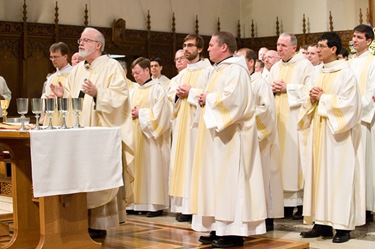 The men were from seven different provinces — two of them in Latin and South America, one from Chile, and one from Peru — but they are all studying here in Boston.
As I often do, the night before, I had dinner with the men about to be ordained. Father Brad Schaeffer was with us and I had a chance to meet the men and many of their families.
It was a wonderful day and I will continue to pray for these men as they make their way toward priesthood. I ask that you continue to pray for them, also.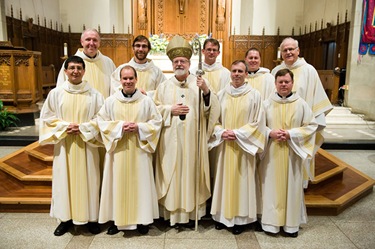 – – –
That evening, I went to St. Jude's Parish in Norfolk for their 60th parish anniversary and 50th church anniversary.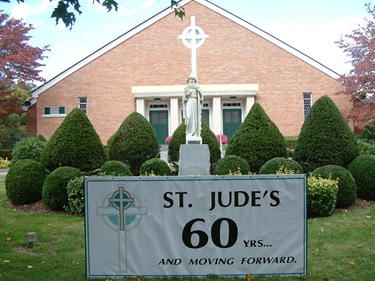 I was privileged to bless their new outdoor Marian shrine.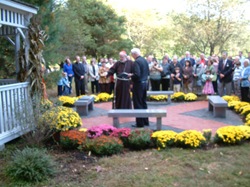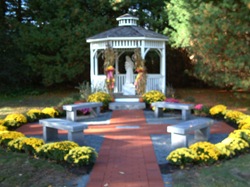 Afterwards I celebrated the 5 p.m. Mass.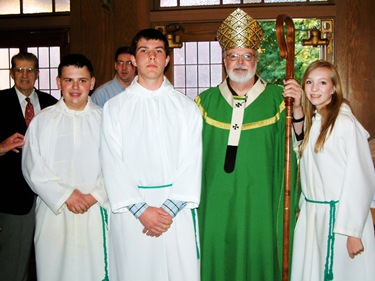 – – –
On Sunday, morning, I presided at the Rite of Candidacy for permanent deacons at Immaculate Conception Parish in Malden.
Candidacy is one of the steps leading up to ordination. Historically, there have been what we would call minor orders, or sacramentals, that were steps on the road to ordination. The first one was always tonsure, in which the cleric's hair was cut by the bishop.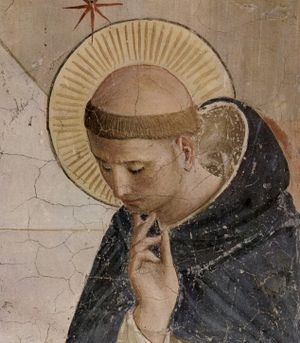 When I was in the seminary we still had these minor orders. Of course, I attribute my permanent tonsure to this sacramental that I received as a young man!
Now, we have the Rite of Candidacy which is a public declaration by the men that they are going to continue in preparing themselves spiritually, academically, and humanly for ordination.
This year, it was at one of the parish masses Immaculate Conception. Deacons Dan Burns and Pat Guerrini, and the pastor, Father Richard Mehm, were with me.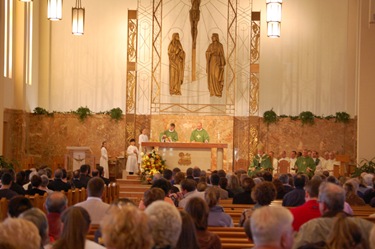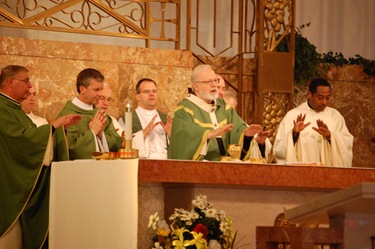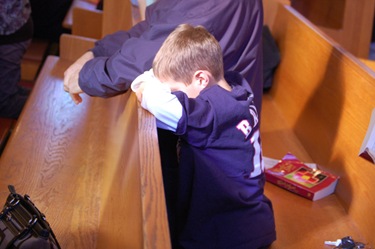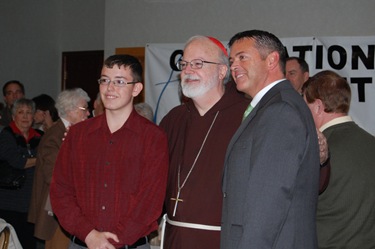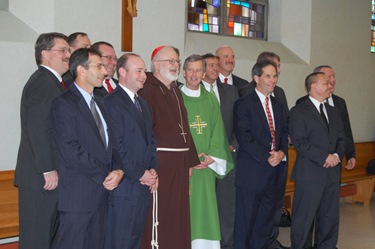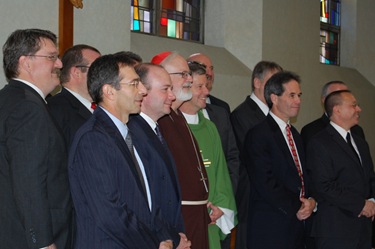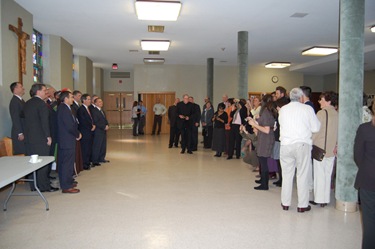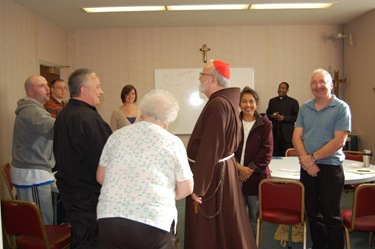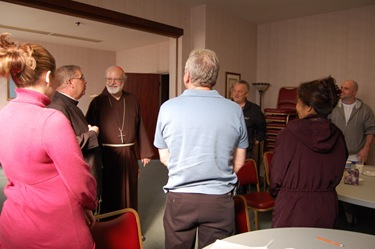 – – –
That evening, I had a Mass for the Ethiopian and Eritrean Community at the Cathedral and blessed an icon for them.
I celebrated the Mass in the Latin Rite, though they sang their hymns in Ge'ez and played the drums, so it had a very African flavor, so to speak.
Afterwards they gave me some lovely gifts.
– – –
On Monday, I attended a vesper service at St. Paul's Parish in Hingham, and dedicated a new statue of St. Paul that was commissioned during the Pauline year.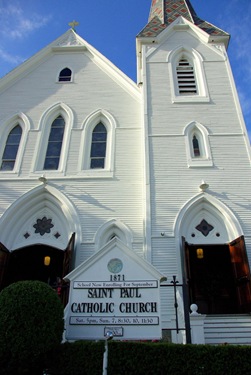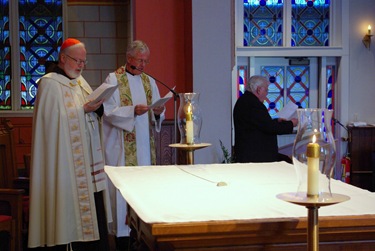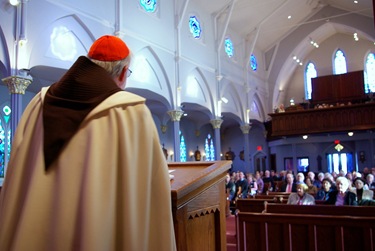 The sculptor who created it, Susan Luery, the man who modeled for the statue, Bruce Retlogle, and the benefactors who were responsible for the statue were all there along with a large turnout of parishioners.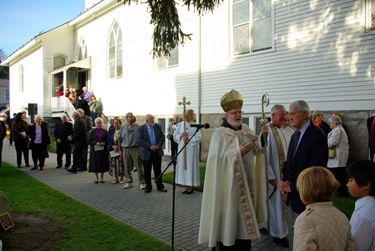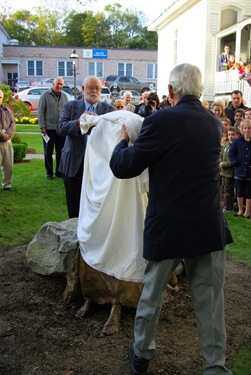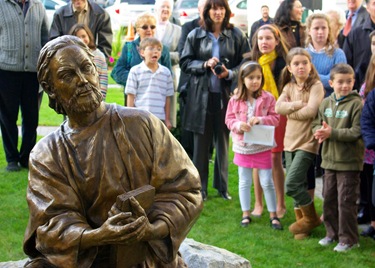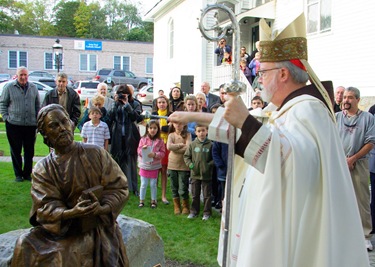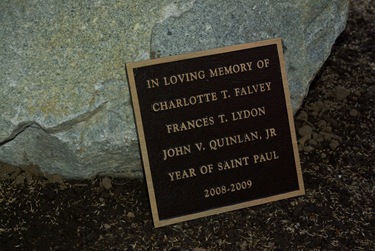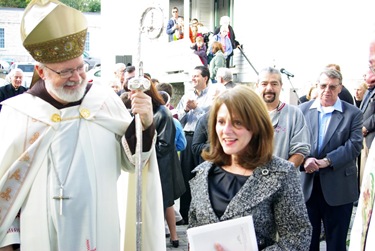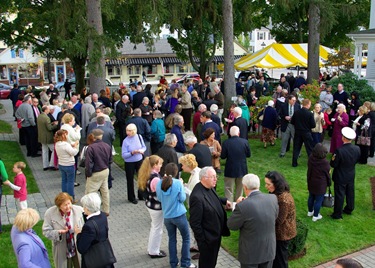 Of course, my visit also gave me a chance to see many of the students from St. Paul's School who are such faithful readers of the blog. Hello to you all!
– – –
I spent Wednesday in Sudbury, Ontario. I was invited by Bishop Jean-Louis Plouffe and a lay group, the Servants of Christ who organized a Mass and a dinner to celebrate the Year for Priests. Although my family came through Ontario when they came from Ireland, I had never been to that part of the province.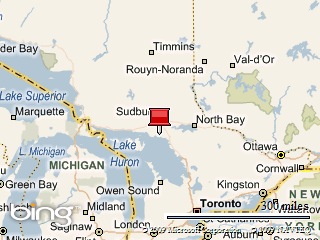 Sudbury is a mining town. There's a nickel mine there, but right now nearly 4,000 miners are out on strike.
There is a very large Francophone community in Sudbury — one of the few outside of Quebec, along with Ottawa.
In Sudbury, one third of the people are French-speaking and they have a great deal of cultural pride. This was evident in the church we had Mass in: St. Ann Des-Pins. It wasn't so much because of the architecture or anything like that, but because the church had burned down three times and has been rebuilt each time even though there is another church, the English church, right next door. Standing between them, you can almost touch both churches.
St. Ann Des-Pins a modern church but it's very beautiful. They have a beautiful statue of Our Lady. A lot of the work behind the altar was all done in nickel, which is so abundant there.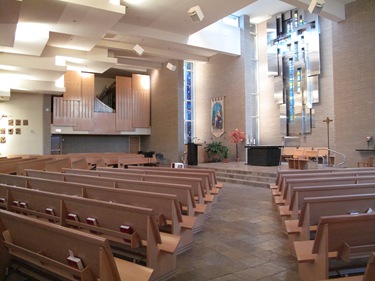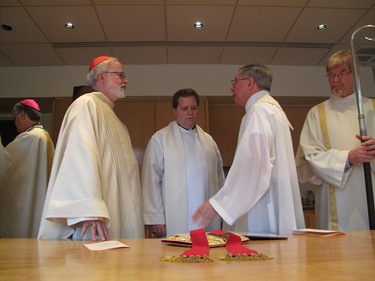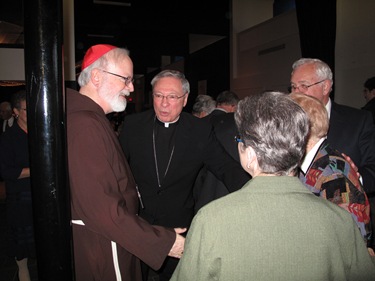 At the Mass, there were probably 700 people, and at the dinner there were 650. I estimate that about 75 of the 90 priests in the diocese were there, despite the fact that many of them had to drive for hours to get there.
The diocese of Sault Ste. Marie, where Sudbury is located, is very spread out. To counteract this, the bishop has moved his residence and the chancery to the geographic center of the diocese. He has two auxiliary bishops — one English speaking and one French speaking — to help minister to the two the language groups and to cover the vast territory they have.
There is also a large Native American population in the area, the Anishinabe people. They are also an important part of the makeup of the diocese and they featured prominently in the liturgy.
We have this video of the "smudging rite" which they have special permission to use during the penitential rite of the Mass.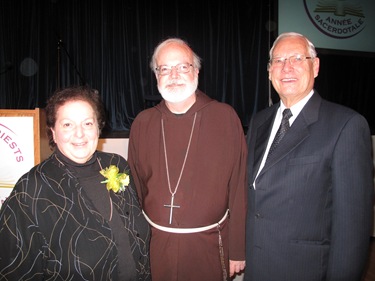 Terry and Gerry Shannon were instrumental in organizing the celebration of the Year for Priests. They also helped bring Perpetual Adoration back to the diocese which is now in its 20th year
I had the Mass and I gave an hour talk on the priesthood that night. It was well-received and they were very enthusiastic.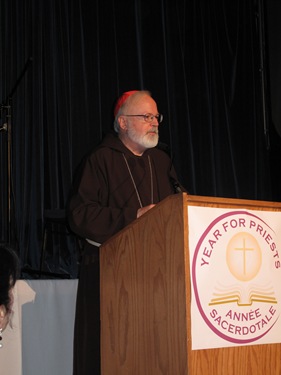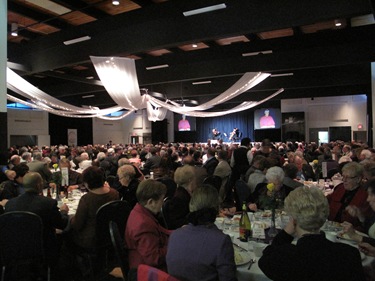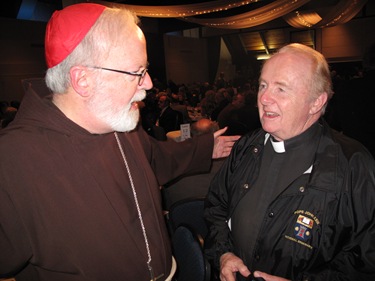 – – –
Finally, last night we held a very important fundraising event for our Cathedral High School. We are so grateful to the trustees of Cathedral High School, many whom are alumni. Under the leadership of John Remondi, they have raised so much money to keep this important ministry alive, to allow inner-city youth to receive a fine Catholic education.