Welcome back!
Brigadier General Paul "Greg" Smith and Major Isaias Liriano, of the Massachusetts National Guard, came to visit me at the Pastoral Center last Thursday.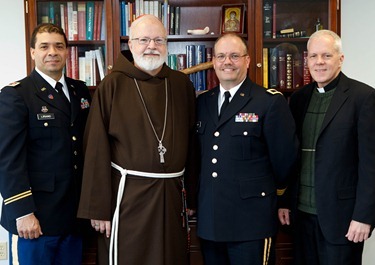 With Major Liriano, General Smith and our Vicar General Father Richard Erikson
The Massachusetts National Guard works with the Paraguayan military to support U.N. missions and provide internal governmental support. Additionally, they offer medical services to those in need in the countryside.
When I was in Paraguay last December, I met with the U.S. ambassador, and she told me the Massachusetts Guard were working in Paraguay. They had heard about my visit there and tried to see me at that time, but they weren't able to reach me. So they came to pay me a visit now.
I was unaware there was this Massachusetts connection to Paraguay, but I was happy to learn about it. They are supporting a school, helping to run clinics and training the peacekeeping forces.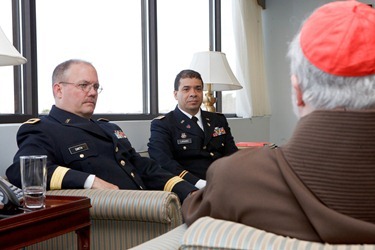 In fact, some of the Paraguayan military are helping in Haiti right now and some of their training is done by the Massachusetts National Guard.
– – –
Sunday, as you know, was Palm Sunday, and as is my custom, I visited a parish to celebrate this important day in the life of the Church. This year, I went to Immaculate Conception in Revere.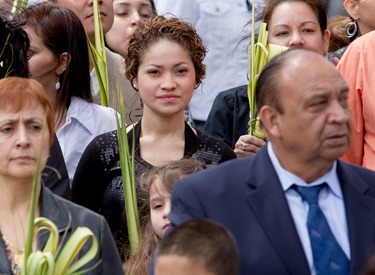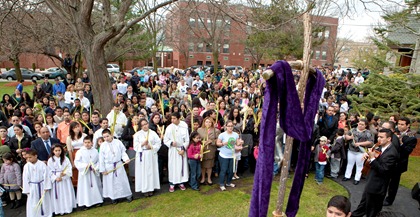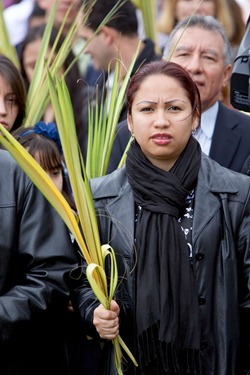 We blessed the palms outside and processed into the church.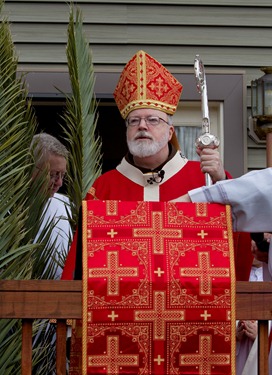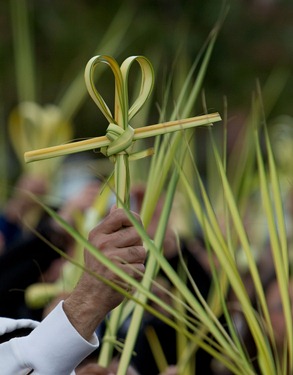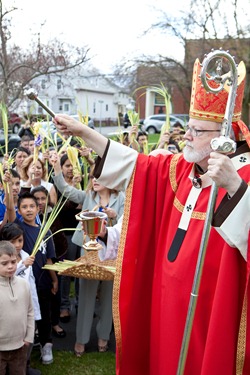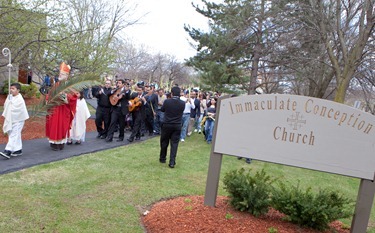 It was a Spanish Mass, and was jam-packed. In fact, it was standing-room-only with people in the back and down the center aisle.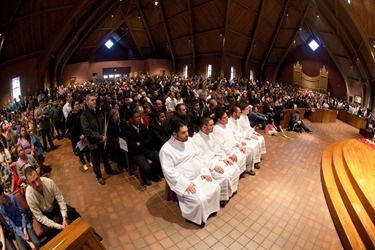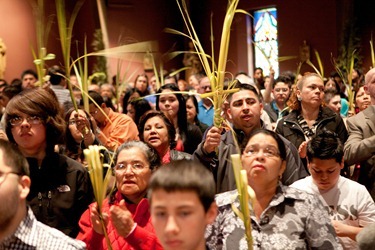 We were very pleased that the mayor of Revere, Thomas Ambrosino, was able to be with us there.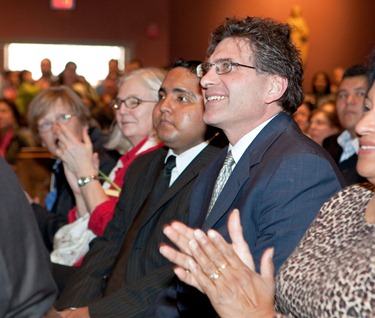 This Mass has become a tradition that has really been embraced by the parish. It was started by Father Carlos Flor, who serves as a vicar there. At that time, a much smaller number of people attended the Mass than do now. However, I am pleased that this has taken hold with the people at Immaculate.
There were several seminarians from Redepmtoris Mater Seminary assisting at the Mass. During the Mass we also instituted one lector and four acolytes from the seminary.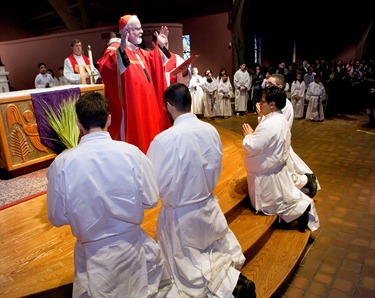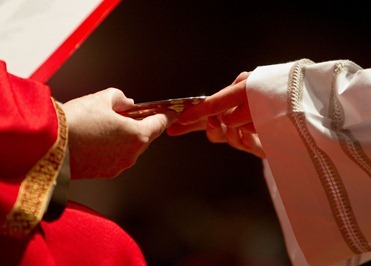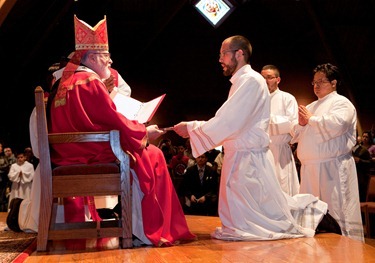 – – –
I begin Holy Week by visiting a parish, but then I am at the Cathedral the rest of the time.
Back at the Cathedral Sunday, I was visited by Hispanic community from St. Mary's in Waltham.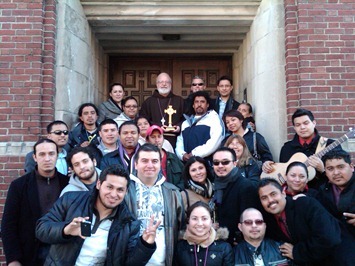 They came for afternoon vespers and they asked for a blessing with the Relic of the True Cross, which I was pleased to give them.
They were accompanied by their pastor, Father Michael Nolan, and the parochial vicar, Father Macias.
– – –
Each year on Patriots' Day, the Boston Marathon is run and the Knights of Columbus have a dinner for the whole state membership and leadership. At that dinner, they present the Lantern Award, harkening back to the lanterns of Paul Revere on his famous ride through Boston.
This year the Lantern Award was given to one of our Boston priests, Father Timothy Butler, a lieutenant colonel in the Air Force. He has been in the Air Force for many years and has been on six deployments to Iraq and Afghanistan.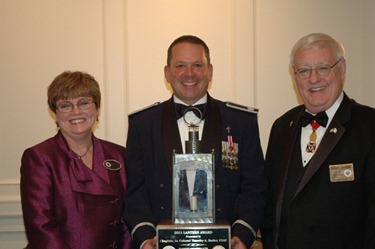 Father Butler with State Knights of Columbus Deputy Michael Baldner and his wife Kathleen
He gave a very beautiful reflection on his vocation as a chaplain.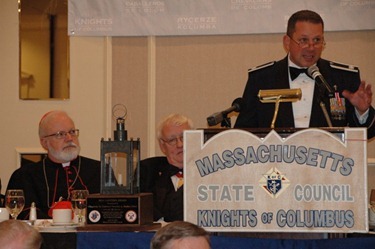 – – –
On Tuesday we celebrated the Chrism Mass, which is originally part of the Holy Thursday liturgies.
Holy Thursday is the day when Jesus gives us the Eucharist and the priesthood to be able to perpetuate the celebration of the Eucharist throughout time and history. So Holy Thursday always has that double theme of priesthood and the Eucharist.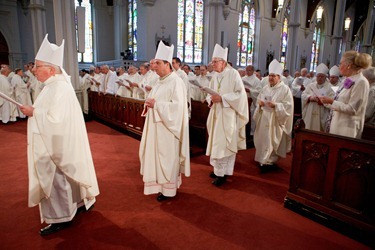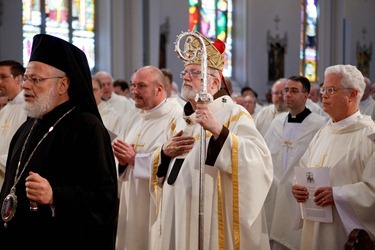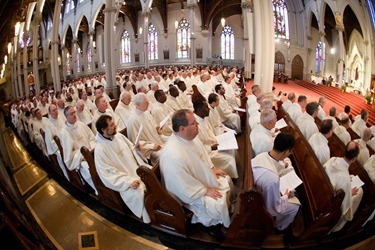 As a matter of fact, there are two separate liturgies for Holy Thursday. One of them is celebrated in only one place in the diocese by the bishop, and is usually at the cathedral.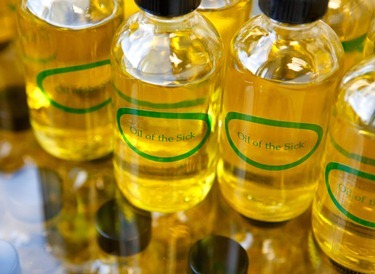 At that Mass, the oils and the Sacred Chrism that will be used for the administering of the sacraments in the coming year — Baptism, Holy Orders, Confirmation and the Anointing of the Sick — is blessed and distributed to the parishes.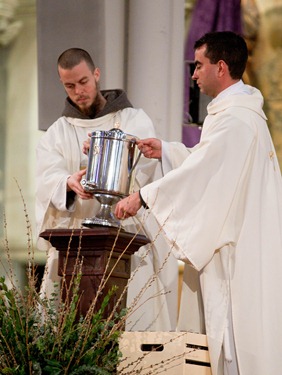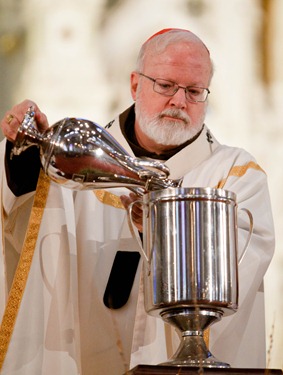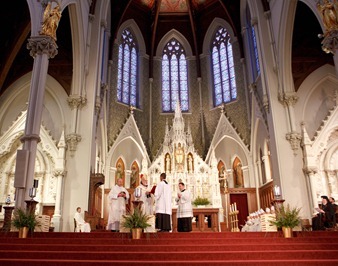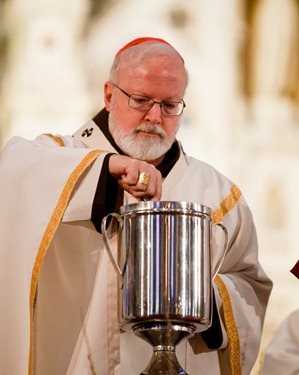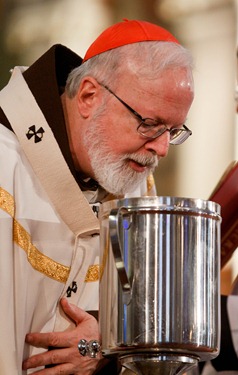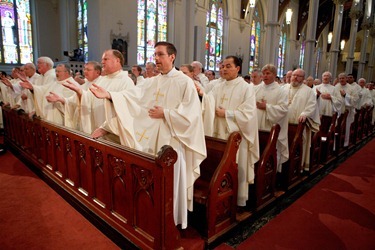 Because it is only celebrated in one place once a year, most Catholics never have the opportunity to attend that liturgy. However, in Boston we do televise it through CatholicTV, so many local Catholics can experience the richness and beauty of this tradition. We also invite some of the youngsters who are going to be confirmed to join the priests at that Mass so they can be present when the Chrism that will be used in their Confirmations is blessed.
Some students from our Catholic schools also make a field trip to the Cathedral that day. For them it is a particularly special occasion because their parish priests tour them through our mother Church. I suspect that, for many, this is their first time seeing it.
Over the years, the Holy See, in its wisdom, has authorized holding the Chrism Mass at another time rather than Holy Thursday to allow more of the priests to be able to attend. In Boston, we hold it on Tuesday. Although it is a Mass of Holy Thursday we celebrate it earlier in Holy Week so that more priests are able to participate.
Pope Paul VI added to the Mass a renewal of vows by the priests, which is a wonderful opportunity for all of us to renew our priestly promises and to reflect on the meaning of our vocation.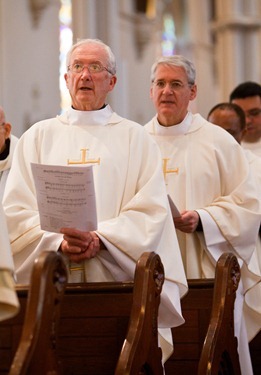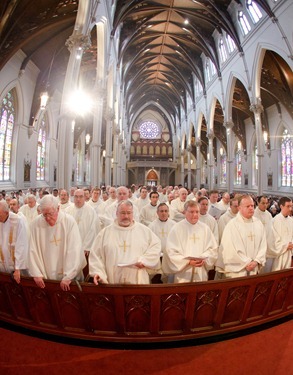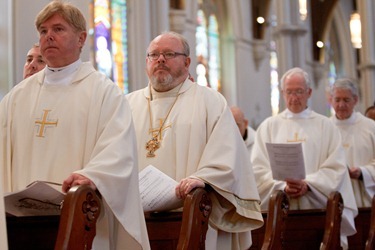 For me, it is a special Mass because I get to share a message with my presbyterate. I would like to share my homily from this year's Mass here:
PilotCatholicNews.com video
I was also pleased Metropolitan Methodios and Father Ted Barbas, from the Boston Greek Orthodox archdiocese, were able to join us for the Mass.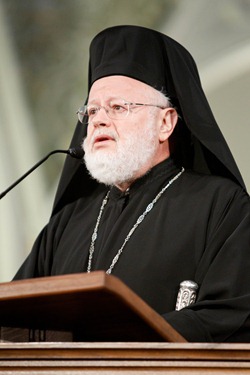 Metropolitan Methodios
Metropolitan Methodios always attends this liturgy, and I go to their Easter Vigil service, which is always held at midnight. I read the Gospel and address the people.
This year, because the Julian and Gregorian calendars coincide, our Easter Vigils fall on the same night. So, I will be saying our Easter Vigil Mass at the Cathedral and heading over to their cathedral in Brookline.
For the second year in a row, the Julian calendar and the Gregorian calendar coincides, which won't happen for many years. However, it is my belief that the Church take steps to try to bring them together.
After the Chrism Mass, we also hold a luncheon with our priests and seminarians. This year, it was held in the gymnasium of the high school next door. As is custom, we honored two priests for their contributions to the life of the Church — this year Fathers Jim McCune and Jack Ahern. Honorees are chosen through a consultation process.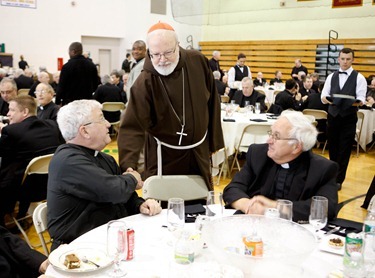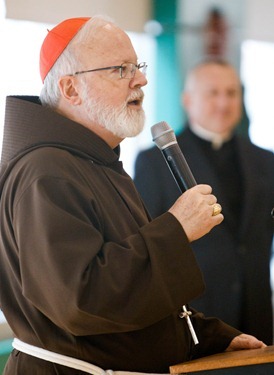 Father McCune is the chaplain to our senior priests. He has served the archdiocese is a variety of ways over his 53 years as a priest, including as a pastor of St. John the Evangelist Parish in Canton, head of the Norwood vicariate and master of ceremonies to Cardinal Medeiros.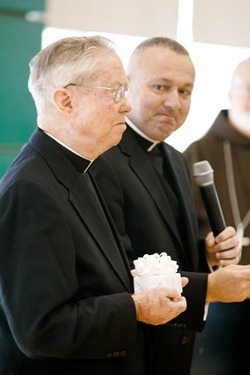 Father McCune
In that role, he got to assist the late Pope John Paul in his 1979 visit to Boston. If you look closely at photos from the pope's Mass on the Boston Common, you will see Father McCune behind him, holding the umbrella while the pope celebrated Mass.
Father Ahern has been a priest for 31 years. He is currently pastor of three Dorchester parishes — Blessed Mother Teresa of Calcutta, St. Peter's and Holy Family. He came to Dorchester from Brookline, where he was a longtime pastor of St. Mary of the Assumption there. He was named a Right Reverend, and chosen as an archimandrite by the Melkite Catholics. I think he is one of our only priests who wears a pectoral cross, other than of course, our bishops.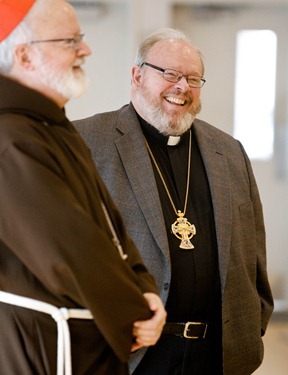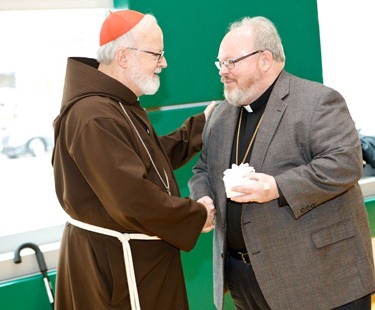 Father Ahern
– – –
On Wednesday, I attended a meeting we hosted at our pastoral center for pastors and directors of religious education.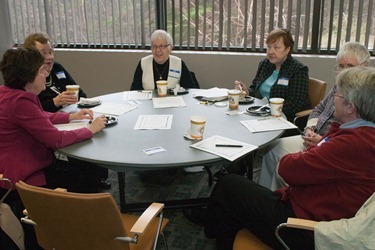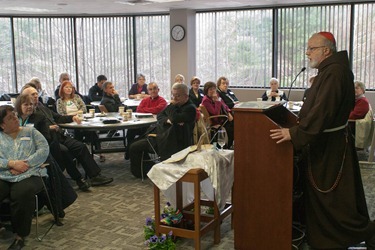 Each year, our Office of Religious Education organizes a gathering for parish catechetical leaders to pray about their work and dialogue about what their doing to form our young people in the faith. Susan Abbott, Susan Kay, and Pilar Latorre, who staff that office, do a wonderful job bringing this group together and planning the afternoon.
I addressed the group and afterwards stayed to listen to two pastors and two DRE's speak. They were very, very good.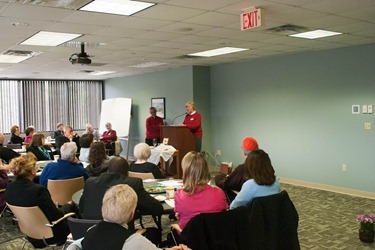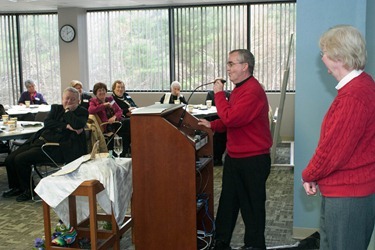 We heard first from Marie Kopf, the director of religious education at St. Patrick Parish in Stoneham, and her pastor, Father Bill Schmitt. Then, we heard from Father Bill Minigan DRE Buffy Walsh, of St. Joseph's in Malden. All talks underscored the important relationship pastors and DRE's have with one another and the important ways they collaborate in passing on the faith to our young people. The remarks were very encouraging.
– – –
The instructions for Holy Week ask that in the cathedrals some of the divine office, or liturgy of the hours, be recited publicly. In light of that, I have restored Tenebrae because not only is it a very dramatic and beautiful way to celebrate the office, but there is a wonderful corpus of music for it.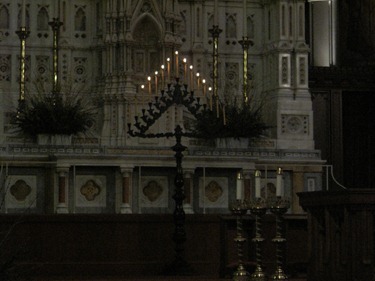 So, on Wednesday of Holy Week, which is traditionally called Spy Wednesday, we have a Tenebrae service here. We invite someone to come in to preach, and this year it was Father Paul Aveni.
As the psalms are recited the lights and candles go out, only one candle is left burning — the Christ candle. When I was a young religious we used to take our breviaries and bang them on the pews during the strepitus, which symbolizes the earthquake that followed Christ's death. You can hear the strepitus at the end of this video of this year's Tenebrae service.
– – –
We are now in the midst of the Easter Triduum. The Triduum is the three most sacred days of the year, when we celebrate the Lord's Supper, His Passion and death, and Resurrection.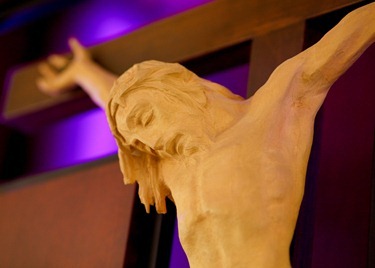 All of this culminates in the feast of Easter, which is the central mystery of our faith — that Jesus has conquered sin and death for us and is alive. Because he is alive we have a mediator with the Father, and it is he who touches our lives in the sacraments, hears our prayers and still accompanies us in the Church when two or three are gathered in his name.
My Easter blessings to you all!
Cardinal Seán