Hello and welcome back!
On Thursday, I went to Brockton for the dedication of the new emergency room at Good Samaritan Hospital, which is part of the Caritas System.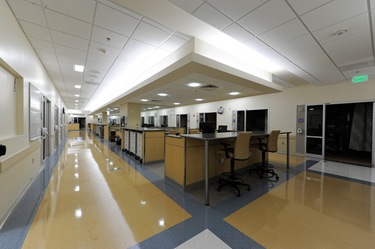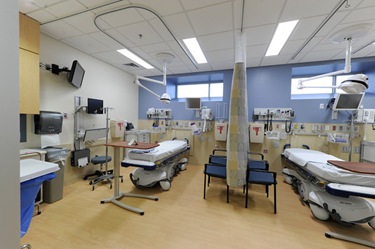 The new emergency room is state of the art. Many of the community leaders gathered for the event. The old emergency room was in really deplorable condition and this one—thanks to Steward Health Care's gift of $30 million—is magnificent.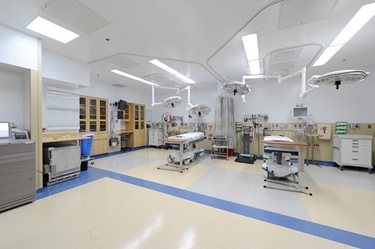 The old emergency room opened in 1968 with an expected annual capacity of 25,000 visits. In the last few years, the average annual visits have more than doubled the original figure and the new emergency department will accommodate approximately 60,000 yearly visits.
I was very happy to see Dr. James Thomas there, who works in the emergency room. His brother is the Vicar General of the Maronite diocese of St. Maron. Dr. Thomas has worked with Caritas Christi at different hospitals and is now there.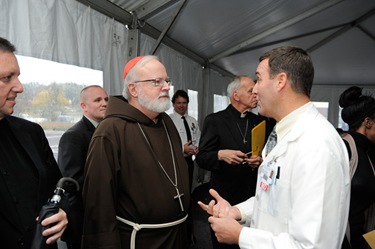 Chatting with Dr. Thomas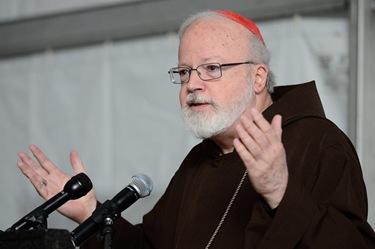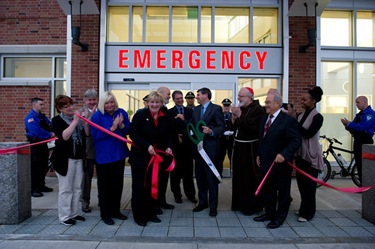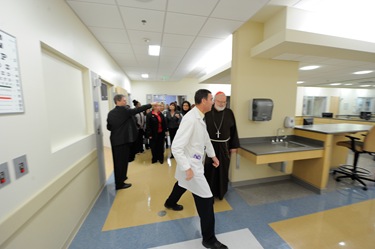 They gave us a tour of the new facilities
– – –
On Friday, Bishop John Dooher had organized a day of recollection for priests and invited Father John Sassani, from Our Lady Help of Christians Parish, to preach. It was hosted by the monks at Glastonbury Abbey in Hingham. So I went down to visit and have lunch with them— it was a very good group of priests.
I have been encouraging the auxiliary bishops to schedule these opportunities for the priests — that they get together three times every year to pray and to be in each other's company. It's really a very important part of our priestly ministry; we must be ministering to each other and building up a strong and united Presbyterate.
– – –
On Friday afternoon, I visited with circus workers and blessed some animals of the Ringling Brothers and Barnum & Bailey circus that was in town.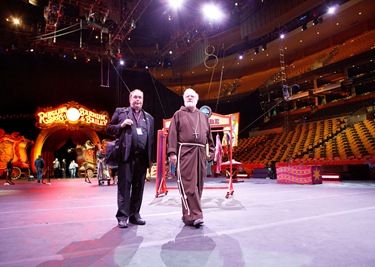 With Father Jerry Hogan
Father Jerry Hogan for many years has been the chaplain of the circus workers. The Church has always had a special ministry to people working in the circus because there are many Catholics involved. Since they're traveling with their families from place to place, it makes it difficult for them to be incorporated into a parish.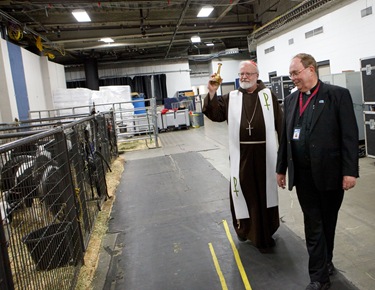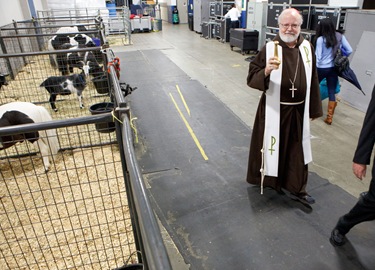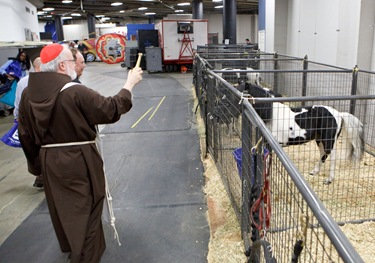 There have also been groups of Sisters, particularly the Missionary Sisters of the Sacred Heart of Jesus in the United States, that have traveled with the circus.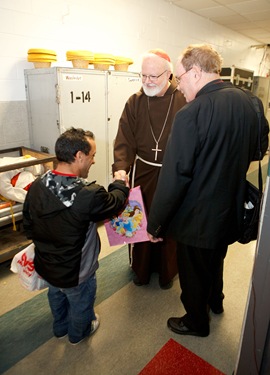 But Father Jerry has always made himself available to them since being named chaplain in 1993, and he was anxious for me to meet some of his parishioners at the circus. It's quite an international group. There were many Brazilians, a number of Argentines, Chinese, Colombians, Mexicans, and Hungarians, among the many cultures there.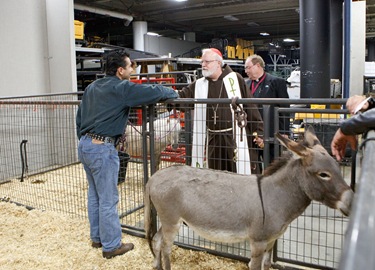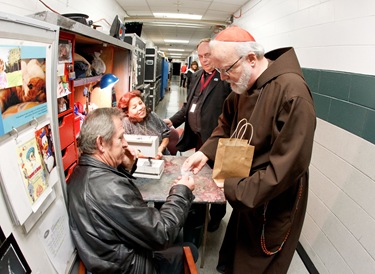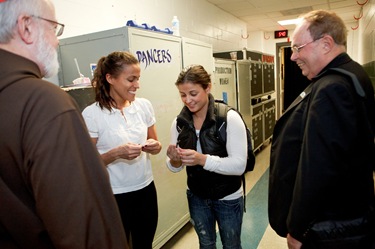 I also had my picture taken with the Ringmaster, who was from New York, an American—a very tall and imposing gentleman.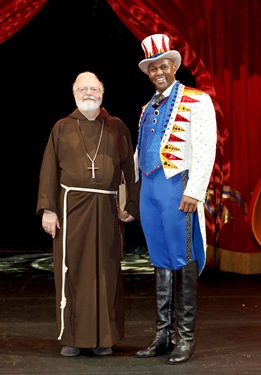 Father Hogan also generously arranged for the senior priests from Regina Cleri and their support staff to be a part of the evening and they had a fun experience at the circus.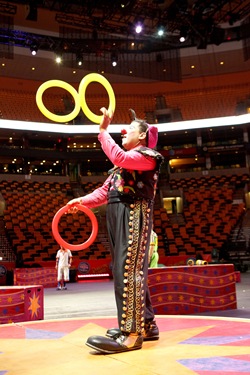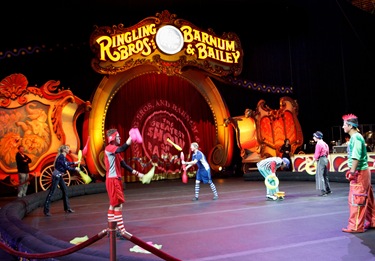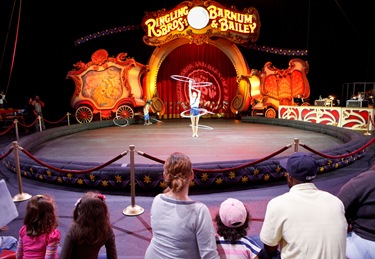 – – –
That evening, I went to the Irish Pastoral Centre fundraising dinner at Florian Hall in Dorchester. They honored a very famous sports broadcaster, Mícheál Ó Muircheartaigh, from Galway who was in attendance.
The Irish Emigrant newspaper was there and sent us some photos.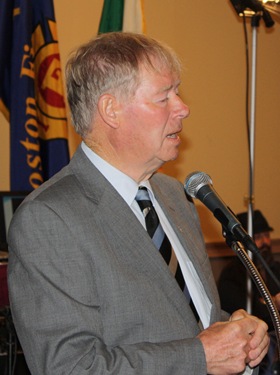 Honoree Mícheál Ó Muircheartaigh
Father John McCarthy, Sister Marguerite Kelly and Alicia Connors are part of the staff of the IPC, so I was there to greet them and thank all of the participants in the evening for their support of the Irish Pastoral Centre and to congratulate them on the fine work that they do, not only for Irish immigrants but for other immigrants as well.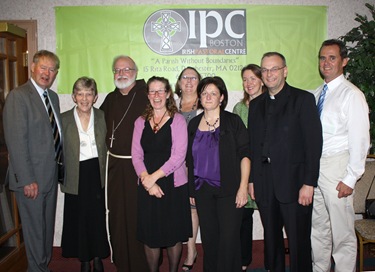 With members and friends of the IPC, including Sister Marguerite Kelly, Alicia Connors and Father John McCarthy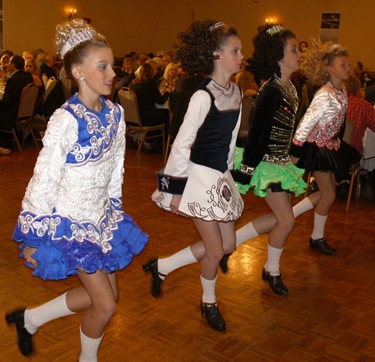 There were a group of children who were step dancers who did a fine job.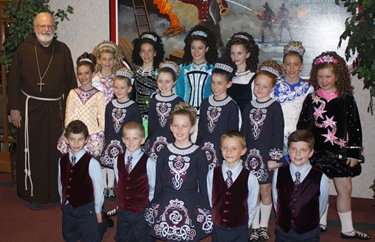 The Irish Consul General, Michael Lonergan, was also there. He is from Limerick, so I introduced him to our seminarian David O'Connell who is from Limerick as well.
– – –
Also that evening, we have a monthly event called "Jesus in the North End" for young adults and college students that has a Holy Hour, priests hearing confessions, Mass and then afterwards a social event. This time there was a pizza party.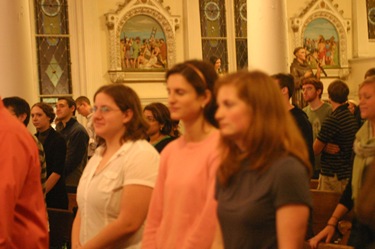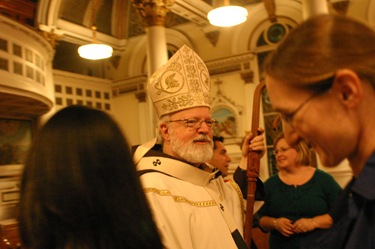 I was there to celebrate Mass and visit with the young people afterwards. We had a wonderful turnout and the Church was filled. I'm very grateful to Father Matt Williams and his office for organizing these activities.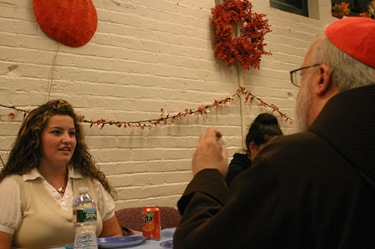 —
On Saturday morning, I was at the Altar Server Appreciation Mass, where there was a huge crowd at the Cathedral.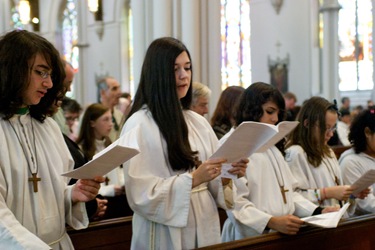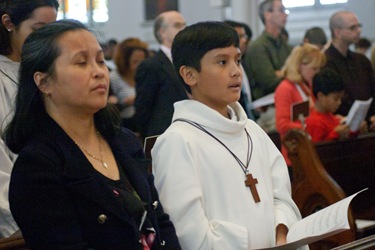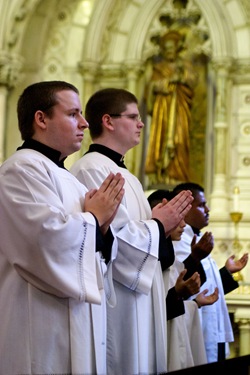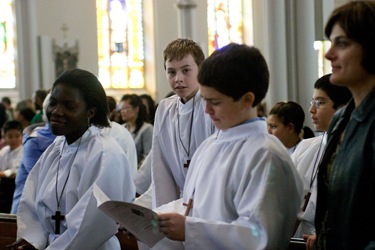 It's an annual Mass to honor our altar servers and many of them came dressed in their cassocks and surpluses or albs. We gave out the awards— the Blessed Mother Teresa and Blessed John Paul II awards to senior and junior servers. It was wonderful to have the St. Paul's choir school singing there also.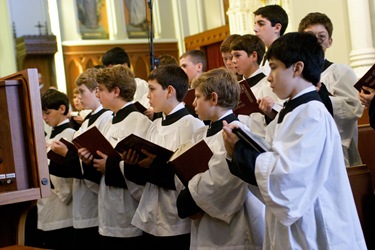 We thanked them and their families for this very special contribution that they make to the life of the Church by helping our priests in the celebration of the Eucharist. I encouraged all of them to deepen their love and appreciation of the Eucharist. I shared with them some of the experiences in my own life as an altar server. It was an important part of my vocational discernment.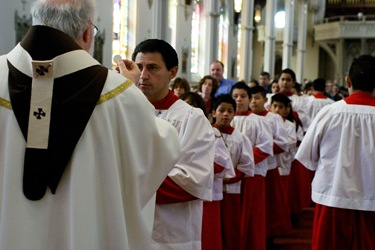 After Mass there was a gathering in Cathedral High School with the "Make Your Own Sundae" setup of ice cream and assorted toppings. I didn't go, as I was greeting people after Mass at the church but, as you can see, there were a lot of happy youth (and adults of course) there!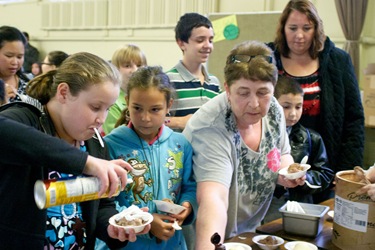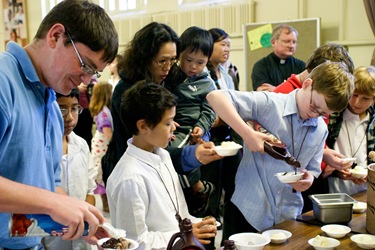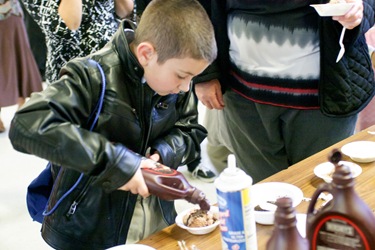 – – –
That evening, I attended the Massachusetts Citizens for Life banquet dinner at Lantana. They were honoring Ambassador Ray Flynn and Linda Thayer. MCFL president, Anne Fox, and her associates are doing very important work for life in the Commonwealth.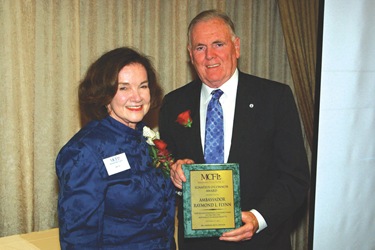 Ambassador Flynn with MCFL's president Anne Fox
At the dinner, they invited Chuck Chalberg, who does a show on G.K. Chesterton and who dresses up like him.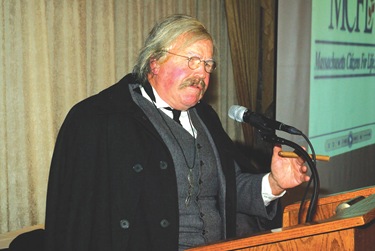 So I couldn't pass up the opportunity to have my picture taken with G.K. Chesterton! He gave a wonderful presentation.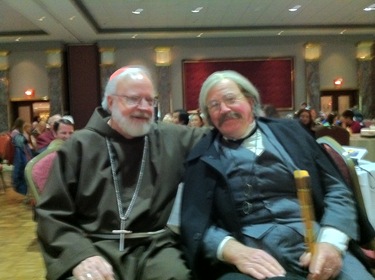 Ambassador Mary Ann Glendon was also there and many other leaders from our own Catholic community who are supportive of the organization. Father David Mullen, who is a board member, was also part of the program.
– – –
On Sunday, I went to St. Patrick's church in Roxbury to celebrate their 175th anniversary as a parish.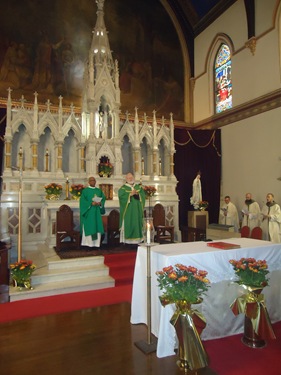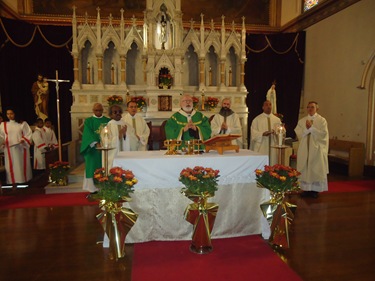 I had a trilingual Mass there of Spanish, Portuguese and English. It was standing room only in the church. It was a very enthusiastic and beautiful celebration of the joyful and fruitful life of this parish, which for almost two centuries has been welcoming new-comers into the Church here in Boston.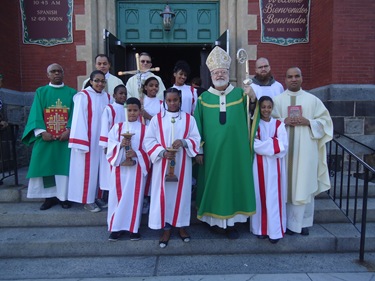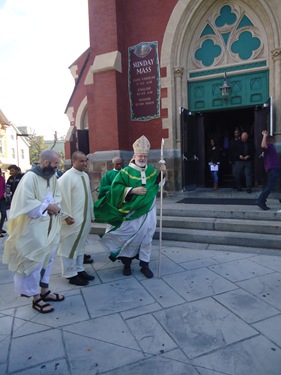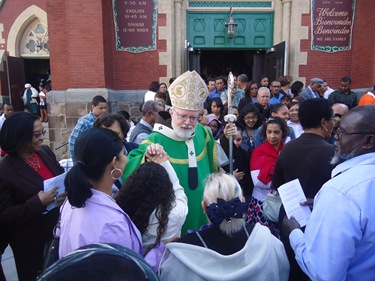 When the church was opened and the parish was started, as I mentioned to the people, Texas was fighting for its independence from Mexico, the United States was involved in war with Seminole Indians in Florida and the whole country was moving towards the Civil War over slavery.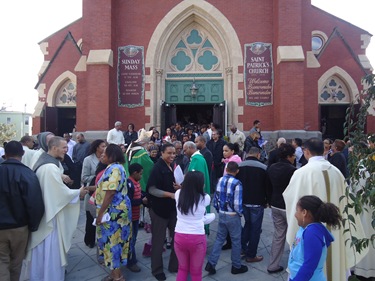 And it was almost the same year that the first Catholic school in the archdiocese was burned to the ground by the Know Nothings in Charlestown. It was a difficult period for Catholics, but there were courageous people united in their faith, and now into this great community of today. It's still challenging to be Catholic, and we need to have their courage and their desire to pass on the faith to new generations.
We offered the Mass for all of the priests and sisters and parishioners who had served in that parish. We made a special prayer for the beloved pastor of St. Patrick's, Father Walter Waldron, who unfortunately was unable to be there because he was in the hospital, recuperating from surgery. But he was very present to us.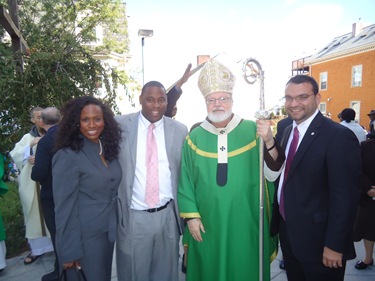 Afterwards, I had coffee with the Cape Verdean Sisters, whose community was founded by a very saintly Capuchin from Torino who spent almost 60 years working with the Cape Verdean community — Padre Pio was his name. And then I stopped by the hospital to give a full report to Father Waldron about the celebration… since he had played hooky!
– – –
That afternoon, I went to a Mass of welcome and a reception at St. Anthony Shrine for their new Guardian, Fr. James Kelly, who's coming to us from New Jersey. He's a Franciscan friar of the Holy Name province and he also happens to be Bishop John Dooher's cousin.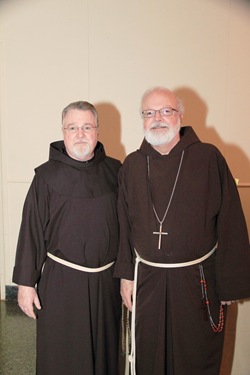 Many people came together for the occasion to welcome him and to express our appreciation of the ministry of the friars in Boston.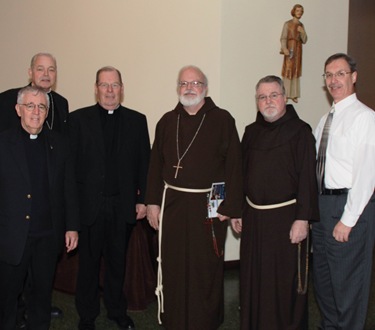 – – –
On Sunday evening I went to a reception along with our new Vicar General, Msgr. Deeley, for the Cardinal's Leadership Circle organized by our Boston Catholic Development Services.
This gathering was hosted by James and Julie Shea of Salem for the work of our Archdiocese . There were over 50 people gathered in their home to talk about what's happening in the diocese and to thank parishioners for their support and leadership.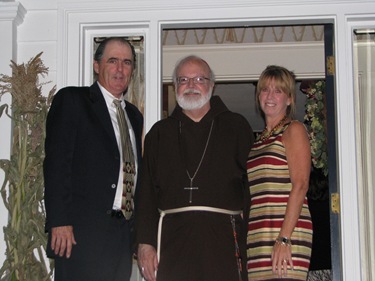 With James and Julie Shea in front of their lovely home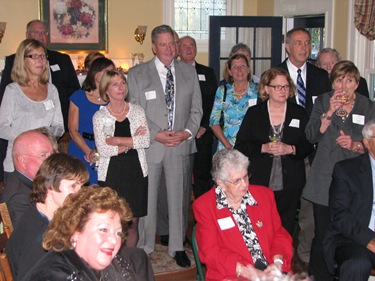 It was a wonderful gathering of leaders from the North Shore area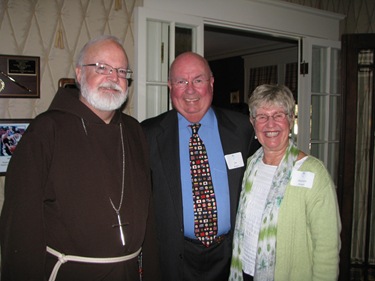 With Leadership Circle members Jim and Maureen Morgan
We surprised James and Julie with special wishes as they both celebrated their birthday the week of this event
As we drove there we encountered scores and scores of motorcycle riders and, of course, very elaborate Halloween decorations in the area. We told the attendees that we thought to gather with them in Salem at the end of October could be spooky, and I said "I advise you all to get home before dark!"
– – –
On Monday, I was at St. Mary's Junior-Senior High School in Lynn where the Mosakowski Family Foundation had made a very substantial donation to this school and five others in the North Shore area: St. Jeanne d'Arc in Lowell, St. Ann in Gloucester, St. John the Baptist in Peabody, St. Pius V in Lynn, and Sacred Heart in Lynn.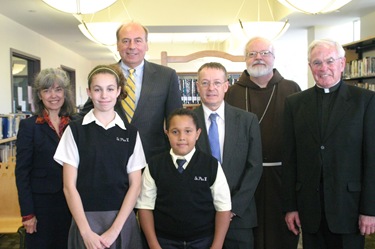 At a reception, a number of people spoke on the occasion and of course I was very pleased to see Jane and Bill Mosakowski.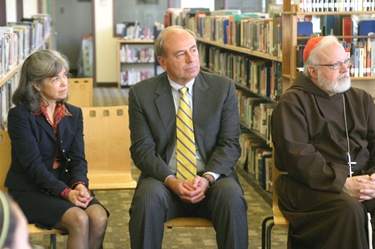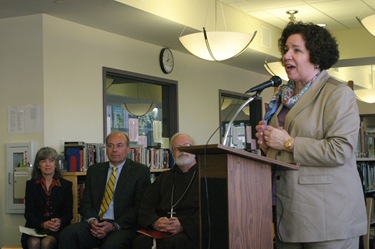 Bill Mosakowski participated in a group that I had asked to visit all of our primary schools in the diocese, to develop an assessment of their financial situations. Bill offered his staff to help with this report, which is very, very valuable to all of our pastors and principals. Bill was so enthralled with what's happening in many of the schools that he decided to make this $1.2 million donation for St. Mary's and the other schools in the region.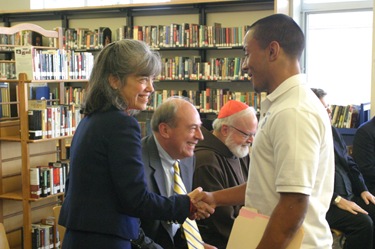 I was able to meet a large group of students who had also received scholarships from the foundation and they gave us a very wonderful greeting.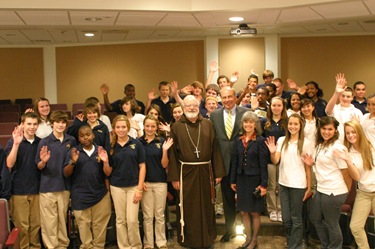 Back in June, the Mosakowski Family Foundation created the Msgr. Garrity Scholarship at St. Mary's, with a gift of $1 million, and I was happy to see some of those funds already at work through these students.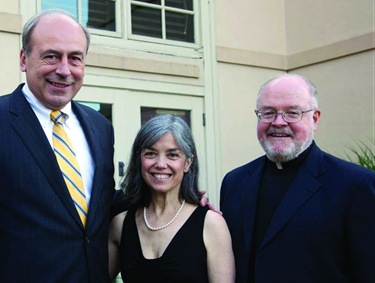 Msgr. Paul Garrity with Jane and Bill Mosakowski back in June
– – –
On Tuesday, I attended a meeting at the Pastoral Center with pastors and principals of our Catholic schools and Father Joe O'Keefe was the keynote speaker. Father O'Keefe is the former dean of the Lynch School of Education at Boston College and has been a professor in education for over 20 years.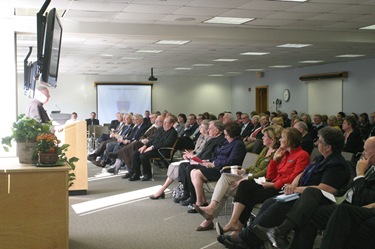 His address was on Catholic identity and the mission of Catholic schools. He gave an outstanding and very inspiring talk, we were all moved by his words.
Dr. Mary Grassa O'Neill gave us a wonderful report on Catholic education in the archdiocese; we're very pleased that this year enrollment in half the schools is up. The test scores are above charter schools, public schools or other comparable schools. It was a very uplifting meeting, and we recognized the schools that had significant anniversaries and plaques were given out to them. Here they are and I congratulate them on their service.
Our Lady of the Assumption in Lynnfield —50 Years— Opened in 1961, founded by the Sisters of St. Francis.
St. Bridget in Abington—50 Years—Opened in 1961, founded by the Sisters of Divine Providence
St. Raphael in Medford—50 Years—Opened in 1961, and founded by Sisters of St. Joseph
– – –
That evening, I attended the St. Andrew's dinner at St. John's Seminary, which was organized by Father Harrington and Fr. Hennessey from our Vocations office.
A number of priests brought young men from their parishes so that they could experience a little bit of the seminary. They were at the Holy Hour, dinner, and then afterwards there was a short program where three of the seminarians—Gerald Souza, Rudney Novaes, Sinisa Ubiparipovic— gave very inspiring witness talks.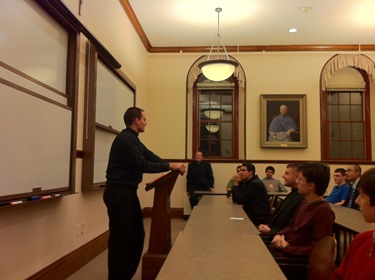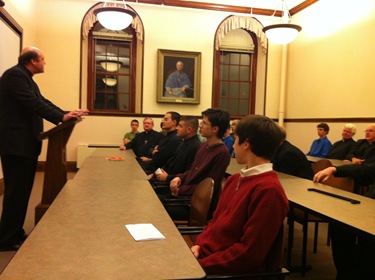 – – –
One Wednesday, I went to a dedication of a renovated permanent housing facility for people who have struggled with homelessness.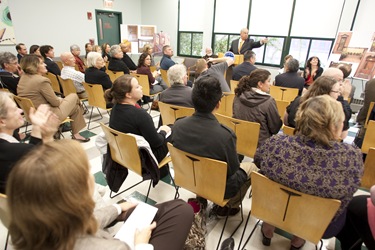 Our Urban Planning Office, that does so much to provide low-income housing to people, has partnered with the Pine Street Inn, a local shelter for the homeless, in acquiring some property and refurbishing it.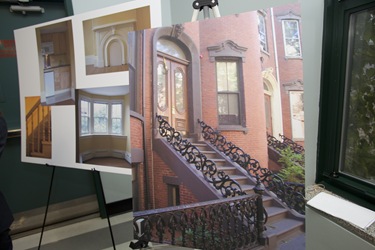 This was a very difficult project to initiate because some of the people in the neighborhood initially objected to this project. Mayor Thomas Menino was very supportive, however, and we're grateful to him and to all of those who worked together to help acquire the financing and to bring this about.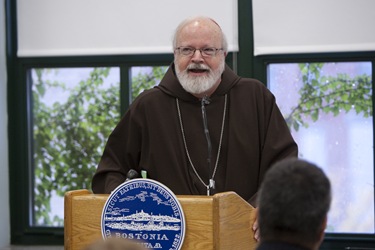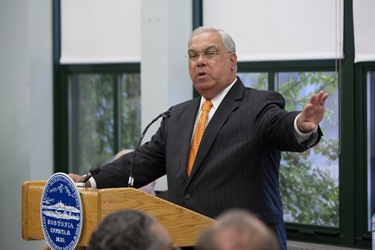 The Pine Street Inn makes a point of trying to place people in permanent housing, not just a "warehouse" of homeless people.
This was an important event for them, but we had the dedication and blessing at Pine Street Inn itself. It was referred to as a virtual dedication, because of the heavy rain and to prevent the crowd from being out in the elements. And it was also, I think, good for people to see the connection between the new house and the shelter.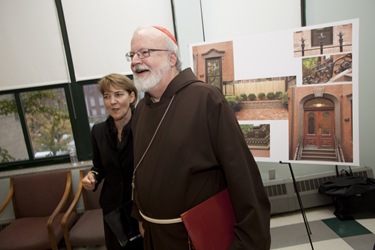 With Lisa Alberghini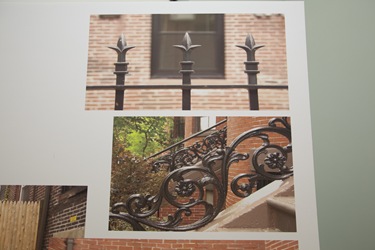 Lyndia Downie does a wonderful job as director of the Pine Street Inn. Lisa Alberguini from our office, Mayor Menino, and I, among others, addressed the crowd and congratulated and thanked everyone for their good work.
– – –
Each year we have a Mass and dinner for the Knights of Malta. This year it was held on the feast of the North American Martyrs.
The event was held at Emmanuel College and, as always, Sheila Feitelberg and Jim O'Connor did a great job organizing the event.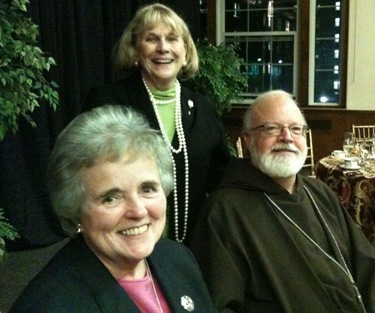 With Suzanne Downing, Order of Malta Boston Area Chair (standing) and Sister Janet Eisner, the president of Emmanuel College.
The Knights make a great contribution to the life of the Church, particularly in their work on behalf of the poor and the sick. I reminded them in my homily that their mission has been epitomized by the Latin phrase Tuitio Fidei et Obsequium Pauperum — in defense of the faith and in service to the poor and sick.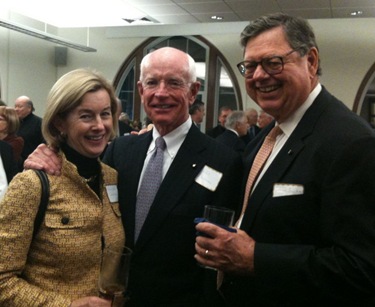 Marybeth and Paul Sandman and Joe Finn
And so I told them that the challenges they need to be concerned about are religious freedom in in terms on a national level, which has taken such a hit in recent days. The most recent thing being U.S. Conference of Catholic Bishop's Office of Migration and Refugee Services not receiving a grant to continue their service to victims of human trafficking, from the U.S. Department of Health and Human Services.
And also, of course, the whole issue of physician assisted suicide. The Order of Malta in the past has had many sessions in the parishes on medical ethics and this is an area that, of course, is very central to the kind of ministry that they do. So we're happy for the opportunity to be able to reflect on that with them and to thank them for their great contribution to the life of the Church.
Below is the full text of my homily.
Today's gospel reading describes for us what the Catholics consider the second glorious mystery of the rosary, the ascension of our Lord into heaven.  He is giving us our marching orders, the last instructions that have been called the great commissioning: "Go make disciples of all nations, baptizing them in the name of the Father, and of the Son and of the Holy Spirit."  At the beautiful Chapel of the Trinitarians in Washington, the principal religious image is a very imposing statue of Christ ascending into heaven, his hands extended in blessing.  As the risen Christ blesses his disciples, he does so with hands marked by the place of the nails.  The risen Lord is still the crucified Lord, and discipleship still means taking up the cross and following him each day.  For 2000 years Jesus' disciples have gone to the end of the earth to share that discipleship with others.  It was often a very costly grace; as it was in the case of the North American martyrs whose feast we celebrate today.
St. Jean de Brebeuf and St. Isaac Jogues along with their companions, fellow Jesuits and lay leaders who courageously sought to share their Catholic faith with the Native Americans of Canada and the United States.  They suffered unspeakable torture with incredible courage.  In the case of Isaac Jogues after he was beaten and his fingers were cut off, he escaped and returned to France.  But as soon as he could, he went back to the New World to continue the mission of making disciples of all nations.  Like  St. Sebastian, this valiant son of St. Ignatius was martyred twice.  In some way martyrdom at the hands of primitive, pagan people who have never heard the gospel is not as painful as the martyrdom of those who are killed in Christian countries by people who once heard the gospel and have now turned their back on it.  Such was the case in some of our martyrs of the Knights of Malta, those who died at the hands of Henry VIII in Catholic England or those who died martyrs in the Spanish Civil War.  I like to think of the latter as martyrs of the new evangelization because they died trying to reignite the flame of the faith in lands that had been traditionally Christian.
The first lesson from today's Mass is particularly poignant where St. Paul writes: "but we hold this treasure in earthen vessels, that the surpassing power may be of God and not from us.  We are afflicted in every way, but not constrained; perplexed, but not driven to despair; persecuted, but not abandoned; struck down, but not destroyed; always carrying about in the body the dying of Jesus, so that the life of Jesus may also be manifested in our body."  This certainly has been the role of martyrs in the Catholic Church.
The Holy Father says that martyrs speak to us in the language of the cross.  In the early Church, martyrdom was considered the highest form of discipleship.  The first Christians celebrated Mass in the catacombs on the tombs of the martyrs, hence our custom of placing relics of the martyrs in our altars.  Pope John Paul II spoke frequently about the modern martyrs, particularly those from our own times.
John Paul II actually called upon the Sant'Egidio community to transform the ancient church of San Bartolomeo in Rome  into a shrine to the 20th century martyrs.  I visited there in September and was quite moved to see how each of the side altars were converted into shrines commemorating the martyrs of the Nazis, of the Communists, the Spanish Civil War, Archbishop Romero, martyrs in Asia and Africa and throughout the whole world.  These martyrs made a gift of their lives in witness to their faith in the resurrection of Jesus Christ and the ideals of his gospel.  I had a blog entry in September about the church of San Bartolomeo.  If you didn't see it, you can say three our Fathers and three Hail Marys.
We will probably never be called upon to shed our blood for the faith, but I assure you, we will all be called upon to suffer for our faith.  As the dominant secular culture of New England becomes more hostile to Christian values, the harder it will be for people to openly profess their faith.  The only commandment left: thou shall not smoke.  And the only important virtue is that of tolerance, which includes tolerance for everything except religious people.  In the past, the church was persecuted for what we teach about God, the Trinity, transubstantiation and other dogmatic points of theology.  In our day, the church is persecuted for what we teach about the dignity of human life and the human person.
On May 13 last, I had the joy and privilege of celebrating the feast day Mass of Our Lady of Fatima at the shrine in Fatima.  Among the more than 300,000 pilgrims who attended the Mass was our own Grand Master, Fra Matthew Festing, accompanied by a delegation of members of the Order.  After the Mass we had coffee together and he presented me with a very beautiful volume, "The Order of Malta: A Portrait", which not only describes the 11th century origins of the Sovereign Order of Malta, but gives a glimpse of the extraordinary work being done in Christ's name by the Order.  The Order of Malta is undoubtedly one of the most effective humanitarian organizations with 13,000 members, 80,000 permanent volunteers, and 20,000 medical personnel, including doctors and nurses, auxiliaries and paramedics.  This veritable army is engaged in assisting the elderly, the handicapped, refugees, children, the homeless and those with terminal illness and leprosy in every part of the world, without distinction of race or religion.  Throughout its worldwide relief corps the Order is also in the forefront of providing aid to victims of natural disasters, epidemics and armed conflicts.
We are very proud of the extraordinary work being done by the American branch of the Order of Malta.  We are all aware that the dual purpose of the Order is summarized in the Latin phrase: "Tuitio fidei et obsequium pauperum."  That is, to defend the Catholic faith and to serve the poor and the sick.  Looking at our American context and the challenges we face as a Church, two urgent arenas of action for the Order of Malta are the church's struggle on the national level to defend religious freedom, and our local challenges stemming from the present campaign to legalize physician-assisted suicide.
In the same beautiful lesson from St. Paul to the Corinthians, the apostle writes: "I believed, therefore I spoke."  We must speak our words to an unbelieving world.  Our commitment to defend the faith and to serve the sick as our liege Lords demands our involvement in these two issues: religious freedom, and physician-assisted suicide.  The eroding of religious freedom and conscience clauses and the attempt to turn our doctors into executioners would completely corrupt the medical profession and healthcare in this country.
On our part it will require much prayer, this is spiritual warfare.  This is the month of the Holy Rosary because Pius V and the people of Europe stormed heaven with prayer to save their countries from the disastrous invasion that would have ended their way of life.  The battle of Lepanto was the culmination of a spiritual battle that was won with prayer.  We should make no mistake about it, for believers, the stakes are very high and we cannot afford to be complacent or indifferent.  We need every hand on deck and rowing in the same direction.
Besides prayer we urgently need careful planning and hard work.  This month paid workers are collecting signatures in the supermarkets and shopping centers throughout Massachusetts.  If we do nothing, the culture of death will prevail in our State, and that will have a domino effect in other parts of the nation.  I am told that the Hemlock Society, gussied up with the new politically correct name:  "Compassion & Choices", sees our State as low hanging fruit.  I hope that we can show them that this is a prickly pear.
As I pointed out to the Catholic jurists of the Red Mass, the State of Oregon since legalizing physician-assisted suicide a decade ago, now has a suicide rate that is 35% higher than the national average, not counting the so-called legal suicides or the over 1,000 botched suicides that need hospitalizations.  We do not want to be a society that promotes suicide.  The World Health Organization has pleaded with governments not to do anything to normalize suicide or present it as a solution to human problems; to do that is to encourage people to take their own lives.  Nor do we want governments and insurance companies to be deciding what categories of persons are worthy of living and which people should be put down.
On this feast of Northamerican Martyrs, that is witnesses, we did not want to retreat to the witness protection program, but gear up for what is our Battle of Lepanto.  I know that the Order of Malta will be in the front lines and help the Gospel of Life to prevail.   God bless you,  Thanks for all you do.
Until next week,
Cardinal Seán