Hello again and welcome!
At the beginning of the academic year, it is customary that I celebrate a Mass of the Holy Spirit at each of the seminaries in the archdiocese.
The first this year was on Friday at Blessed John XXIII National Seminary, which is sponsored by the Archdiocese of Boston and forms men from all over the country for second-career vocations.
The rector, Father Bill Palardy, was very proud to show us his newly renovated Chapel, which came out very beautifully, as well as the new entrance.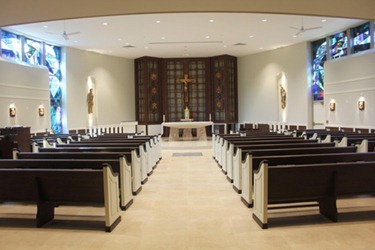 The new chapel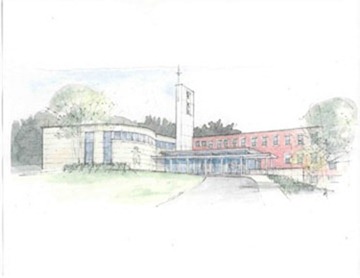 A rendering of the new entrance
They also did renovations within the building, installing such things as a new sprinkler system. It was a very extensive renovation that was underway all summer.
They have a very good enrollment this year. There are a couple new dioceses that are sending candidates to the seminary and their enrollment is about 66 candidates.
I look forward to hosting the seminary's annual Lawn Party on September 19 which, in addition to being an opportunity to support Blessed John XXIII National Seminary, will also give many people their first chance to see all the wonderful restoration work that has been done there.
---
Later that day, we also had a Mass of the Holy Spirit to begin the academic year at the Jesuits' Blessed Peter Faber Residence, the home of many students and teachers from the Boston College School of Theology and Ministry.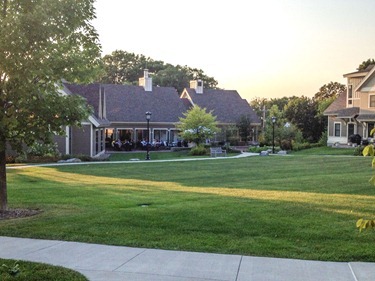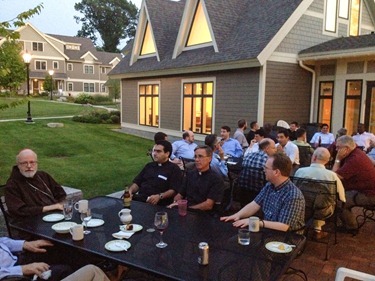 I was very pleased to meet the new superior Father Jim Gartland. He is originally from Cleveland and went to the same high school as my brother, St. Ignatius High.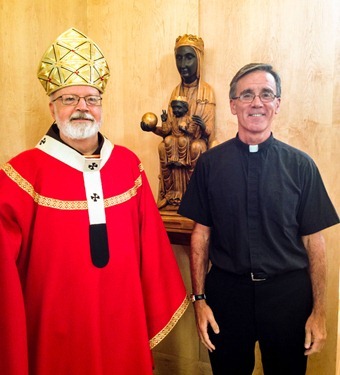 With Father Jim standing in front of the statute of Our Lady of Montserrat, the image that inspired St. Ignatius and where he went to lay down his arms before the Blessed Virgin when he began his religious life
---
Saturday, I was pleased to welcome Anthony Raj and Saviona Dominique to the Cathedral. They are a newly-married couple from Bangalore, India who were visiting Father Felipe Gonzalez, our parochial vicar at the Cathedral. They had wanted to come for his ordination in June, but were unable to come until now. They are spending some time Boston and will travel with Father Felipe when he returns home to California for some vacation later this month.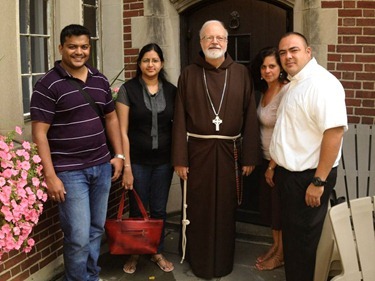 With Anthony and Savonia, Donis Tracy, who is hosting them here in Boston, and Father Felipe
---
That day, I was also visited by Hercules Wernick, who has been very active in our Brazilian Apostolate here in the archdiocese. He is returning to Brazil to enter the seminary in his home diocese and he came to say goodbye.
We are very grateful for all that he has done for us while he was here, and we ask that the Lord bless him and protect his vocation.
---
Sunday, I went to Ludlow in Western Massachusetts to take part in the celebrations there of Our Lady of Fatima.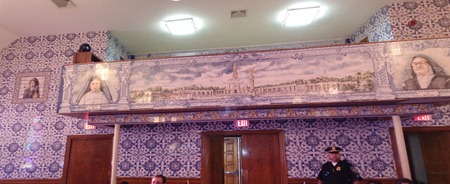 The church there is very beautiful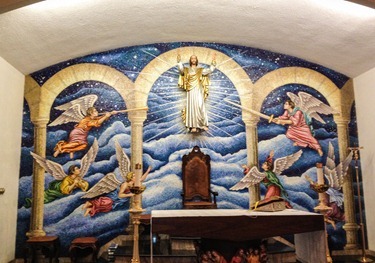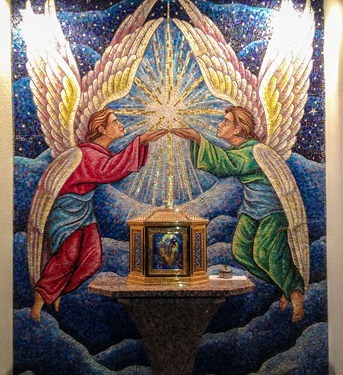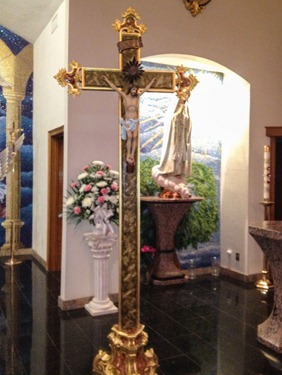 There was a very large outdoor Mass, attended by an estimated 30,000 people.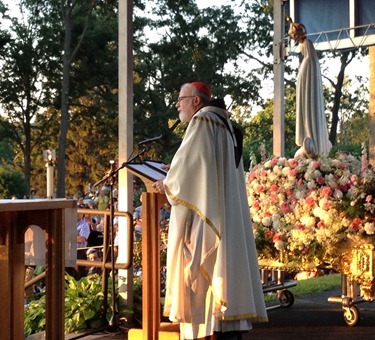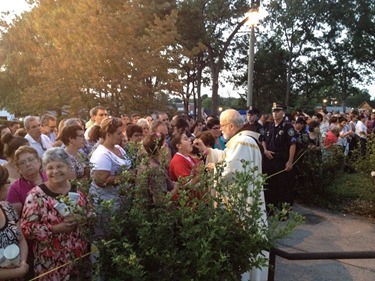 There was also a long candlelight procession with the praying of the rosary. Throughout the procession, the people sang traditional typical Portuguese hymns, "13 de Mayo", "Salve Rainha", and of course ending with the beautiful "Despedida."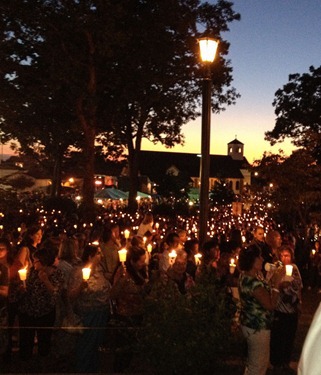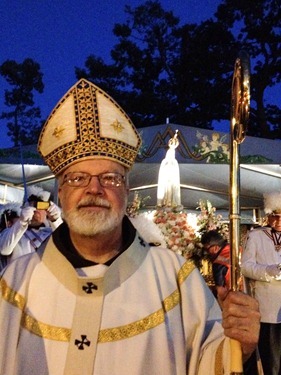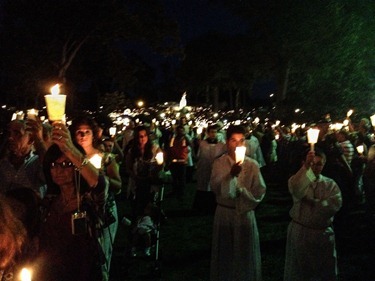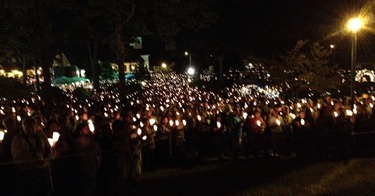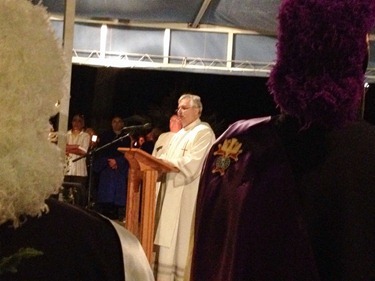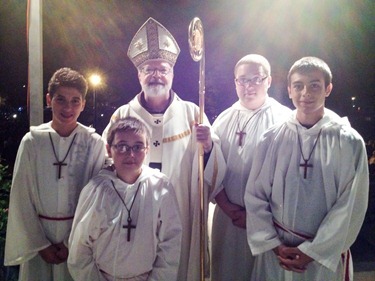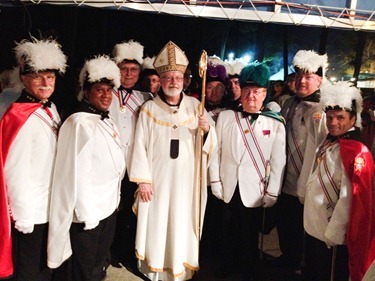 There were many priests and seminarians from the Archdiocese of Boston in attendance. Msgr. Chris Connelly, the rector of the Cathedral of the Diocese of Springfield, was there representing Bishop Timothy McDonald.
---
On Monday, Labor Day, I was very happy to visit the Carmelite Sisters at St. Patrick's Manor in Framingham to celebrate their foundation day. This year was particularly special for them because their foundress, Mother Angeline Therese, was declared venerable by the Holy Father earlier this year.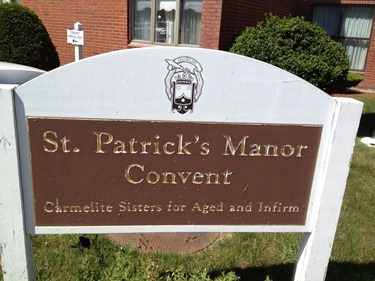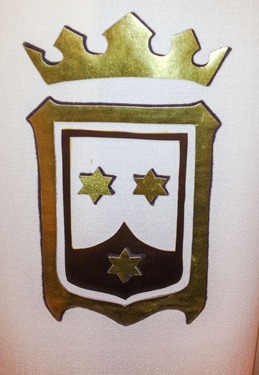 Many of the sisters were there, including their four postulants.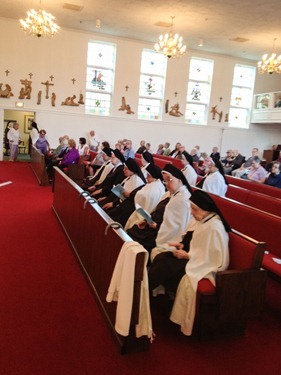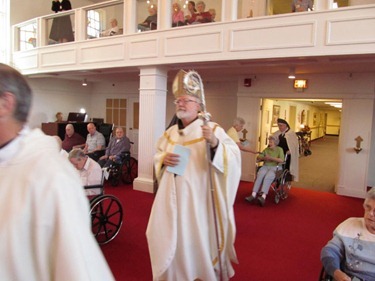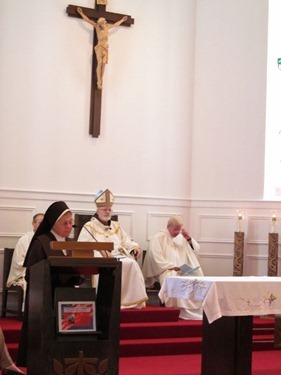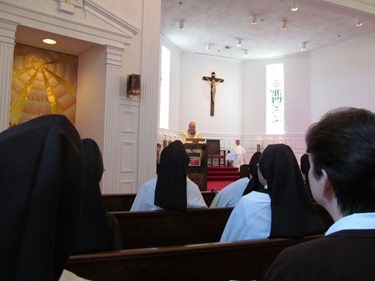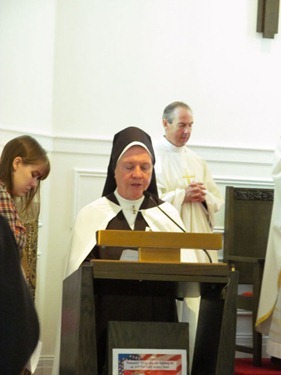 Afterwards, I greeted many of the residents at St. Patrick's Manor and had a very nice lunch with the sisters.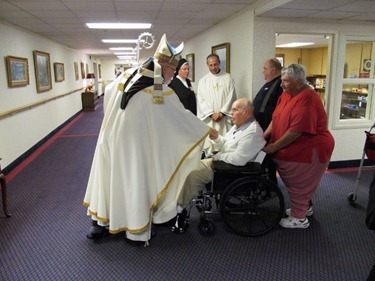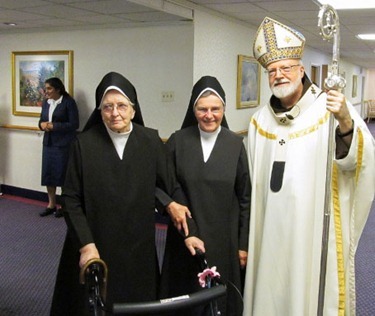 ---
That afternoon, I attended the annual Labor Day barbecue for priests hosted by Father Bob Casey at Gate of Heaven in South Boston. This year, the barbecue was very well attended. I think there must have been between 80 and 90 priests there.
It was a wonderful afternoon of priestly fraternity and a great way to celebrate Labor Day.
---
Tuesday I was visited by Msgr. Franco Mammoli, who is the pastor of Our Lady of Guadalupe of Monte Mario in Rome. This is the titular church assigned to Cardinal Dolan, who became a cardinal at the last consistory. He  he is going over next month to take formal possession of the church.
The monsignor, who is pastor of the church, has a cousin here in Boston and was here for a wedding. So, he came and took a tour of the Cathedral and left me this book about the church.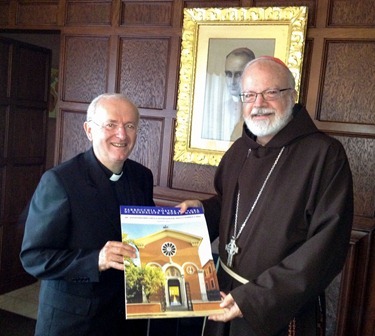 ---
Wednesday, I celebrated a Mass to mark the 15th anniversary of the passing of Blessed Mother Teresa of Calcutta. Appropriately, it was in the church dedicated to Blessed Mother Teresa in Dorchester. Sister Ajay and the other Missionaries of Charity were there, along with many of their close collaborators.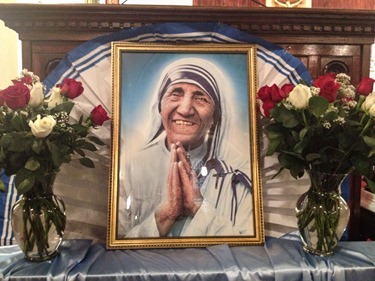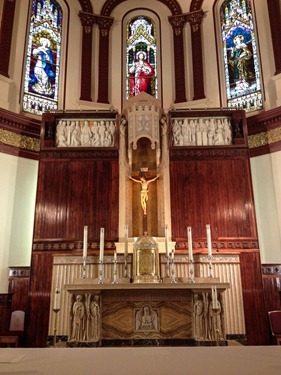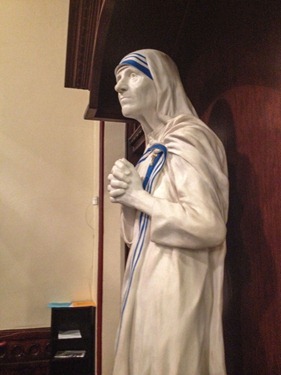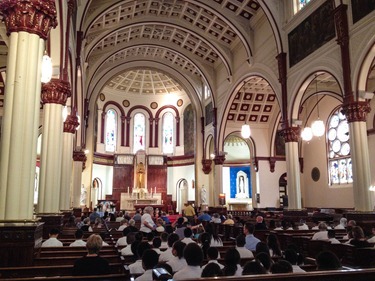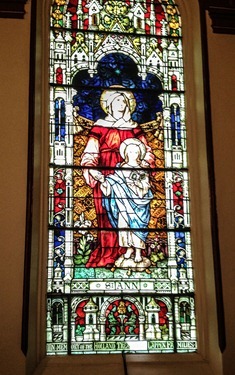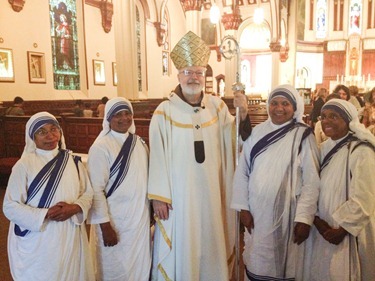 There were a number of priests concelebrating, including Father Huy Nguyen and Father Jack Ahern, Father Michael Sheehan FPO, who was ordained this year, and Father Andrew Beauregard FPO. We were also very happy to be joined by many of the schoolchildren from Blessed John Paul II Catholic Academy, who were having their first day of school.
---
In the afternoon at the Pastoral Center we had our annual Employee Appreciation Day. The celebration began with the noon-time Mass followed by a "cook-in" upstairs in the cafeteria. (It was a "cook-in" rather than a "cookout" because it was pouring rain outside!) Nevertheless, everyone enjoyed themselves.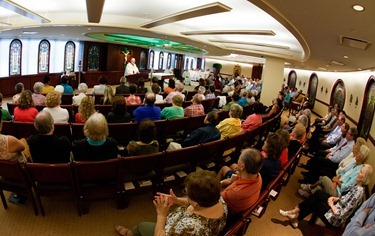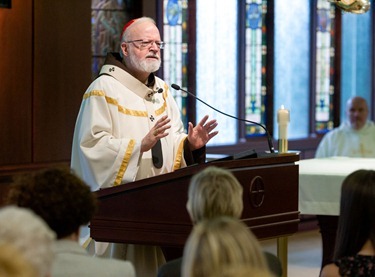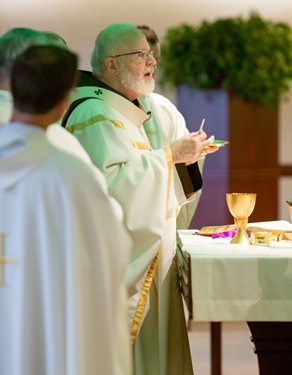 ---
Then, that evening I went to CatholicTV for recording of a rosary with several Little Sisters of the Poor and residents from their Jeanne Juggan Residence in Somerville.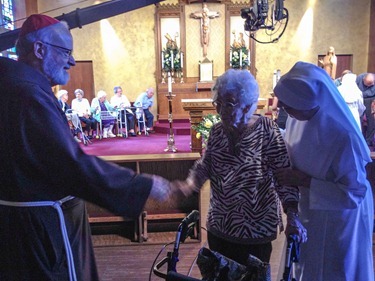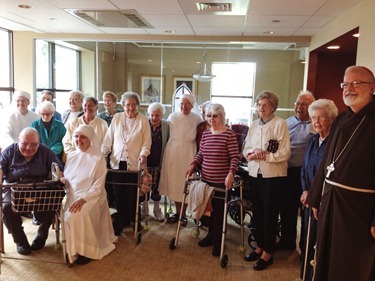 The rosary was taped to be broadcast during the Novena of Rosaries that we will ask the people the archdiocese to participate in as we pray for the defeat of the physician assisted suicide ballot initiative in the Commonwealth.
Until next week,
Cardinal Seán