This election day, Massachusetts voters will be asked to vote on Question 2: "Prescribing Medication to End Life". This question would, if passed, legalize doctor prescribed suicide in our commonwealth. This week, I am continuing my series of reflections on why I believe all people of good will should join me in opposing this deplorable ballot question.
Question 2: A flawed law, a false choice
For many people, opposition to physician-assisted suicide is based on respect for God's law "Thou shalt not kill," and on the firm desire to have doctors and nurses function as healers and care givers, not executioners. For 2,500 years doctors have taken the Hippocratic Oath, promising to practice medicine ethically and honestly. Part of the promise is "to do no harm." Indeed, the oath is very explicit about rejecting physician-assisted suicide, promising "I will never give a deadly drug to anybody if asked for it, nor will I make a suggestion to this effect."
Although these promises originated in the ancient world in pre-Christian times, they have always guided conscientious physicians in the ethical practice of the healing arts. To jettison these moral guidelines would have a very detrimental effect on the medical profession and on society.
The American Medical Association (AMA) has stated that "physician-assisted suicide is fundamentally incompatible with the physician's role as healer, would be difficult or impossible to control, and would pose serious societal risks. Instead of participating in assisted suicide, physicians must aggressively respond to the needs of patients at the end of life. Patients should not be abandoned once it is determined that cure is impossible. Multidisciplinary interventions should be sought including specialty consultation, hospice care, pastoral support, family counseling, and other modalities. Patients near the end of life must continue to receive emotional support, comfort care, adequate pain control, respect for patient autonomy, and good communication."
Locally, the Massachusetts Medical Society (MMS) voted overwhelmingly against assisted suicide and have said that "assisted suicide is not necessary to improve the quality of life at the end of life. Current law gives every patient the right to refuse lifesaving treatment, and to have adequate pain relief, including hospice and palliative sedation." In describing their specific opposition to Question 2, the MMS stated further that "The proposed safeguards against abuse are insufficient. Enforcement provisions, investigation authority, oversight, or data verification are not included in the act. A witness to the patient's signed request could also be an heir."
There are many citizens of the Commonwealth of Massachusetts who do not share our faith and for whom the clear biblical teaching is not a convincing argument. To them, we make an appeal to reason: that this is bad legislation because it puts vulnerable people at risk and it promotes suicide. Many have already recognized the flaws and the dangerous aspects of physician-assisted suicide as presented in Question 2 on the Massachusetts ballot this November. Opposition to Question 2 is coming from a broad array of organizations and individuals who often do not agree on other initiatives or proposed laws.
Beyond the grave ethical problems posed by physician-assisted suicide, Question 2 lacks safeguards and monitoring provisions. It is a flawed law and a false choice. Some of the perilous flaws of this legislation that need careful reflection even by those persons who might favor physician assisted suicide in general are:
— Doctors agree that terminal diagnoses of 6 months or less are often wrong. Many people with a terminal diagnosis live for years.
— Patients requesting suicide do not need to be examined by a psychiatrist before receiving a lethal prescription, despite the fact that many of them are suffering from the depression.
— There is no requirement that the patient notify family members. For example, a husband could receive a lethal prescription without his wife being required to be notified. Compassionate care at the end of life should involve the loving support of family members.
— Question 2 allows the death certificate to be falsified to indicate that the patient died of the underlying disease.
— We should be supporting improved hospice and palliative care statewide, not legalized suicide.
Others in Massachusetts oppose Question 2 because they believe that a ballot initiative process is not a good way to deal with a complex, ethical issue involving life and death. The legislature exists to be able to review proposals, hold public hearings and build consensus on complicated issues.
We are all called to work for a more just society where the weak and the vulnerable are nurtured and protected. Our faith demands that we not be guilty bystanders. That's why I am asking you to join me and partner with so many medical and disability groups to stop assisted suicide by voting No on Question 2 on Election Day.
– – –
Now on to the events of my week:
On Friday, I went to Our Lady Comforter of the Afflicted Parish in Waltham for the dedication of a new Marian garden they installed in front of the church.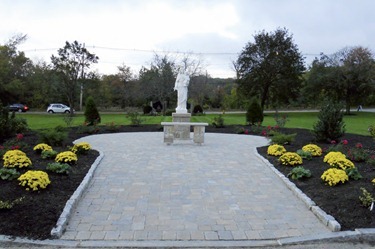 We had a rosary and a blessing in the garden. The schoolchildren were there, as well as many parishioners.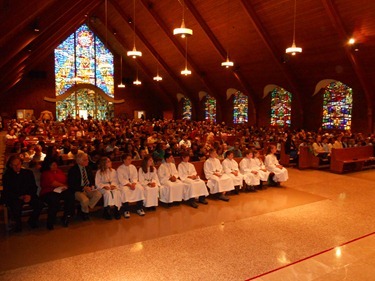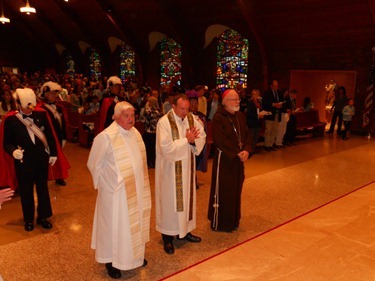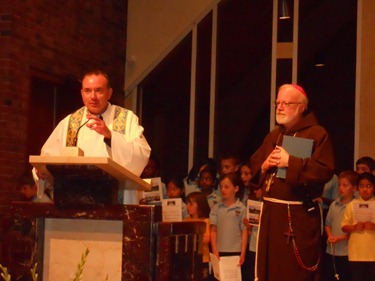 We were so happy to hear Father Jim DiPerri's reports that the enrollment, Mass attendance, contributions to the parish and parish activities have all grown considerably in recent times. This is a great sign of encouragement. We are very grateful for the leadership of Father DiPerri and the effort parish leaders have exerted in that faith community to cause such wonderful growth.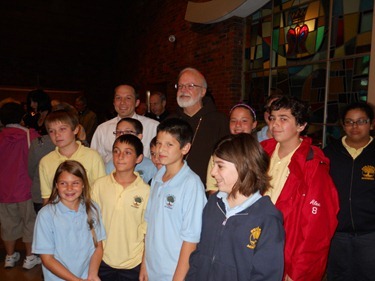 – – –
The following day, Saturday, I went to St. Bernadette Parish in Randolph to be with them as they celebrated their 75th anniversary.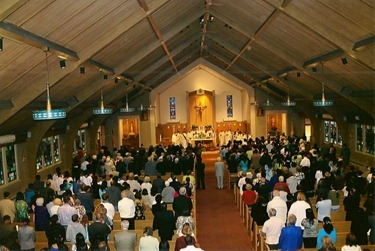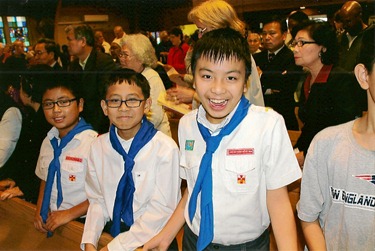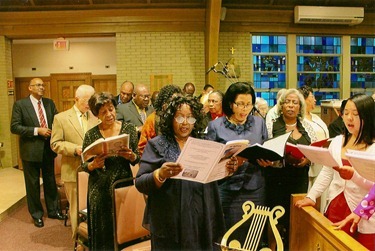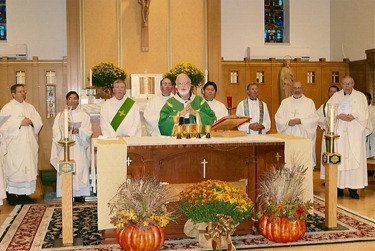 The parish is a great example of the diversity in the archdiocese. There are large Vietnamese and Haitian communities in that parish, along with immigrants from many parts of the world. It was a beautiful celebration.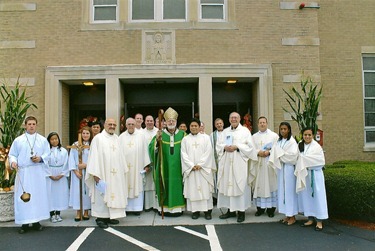 – – –
Each fall, we celebrate a special Red Mass for all those involved in the practice of civil or canon law — such as lawyers, judges and legislators — to mark the opening of the judicial year.
The Red Mass is sponsored by the Catholic Lawyers Guild of the Archdiocese of Boston and is a tradition that dates back to the Middle Ages. It is called the Red Mass because it is a Mass of the Holy Spirit that is celebrated with red vestments. Also, historically, judges in England wore red robes and they would come to the Mass dressed in their judicial robes.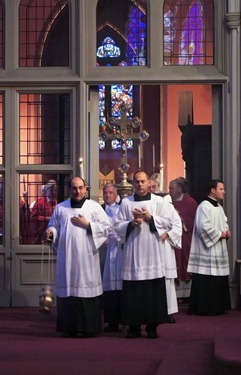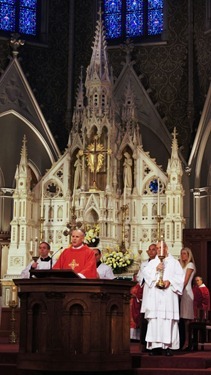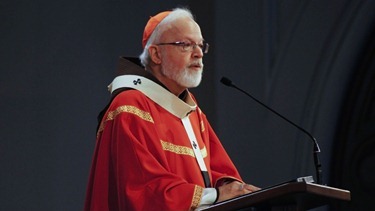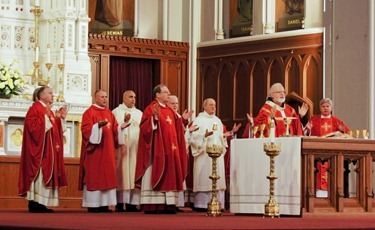 Following the Mass, we always have a luncheon with a guest speaker. This year we were very lucky to have Rep. Christopher Smith of New Jersey.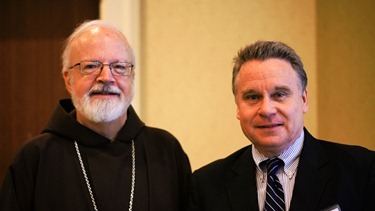 I have known him and his wife for many years and I have always admired the outstanding work that he does. Before he went to Congress 18 years ago, he was the pro-life director in New Jersey. I consider him to be one of the most outstanding Catholic legislators in Washington. He is a champion of the Gospel of Life and of human rights at home and abroad, particularly in efforts to stop human trafficking. He has also always been a valued defender of religious freedom.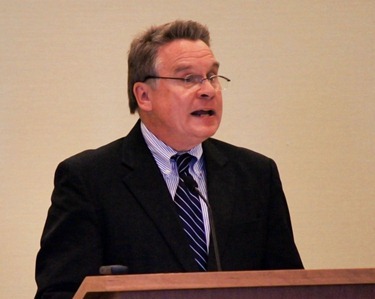 He gave a very inspiring presentation to the Lawyers Guild at the luncheon.
– – –
Monday, I was very pleased to be honored by the National Catholic Education Association at their annual Seton Awards Dinner in Washington D.C.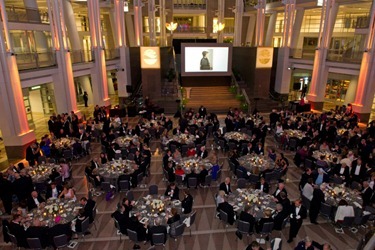 This year, I was among a number of honorees from around the country who included Robert Conway of Cincinnati; Chuck and Nancy Geschke of Los Altos, California; Leigh-Anne Kazma of Chicago; Tom Moran of New York City.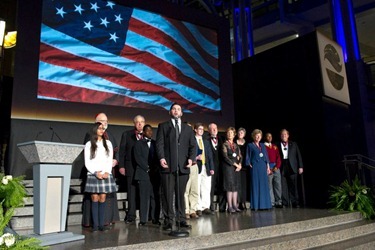 I was very grateful to be honored by this fine organization which does so much to promote Catholic education throughout the country.  However, for me, the most gratifying part of the evening was awarding the $1,000 scholarship that the NCEA gives in name of each recipient. The scholarship in my name was awarded to Emely Nunez, who is in the eighth grade at Pope John Paul II Catholic Academy.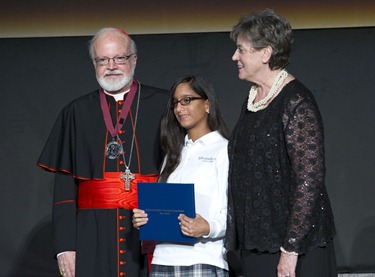 With Emely and NCEA president Karen Ristau
Congratulations Emely! I am so happy I could play a part in supporting your Catholic education.
– – –
The NCEA dinner was held Monday evening and my return flight was not until Tuesday afternoon, so I took some time Tuesday morning to visit the Basilica of the National Shrine of the Immaculate Conception.
I was pleasantly surprised to run into Father Frank Silva and some priest friends of his who were visiting Washington.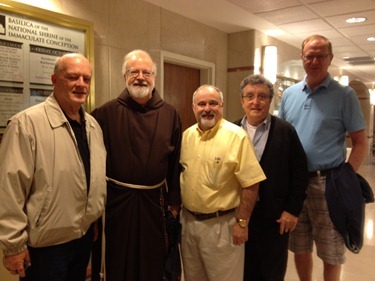 One of the most outstanding features of the Basilica are the many chapels, statutes, mosaics and other works of art that depict images of the Blessed Virgin and saints from all over the world.
One of the chapels I visited is the chapel of Our Lady of La Vang and the Vietnamese martyrs.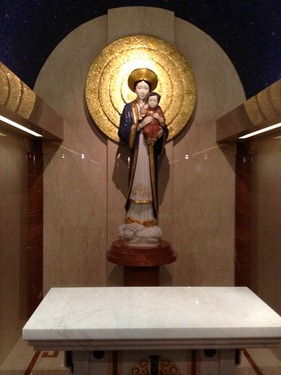 The story of Our Lady of La Vang is a very interesting one.
Catholicism was brought to Vietnam by European missionaries accompanying merchants in the early 1600's. The Vietnamese rulers tolerated it, and the faith spread. As happened in many other Asian missions, at a time of conflict the local rulers began to view the Church and the Catholic population as being in league with unwelcome European powers. As a result, in 1798 a persecution was ordered and many Catholics were martyred and their churches destroyed.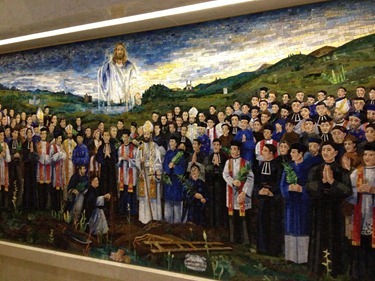 An image of the Vietnamese Martyrs in the chapel
To escape, the people fled to a remote area of the rain forest in La Vang. As you might imagine, life was very difficult for these refugees. They suffered shortages of food and water and many became very ill from tropical diseases.
For solace, the people come together to pray at the base of a large tree near where they were camped. One day, a woman holding a child appeared to them dressed in traditional Vietnamese clothing and flanked by two Angels. She told the people to use the leaves of the tree as medicine for the sick and that people who came to pray at that place would have their prayers answered. The people immediately understood it was the Blessed Virgin and she was there to help them in their time of trial.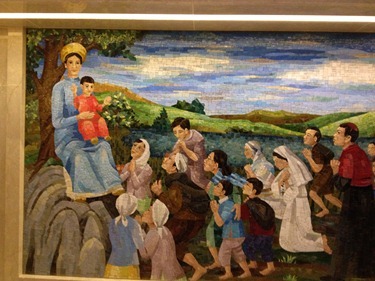 I also visited one of the newest chapels in the Basilica, the chapel of Our Lady of Lebanon. It honors the tradition of the Maronite Catholics, who have their roots in Lebanon and Syria.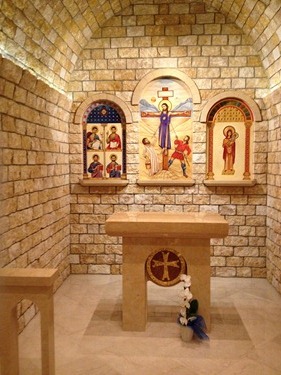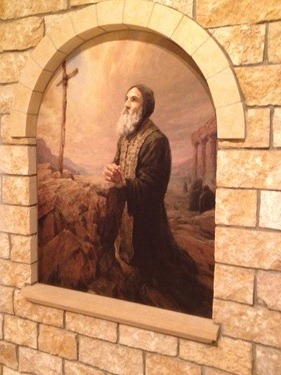 The image of St. Maron
In the shrine, they also have depictions of the different American saints, including Blessed Kateri Tekakwitha, who will be canonized this month.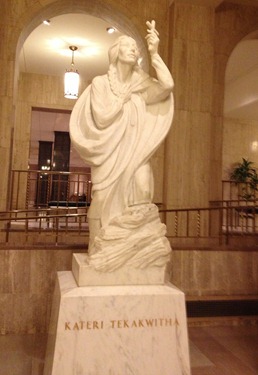 Finally, since this month is the 50th anniversary of the opening of the Second Vatican Council, I also wanted to share with you this picture of the papal tiara that Pope Paul VI donated to the shrine, and with it is displayed the stole the Blessed John XXIII used for the opening of the Council.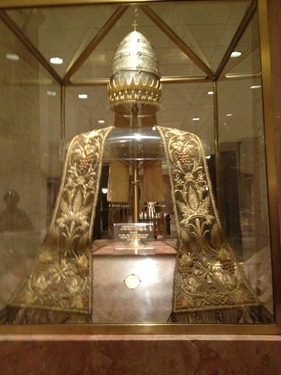 – – –
October is the month of the rosary and we began our Rosary Novena for the Defeat of Physician Assisted Suicide Wednesday night following the Town Hall Meeting on physician assisted suicide that was broadcast on the CatholicTV network.
I was particularly pleased that we could have this public discussion on physician assisted suicide on the feast of the Transitus of St. Francis, which is the anniversary of the death of St. Francis.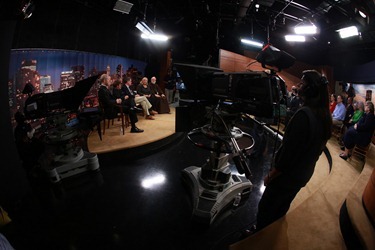 In that moment, St. Francis describes death as "sister death" because he wanted to show how death is taking us to God. I thought it was a very fitting time to begin this public discussion about assisted suicide.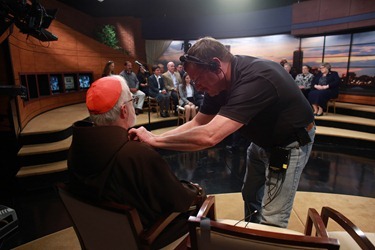 I am very grateful to my fellow panelists: Father Tad Pacholczyk, Janet Benestad, Dr. John Howland and M.C. Sullivan, our host John Monahan, as well as those who joined us in the studio audience. I also want to thank the staff of CatholicTV Network and our Secretary for Catholic Media Scot Landry for all they did to make this special event possible.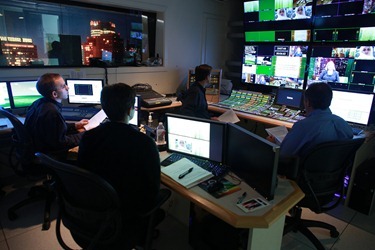 – – –
As I mentioned, that night we began Rosary Novena for the Defeat of Physician Assisted Suicide, which will run until next Thursday, October 11. I once again ask you to please pray a rosary each day as part of this novena.
As a help in this, CatholicTV has recorded special rosaries that will be broadcasted five times each day at 3:00am, 10:00am, 12:00 noon, 6:30pm and 10:00pm on the network and on CatholicTV.com.
We are also encouraging families recite this prayer every evening after dinner:
Prayer to Prevent Assisted Suicide
O God, source of all life and hope,
grant us the grace to see you in others,
especially in the poor and vulnerable, the frail and old.
Look kindly on your sons and daughters who have grown weak through illness and age:
Fill them with the strength of your Holy Spirit.
Keep them firm in faith and serene in hope,
that they might give us all an example of patience
and joyfully witness to the power of your love.
We pray for our country and for our Commonwealth of Massachusetts:
that we might continue to protect and defend
the dignity and worth of every human life, created in your image and likeness.
Assist us as we oppose those who, out of misguided mercy,
advance the cause of doctor-assisted suicide.
Help us to recognize that to die with dignity is to die in your loving embrace,
trusting in your compassionate care for us, and allowing your will to be done in us.
Mary, Mother of God, pray for us and help us grow in faith and trust,
so that your words might become ours:
"Let it be done to me according to God's will."
Through Christ our Lord. Amen.
Until next week,
Cardinal Seán