Hello and welcome!
This week I was pleased to accept the proposal of the Archdiocesan Planning Commission, "Disciples in Mission". We held a press conference Thursday to make the announcement.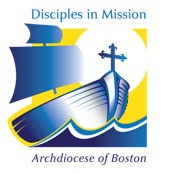 I'd like share my remarks with you here:
Good afternoon everyone. Thank you for joining us as we announce the beginning of a major new initiative that will strengthen the Church in the Archdiocese of Boston and ensure a bright future for many years to come.
On Aug. 30, 2012 I received the proposal "Disciples in Mission — A Pastoral Plan for the Archdiocese of Boston" from Monsignor William Fay, Deacon Chuck Clough, and the Archdiocesan Pastoral Planning Commission. Since then, the Archdiocesan Presbyteral Council, Pastoral Council, Finance Council and Cabinet have shared their guidance and advice regarding the proposal, and much time has been given to prayer and reflection. Today, with gratitude for the significant time and effort many have given to this important work, I give my formal acceptance to "Disciples in Mission" and commit myself and the resources of the Archdiocese to the implementation of this plan.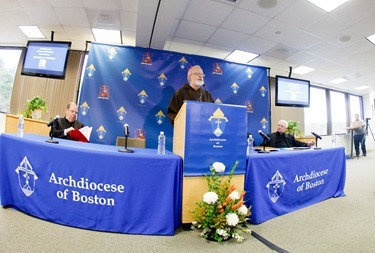 "Disciples in Mission" is centered on the New Evangelization: the work of reaching out to our brothers and sisters and reawakening the faith of Catholics who are not active in the life of the Church. We are at a crossroads in the history of the Catholic Church in the United States and in this Archdiocese. Mass attendance and participation in parish life have declined over the past two generations. Though the challenge of renewing the Church will call for significant effort and a new way of staffing our parishes, we are committed to re-engaging the culture, the current generation of Catholics and providing a strong foundation for those who will follow us.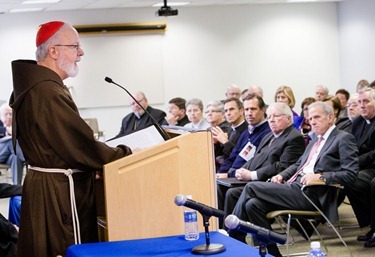 Our Catholic faith is our most precious gift. The person of Jesus Christ and his life with us in the Sacraments and in the Scriptures is of infinite value, unchanging and handed on to us through time. Having been entrusted with this treasure, we must share it with every person, because God has called all of us to holiness. Jesus is the center, the heart, the reason for our lives. He is the answer to all of our deepest questions and His presence is as important for people of this generation as for all who have gone before us.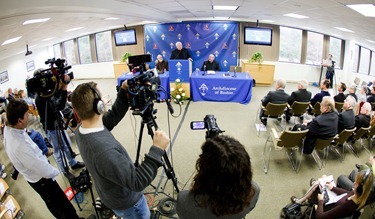 Parishes are the heart of the New Evangelization; they must be well staffed and financially sound so as to be effective in this mission. For this purpose, the pastoral plan groups the parishes of the Archdiocese into approximately 135 collaboratives. Each parish maintains its own identity in a collaborative. Each parish retains its buildings, its canonical rights, its financial assets and obligations. The collaborative, however, will have one Pastor who will work with one Pastoral Team, one Parish Pastoral Council and one Parish Finance Council. Together they will develop a pastoral plan for their local collaborative, focused on serving the needs of their parishes and advancing the mission of the Church. Joined together in a collaborative, our parishes will be better equipped to celebrate the Sacraments, provide religious formation for children and adults, respond to the pastoral needs of the sick and infirm and assist those in need of material assistance, through the lens of Evangelization.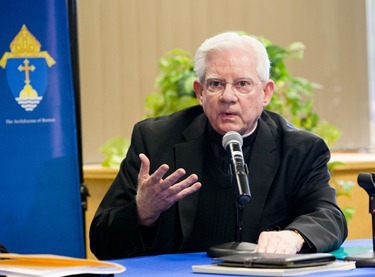 Msgr. Fay
The principal reason for our moving forward with pastoral planning is to promote the New Evangelization. We are fortunate to have received a plan that will allow us to do so while making the best use of the available human resources, including our priests and deacons. The plan to implement a new model of leadership at the collaboratives does not mean that we are leaving behind the model of a priest being assigned as the pastor of one parish. It is my fervent hope, encouraged by a significant increase in seminary enrollment during recent years, that a greater number of ordinations to the priesthood will allow us to again assign priests as pastors of individual parishes.
The successful implementation of "Disciples in Mission" will call for leadership training for all of our parishes. We are committed to providing that necessary training for Pastors, Priests, Deacons, Pastoral Teams, Parish Councils, and Finance Councils, The training will encompass the theology and practice of the New Evangelization and best practices in leadership and management for collaboration. In order to lead the way in this effort and then assist in the training at our parishes, the staff of the Pastoral Center and the Central Ministries of the Archdiocese will be the first participants in the training programs.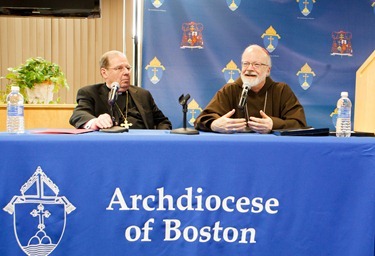 Change always brings both hope and anxiety. We know that this proposal calls for significant changes in the way we allocate our resources and work together. I am committed to proceed in a manner that will responsibly account for our present needs but not be disruptive to our parishes and the faithful. In order to provide the best opportunity for all our parishes to experience the full range of benefits of collaboration, "Disciples in Mission" will be implemented in a series of phases over the next five years. This gradual process will allow us to learn from the experiences of the initial phases and provide sufficient support at every stage of this process.
In concert with our Pastoral Planning efforts, auxiliary Bishop Arthur Kennedy, Episcopal Vicar for the New Evangelization, is developing and promoting programs for strengthening the Catholic faith in the Archdiocese. Among the initiatives being overseen by Bishop Kennedy is the Theological Initiative for the New Evangelization at St. John's Seminary. His work and leadership will be essential to insuring a productive implementation across the many ministries of the Archdiocese.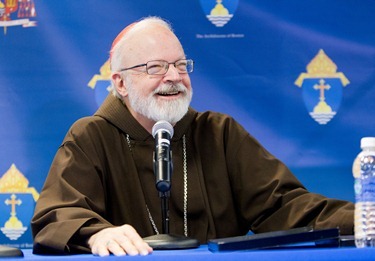 At this time I wish to publicly express my gratitude to Monsignor Fay, Deacon Clough and the Pastoral Planning Commission, to parish pastoral staffs, parish leadership, and to all of the people of the Archdiocese of Boston whose input, feedback and prayers have contributed to this process. In particular, I wish to express my appreciation for the fine work of Father Paul Soper, our interim director of pastoral planning, who is helping to lead the day-to-day activities as we begin to set forth on this important journey in the life of the Church. His work, and that of many others who have contributed to this effort, has helped us to reach this important moment. I also wish to express my gratitude to the priests of the Archdiocese, who have generously given much time and effort to this process and, moving forward, will be key leaders in the ongoing work of evangelization and pastoral planning.
It is my strong conviction that "Disciples in Mission" will establish the foundation to allow us to continue the work of renewing the Church in the Archdiocese of Boston and go forward with the mission of the New Evangelization for many years to come.
You can view video of the full press conference here.
I was also very pleased to announce that Father Paul Soper, who has been serving as our Interim director of the Office of Pastoral Planning, will become our permanent Director of Pastoral Planning.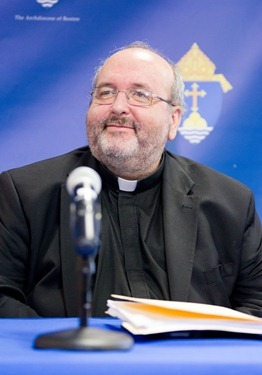 Father Soper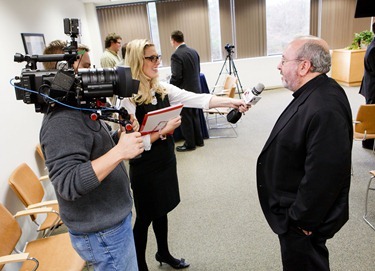 We also have established a new web site, www.DisciplesInMission.com to help keep people informed on the process. 
– – –
Now on to some of my recent events:
Last Thursday The Sisters of St. Joseph had a gala dinner at Anthony's Pier 4 to support the work at Bethany Health Care Center. During the evening they honored Tom O'Brien, the former President of Tom O'Brien Hyundai in Quincy with their first "Making a Difference Award."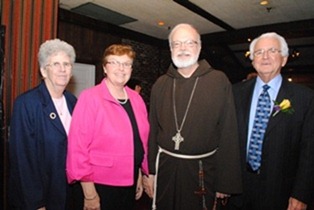 Bethany Health Care Center is one of the best run long-term care institutions in the state of Massachusetts. They always received the highest ratings. Primarily, it is for the Sisters but they also have lay people there.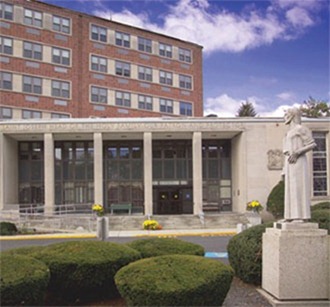 It is very comforting to see the sisters who have served the Church so generously and faithfully for decades have this very first-class care that they receive at Bethany. We congratulate Sister Jacquelyn McCarthy and the Sisters of St. Joseph on this wonderful institution and we are so glad that people in the community are supportive of them.
– – –
Also, Kristine and John DeMatteo recently hosted a Cardinal's Leadership Circle gathering at their home in Wellesley.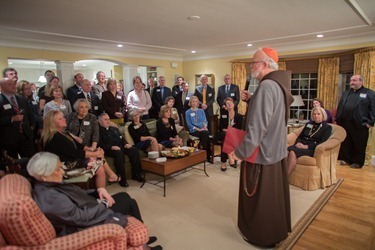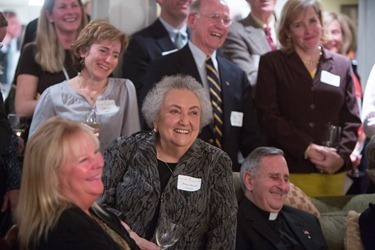 Msgr. Bill Fay and Deacon Chuck Clough, chairs of the Archdiocesan Pastoral Planning Commission, spoke of the commission's recommendations and our mission for the New Evangelization. This call is especially meaningful to us as we celebrate the Year of Faith and the 50th anniversary of the Second Vatican Council.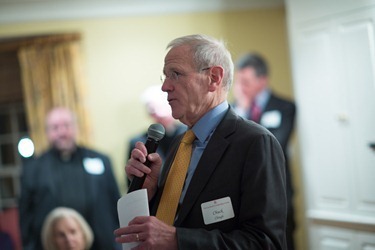 It was a chance for people to ask questions about the process and the mission we see going forward.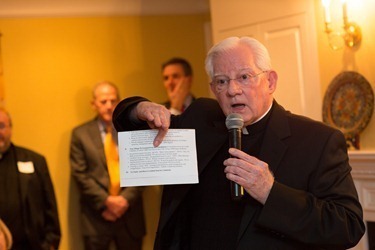 It was wonderful to be with many benefactors of our ministries and those who are considering assisting directly with the work of pastoral planning.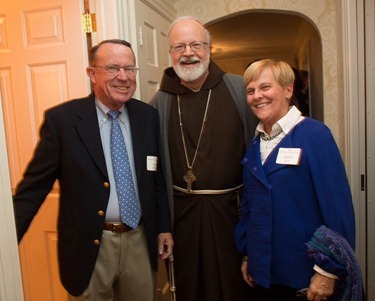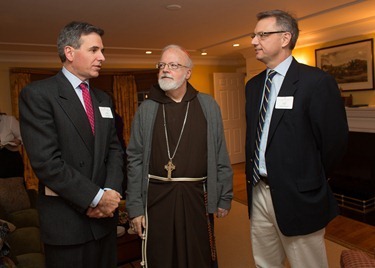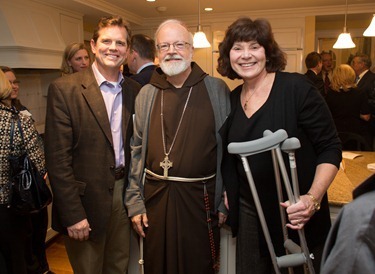 It was good to see people were so enthused and hopeful about this new initiative.
I am grateful to Kristine and John for opening their home and taking on a leadership role in engaging Catholics in this process.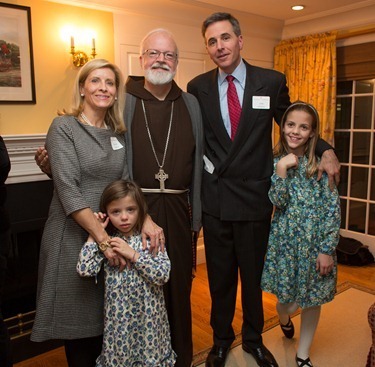 John and Kristine with Bella and Lulu, two of their seven children
– – –
I spent much of the rest of this past week at the annual fall gathering of the U.S. Conference of Catholic Bishops.
I arrived in Baltimore on Saturday and we had meetings of the Committee on Clergy, Consecrated Life and Vocations and the subcommittee on the Church in Latin America. On Sunday, we had meetings of the Pro-Life Committee and the Board of Directors for the National Shrine of the Immaculate Conception.
The meeting of the Pro-Life Committee was presided over by Cardinal Daniel DiNardo of Galveston-Houston, as he was winding down his tenure as chairman of the committee. There were discussions about the 40th anniversary of Roe v. Wade and other issues that we face going forward. We all expressed our gratitude to Cardinal DiNardo and the other committee members for their fine work over the last three years.
Cardinal DiNardo
At the end of this meeting my three-year term as chairman of the committee began. I was elected as head of this committee at last year's fall meeting of the USCCB. One serves as chairman-elect for a year, giving the incoming chairman an opportunity to become acquainted with the workings of the committee.
– – –
Monday morning we began with the Opening Mass celebrated by our president, Cardinal Timothy Dolan.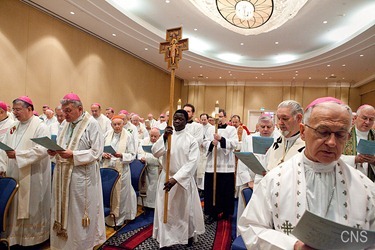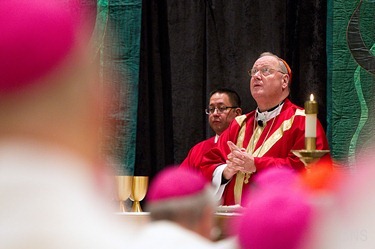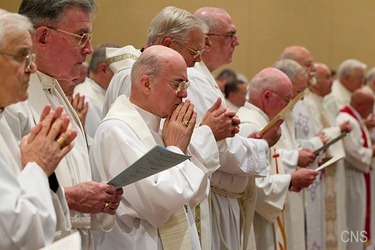 After that we began with the regional meetings and then we had the president's address. Cardinal Dolan made the centerpiece of his remarks the importance of promoting the Sacrament of Penance during this Year of Faith, which is also one of the statements that came out of this conference.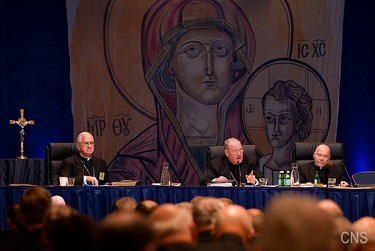 We were addressed by Archbishop Viganò, the papal nuncio, who has now been here for one year. He arrived last year during our meeting to begin his tenure as nuncio. We also received reports from our representatives at the Synod on the New Evangelization.
– – –
While I was in Washington, there was a press conference held on a number of different topics, but they asked me to speak on physician assisted suicide.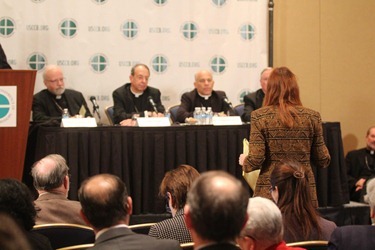 I want to share statement I made with you here:
Thank you for taking the time to allow me to speak to you about the Ballot Initiative on Physician Assisted Suicide which was defeated by the citizens of the Commonwealth of Massachusetts on November 6th.
Faced with this very serious challenge both to Catholic teaching and the common good, the dioceses of Massachusetts made a decision to oppose this measure. At this time I wish to publicly thank Bishop Robert McManus of the Diocese of Worcester, Bishop George Coleman of the Diocese of Fall River and Bishop Timothy McDonnell of the Diocese of Springfield for their commitment and important contributions to the work of defeating this initiative. I also want to thank the many dioceses and Catholic organizations and various health care systems for their very generous contributions to our effort.
More than 2.7 million Massachusetts residents voted on the Physician Assisted Suicide initiative, and it was defeated by approximately 62,000 votes, with a 2 percent margin of 51 percent to 49 percent.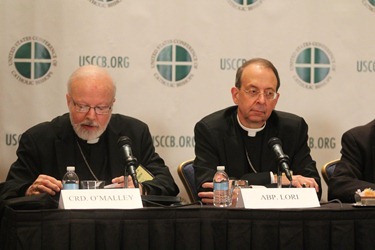 Physician Assisted Suicide presents a moral and ethical threat to society, the medical profession, the disabilities community and the common good. It brings spiritual death, a cheapening of human life, and a corrupting of the medical profession. During the course of preaching and speaking about this issue, I often cited the Hippocratic Oath of "do no harm". Dr. Barbara Rockett a physician in Massachusetts and former president of the Massachusetts Medical Society wrote in the Boston Globe in July 2012 that the Hippocratic Oath also states that the physician "will give no deadly medicine to anyone if asked nor suggest any such counsel." She adds that "Physician-assisted suicide is in direct conflict with this statement which, when followed, has protected the patient, physician, society and the family, and at the same time has committed doctors to compassion and human dignity."
Our mission is to help prevent suicide and to call for the very best palliative and hospice care for our terminally ill loved ones.
We are grateful for the hard work of so many people in the four dioceses of Massachusetts working in conjunction with other groups — ecumenical and interfaith communities including Jews, Muslims, Greek Orthodox, and Protestants to name just a few. Along with disabilities groups, medical associations, hospice and palliative care groups — we were able to stop this terrible assault on human life.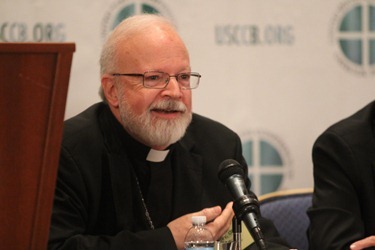 At the same time, this calls us to become more focused on the fact that we must do more to promote good palliative and hospice care at the end of life.
The Church has always been committed to compassionate and dignified end of life care. We must work with our hospice care and palliative care communities to continue to provide quality of care for the terminally ill. Fear of tremendous pain is advanced as a reason to support physician-assisted suicide. In almost every instance palliative care can suppress pain.
Hospice was one of the first programs to use modern pain management techniques to care compassionately for the dying. Today there are almost 5,000 hospice programs in the United States with an organized team approach to professional care giving and 1.4 million people are enrolled in hospice care each year.
Furthermore, people already have the right to refuse burdensome, life-extending treatments. They also have the option of leaving advance directives to determine their care when they are no longer able to express their wishes. The death that results from withholding or withdrawing of life-sustaining treatment has always been separated by a bright line from active measures to cause death. Assisted suicide proponents seek to blur this line.
The last time we faced this issue in Massachusetts, I was Bishop of Fall River. We were able to defeat it in the legislature but, afterward, I called my staff together and we came up with ideas of what to do going forward. So, we initiated Alzheimer's units in all the nursing homes of the diocese. We also brought in pain management experts and all our nursing homes became pain-management certified.
Those are the kinds of things that we need to do in the Archdiocese of Boston and throughout the nation. Just as in our struggle against abortion, it is not enough simply to condemn abortion, but we need to help to take care of the women whose lives are in turmoil because of a pregnancy. In the same way, we need to reach out to those facing difficulties at the end of life.
Proponents of Physician Assisted Suicide want us to believe that this is a compassionate response to the plight of people who have a terminal illness. It is not. We are called to comfort the sick, not to help them take their own lives. As the Catholic Bishops of the United States said in their recent statement on assisted suicide: "True compassion alleviates suffering while maintaining solidarity with those who suffer."
Blessed Pope John Paul II said: "To concur with the intention of another person to commit suicide and to help in carrying it out through so-called "assisted suicide" means to cooperate in, and at times to be the actual perpetrator of, an injustice which can never be excused, even if it is requested."
Our opponents, masked under the disguise of "Death With Dignity" proposed to allow physician-assisted suicide for those diagnosed with a terminal illness with six months or less to live. Many groups were concerned that, if passed, it not only would be harmful in itself, but could lead to unintended tragic outcomes.
(1) Elder advocates were concerned that it could become a new form of elder abuse.
(2) Advocates for the disabled were concerned it could lead to "quality of life" standards in our society, where those with a lower perceived quality of life receive fewer benefits or protections.
(3) Doctors and nurses were concerned it could lead to a lower "quality of care" for those at the end of life.
(4) Doctors were also concerned that it could undermine the doctor-patient relationship.
(5) Ethicists argued that it could lead to a devaluing of human life.
(6) Suicide-prevention organizations took the position that the state legally allowing suicide for one group (those with terminal diagnoses of fewer than six months to live) could lead to increased suicide rates for the rest of the population.
(7) Those who have studied the evolution of this matter in the Netherlands noted that assisted suicide could lead, first to voluntary euthanasia (requesting direct help to end one's life), and then to involuntary euthanasia (where a third-party determines that, if the patient were in his right mind, he would choose euthanasia).
Physician assisted suicide has led to euthanasia in the Netherlands: It is very sobering to see the evolution of physician-assisted suicide in the Netherlands, a modern industrialized country. In 1973 the "Right to Die – NL" was founded and euthanasia has been legal in the Netherlands for more than a decade. The New York Times reported in their April 3, 2012, edition that "Right to Die – NL" is campaigning for expanded euthanasia, in the form of mobile teams to go out to people's homes to euthanize them. They are also promoting the idea that euthanasia should no longer be limited just to the terminally ill, and their proposal envisions the service for any individual over 70 years of age who requests it. Anyone that believes that a "slippery slope" doesn't exist with assisted suicide and euthanasia only has to look at its "evolution" in the Netherlands.
In the United States we are still a long way from the Dutch situation; however, this is not because the laws in the two states that allow Physician Assisted Suicide are well written or because of careful oversight. What has put the brakes on the growth of physician-assisted suicide in the U.S. is that more than 20 states have rejected proposed legislation and ballot initiatives. Many people who sided with us felt that Physician Assisted Suicide never should have gone to the people through a costly and divisive ballot initiative, but instead felt it belonged in the legislature where it can be debated and voted on by their representatives.
Organizations such as the Massachusetts Medical Society, the Massachusetts Hospice and Palliative Care Federation, and the American Medical Directors Association all opposed the practice of Physician Assisted Suicide as unnecessary and dangerous. The American Medical Association stated "Physician-assisted suicide is fundamen­tally incompatible with the physician's role as healer, would be difficult or impossible to control, and would pose serious societal risks." The goal of medicine is to heal and to cure and, where that is not possible, to comfort the patient.
The World Health Organization stud­ies suicides throughout the world. One of their pleas to governments is to avoid presenting suicide as a solution to peoples' pain and problems.
I do not think it is an accident that Oregon, one of two states to legalize physician assisted suicide, has one of the highest suicide rates in the United States.
In Massachusetts, dozens of newspapers such as the Boston Globe and Boston Herald endorsed our position. Elected officials from across the Commonwealth, prominent liberal and conservative voices all were committed to defeat of this serious threat to the terminally ill and to our society.
The Catholic dioceses of Massachusetts' opposition to physician assisted suicide was not a matter of partisan politics, it was simply the exercising of our right to contribute to the exchange of ideas that the Constitution of the United States guarantees. The Church performs an important service by weighing in on moral and ethical issues.
Many people objected to Archbishop Romero advocating for the poor and objected to Reverend Martin Luther King's work on behalf of social justice. They both gave their lives to make their countries better places where human dignity was respected.
We are all called to work for a more just society where the weak and the vulnerable are nurtured and protected.
Our society must continue to work with hospice organizations and other palliative care providers to improve the care provided to the terminally ill. Patients are best served when the medical establishment, families and loved ones provide support and care with dignity and respect.
We will be judged by how we treat those who are ill and the infirm. They need our care and protection, not lethal drugs. Let us work together to build a civilization of love – a love which is stronger than death.
Thank you and God Bless.
– – –
On Tuesday, which is traditionally the day of the Sorrowful Mysteries of the Rosary, two very good friends of mine had Funeral Masses.
One, which I celebrated, was for Samuel Brock and was celebrated at the French Parish in Washington, St. Louis de France.

He was a very gifted linguist, a very bright person and a real man of faith. They asked me to celebrate the Mass for Sam in Washington's Epiphany Church that is used by the French Parish. It was the same church where I officiated at his marriage many years ago.
Sam Brock was in our seminary for a couple of years and, when he left, I hired him to be my secretary at the Centro Catolico. He left the Centro Catolico and went to work at the Spanish Embassy in Jamaica. Then he joined our own State Department and served in many posts around the world. Just recently, he had been named U.S. Ambassador to Eritrea. Sadly, he passed away of cancer before he was able to assume that post. He was only 60 years old, leaving behind a wife and four beautiful daughters.
I visited Sam in two of the countries where he served as a diplomat, in Jamaica and Mexico. I was always very impressed by the way the family inserted themselves into the life of the local parish wherever they went. He would usually be the organist, his wife would be a catechist and his children would be readers. I think he helped dispel the image of the "ugly American" first of all, by his great piety and love for the Church and desire to be with the people as well is with his incredible linguistic ability. He spoke several languages flawlessly.
In Washington, he and his family were the pillars of the French Parish. He was also a member of the Agrupación Católica. This is the second funeral of an Agrupado I have had this month, so it was very moving to see all the Agrupados come together the at the French Parish and, of course, once again to sing the hymn of the Agrupación, "Uno solo es el Jefe y Maestro." I was very pleased to be able to attend those two funerals.
But my life is not my own, so I am not always able to get to those funerals that I would like to.
A perfect example is that, at the same time we were having the funeral Mass in Washington for Sam Brock, Sister Louis Marie Bryan's funeral was taking place at Convent Station, New Jersey.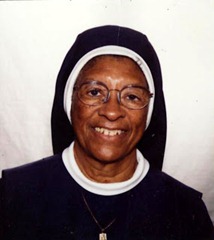 Sister Louis was a dear friend and was my Chancellor when I was in the Virgin Islands. As a matter of fact, when I arrived she really was the entire staff –the diocesan budget in those days was $30,000. So, we all wore many hats, but she was just an extraordinary person who loved the Church, loved the Virgin Islands and the people of the Virgin Islands. She served them so well for so many years.
I was able to speak with her over the phone recently and she was in my thoughts and prayers constantly as she was dying.
In these last couple of months, when I have been so involved in the fight against physician assisted suicide, I have had examples of very dear friends who were dying of prolonged bouts with cancer but who died with great dignity, surrounded by love.
I wish everyone could die that way.
Until next week,
Cardinal Seán