Welcome back!
We are in the last weekend before Election Day and I cannot stress enough how important it is that we vote, and particularly that we vote "No" on ballot question 2.
I am encouraged by the support that a "No" vote is having as more individuals and organizations get to know more about this bad legislation. I was particularly happy to read Vicky Kennedy's OPED last Saturday in the Cape Cod Times opposing Question 2 in which she recalled how the doctor's predictions on Senator Ted Kennedy's life expectancy were not accurate, allowing him to spend his last year in a very meaningful way.
The New York Times published an article in its on-line edition last Sunday from Doctor Ezekiel J. Emanuel, a Jewish doctor and the brother of Chicago's Mayor Rahm Emanuel, opposing Assisted Suicide.
Also today, I was encouraged by the Boston Globe's editorial recommending readers not to support Ballot Question 2. All those are good signs and my hope is that as more people know about this legislation, they will oppose it. I want to share with you my column published in The Pilot this week.


Four steps in the final four days to defeat assisted suicide
Regular readers of The Pilot and CardinalSeansBlog.org are aware of the many reasons we in the Church oppose assisted suicide and urge a vote of "No on Question 2." Our faith tells us that suicide is always a tragedy and should never be presented as a "compassionate solution." The medical community and advocacy groups for the disabled have pointed out the lack of safeguards and other flaws in Question 2. Others oppose Question 2 because they think laws involving life and death should be discussed in the legislature, not through a ballot initiative process.
Polls show that support for Question 2 has dropped significantly. There are three principal reasons for this. First, nearly all newspaper editorials have endorsed the "No on Question 2" position, including the Boston Herald, Worcester Telegram and Gazette, Lowell Sun, New Bedford Standard Times, Salem News, Fitchburg Sentinel & Enterprise, Cape Cod Times, The Pilot and others. Most newspapers have also included well-written Op-eds from doctors, disability-rights advocates and regular citizens persuasively stating why Question 2 is wrong for Massachusetts.
Second, the television and radio commercials produced by the Coalition Against Physician Assisted Suicide (CAPAS) have been effective at pointing out the significant flaws in Question 2, particularly the fact that it does not require a patient considering assisted suicide to consult with a psychiatrist, palliative care expert, or even a family member. The commercials have also emphasized that these lethal prescriptions could be picked up at a local pharmacy and would involve ingesting 100 capsules of Seconal, all at once, and without a doctor present. Voters have been horrified by those facts and agree that a death like that would not be "dignified."
Third, and perhaps most importantly, "word of mouth" from people like you has been tremendously important. The heartfelt concern of a friend or family member will always be more memorable and persuasive than even the best television advertisements or newspaper editorials. Thank you for your outreach to family members, friends, neighbors and work colleagues on this issue.
It is projected to be a close vote on Question 2. To defeat assisted suicide, we especially need to win the "word of mouth" campaign over the final four days. I'd be grateful for your help. Here are 4 specific steps that I think are critical:
(1) Vote and help others to get to the polls. Voting is a privilege and a right, as it is a direct way we participate in helping to shape our society to protect the vulnerable. Every vote counts, especially on this issue. Please also reach out to friends and family members that don't drive and ask if they need help getting to their polling locations.
(2) Personal outreach to at least 10 people through phone or direct email. A phone call or a personally addressed email from you could be the first time someone hears about this important issue. Please share with them your concerns about Question 2 and ask them to think about it before voting on Tuesday.
For an email message or a personal phone call, you may want to say something like, "I'm contacting you because I am concerned about Question 2. It promotes suicide, instead of palliative care, as a solution to those suffering from terminal illness. Question 2 has many flaws, such as no required consultation with a psychiatrist, pain management expert, or even family members. Doctors, including the American Medical Association and the Massachusetts Medical Society, urge a vote of "NO on Question 2" and state that terminal diagnoses are often wrong and shouldn't be used to make life and death decisions. I'd be grateful if you considered this information before you cast your own vote on Question 2. Thanks very much! P.S. More information is available at www.SuicideIsAlwaysATragedy.org and www.StopAssistedSuicide.org."
(3) A message to your contacts through Facebook, Twitter or a general email. The power of electronic media to reach hundreds and even thousands of people at once is an amazing technical advance. That is one of the reasons I have utilized my Twitter account (@CardinalSean) to share my own messages about assisted suicide in the hope that all my Twitter followers will "retweet" (forward) my messages instantly to their followers. In this way, one frequently retweeted message has the potential to reach hundreds of thousands of individuals. If you are on Twitter, please send out your own messages or retweet mine. If you are on Facebook, please like the archdiocesan Facebook page and then "like" its messages on assisted suicide. If you are not presently on Facebook or Twitter, please consider sending an email to all your contacts.
For a short Twitter message (which is limited to 140 characters), you may want to write something like, "Question 2 is flawed. Please join me in 'Voting No on 2.' www.StopAssistedSuicide.org. Please retweet."
(4) Pray for the grace of understanding, courage and discernment. It is a good practice that people of faith pray in the days leading up to any important decision, including casting their votes. Ask God to increase your understanding on difficult issues, to increase your courage if any of your votes are a hard choice, and to help identify those you should reach out to with your concerns and messages on the issue of assisted suicide. God wants to be present with us at all moments of our life.
Please understand the impact each of us can have individually and collectively when we share our views in a civil and respectful manner. Let's choose to grow old in a society that views our cares and needs with true compassion, offering genuine support in our final days. The choices we make on Election Day will decide whether this is the kind of caring society we will leave to future generations. Please join me on Election Day to stop assisted suicide by voting "No on Question 2."
– – –
I want to start my regular weekly posting with prayers towards all those affected by Hurricane Sandy. Having experienced a very serious hurricane when I was bishop in the West Indies, I have come to appreciate the force of nature.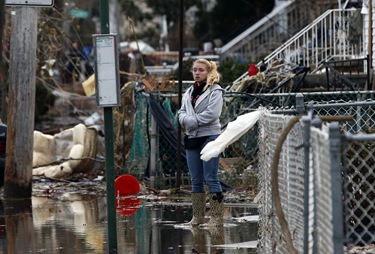 This last hurricane that we experienced here in the Northeast was incredibly large. Although the damage in the Commonwealth of Massachusetts was limited compared to other parts of the country, it caused an incredible amount of suffering and distress to millions of people living on the east coast of the United States. Our heart goes out to the people who suffered the brunt of this hurricane, especially in places like New Jersey and New York.
I also received an email saying that in Cuba, in the Archdiocese of Santiago, incredible damage was done to homes, churches, and businesses. In Haiti there was also a lot of suffering provoked, particularly by the rains. Here in Massachusetts we experienced the winds, but not so much the rains. A lot of people do not realize that in hurricanes oftentimes it is the water that causes the most damage and deaths.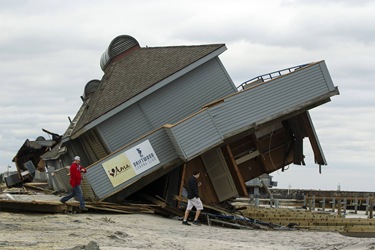 – – –
Upon my return from Rome on Friday, I met with all the Boston seminarians and Father Paul Soper at the Cathedral of the Holy Cross.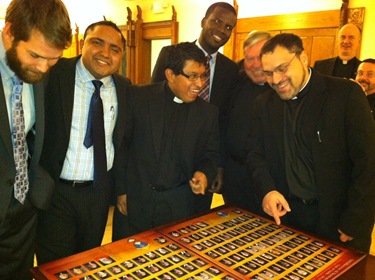 We prayed a holy hour, vespers and dinner. Father Soper made a presentation on pastoral planning and the New Evangelization. We had a dialogue with the seminarians, which was very interesting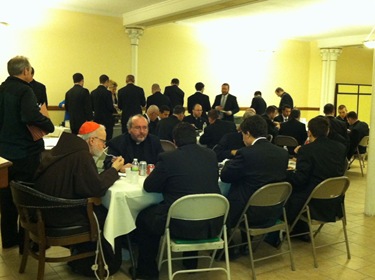 – – –
Saturday, I came to the Pastoral Center in Braintree to celebrate Mass for those who attended the fourth annual Archdiocesan Justice Convocation, Celebrating the Social Dimensions of Vatican II.
One of the themes was physician assisted suicide, the big issue that we face here in Massachusetts. We were very grateful to all of those who participated. People were very enthusiastic, for the experience of the day. There was a lot of participation. We are grateful to the organizers for all their work.
– – –
Later that day, I went to Peabody for a Mass at St. Adelaide's to close the 50th anniversary celebration there.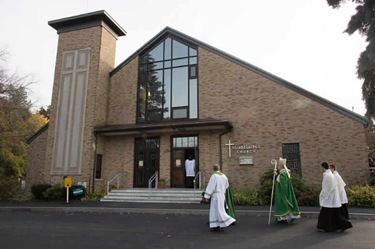 We blessed a picture of St. Adelaide. The music program was beautiful.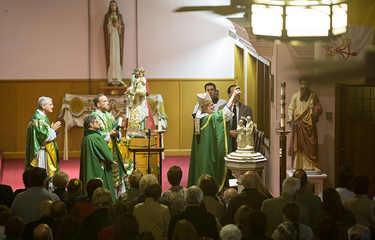 They had several musicians playing trumpets to accompany the choir. It is a very lively parish with lots of young families, and I was happy to be a part of their celebration.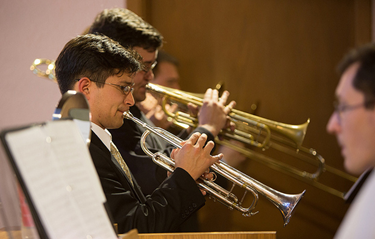 – – -  
On Sunday, we went to St. Ann's in Somerville for the blessing of a new handicap accessible entrance and elevator and the moving of a tower bell. They had renovated the church just beautifully. The Mass was trilingual for the Haitian and Latin American communities. They had wonderful choirs singing Spanish, English and Creole French. Father Brian McHugh has done an extraordinary job in the parish there. The church looks stunning. It was very, very crowded. The singing was just beautiful.
Sunday was also the day that I addressed all of the parishes through video or audio, giving a homily. The Sunday Gospel was the story of Bartimaeus, a blind beggar in Jericho, and I related that to the physician assisted suicide Ballot Question 2.
At St. Ann's, of course, I said the homily live.
– – –
Each year we gather with the deacons to celebrate a Mass for the deceased members of the diaconate community, their wives and family members.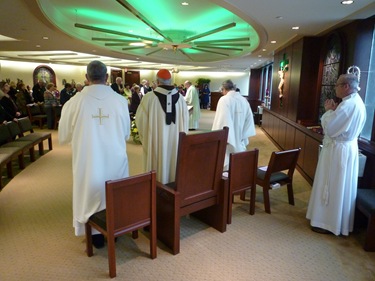 Father Bob Butler was here because of Father Richard Butler's association with the diaconate program. We light a candle for each of the deacons who died in the last year. It is always very well attended.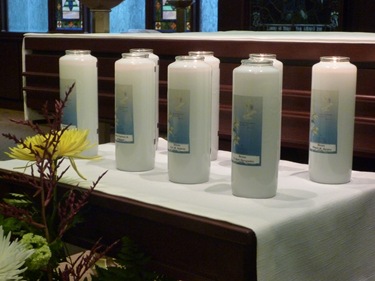 – – –
Monday, of course, Hurricane Sandy hit. Armenians are not deterred by wind and rain like postmen of yore. So, I met the new Armenian Catholic bishop of the Eparchy of Our Lady of Nareg, Bishop Mikaël Antoine Mouradian, who was ordained around one year ago. With him was the Armenian Catholic pastor, Father Rafael Andonian and Michael Charchaflian, who is studying to become a permanent deacon.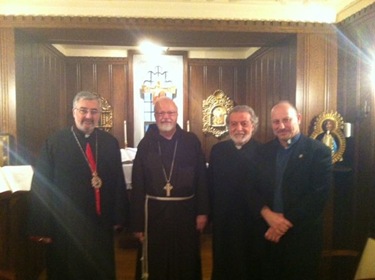 His diocese takes in all of the United States and all of Canada. He is living now on the West coast where the largest numbers of Armenians live.
He brought me a lovely gift, a wooden box with an Armenian Cross on it, and inside on a piece of marble from Armenia an etching of the baptism of the king of Armenia by their apostle St. Gregory the Illuminator.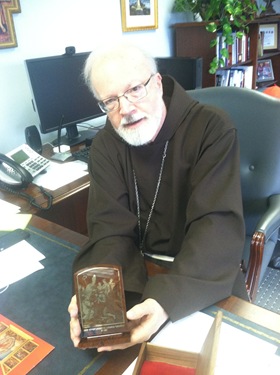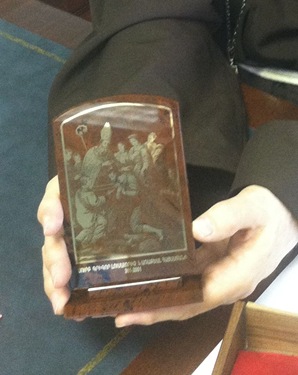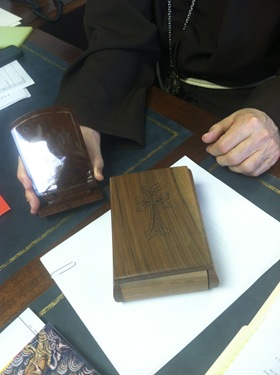 It is a very old Church that traces its origins back to the fourth century.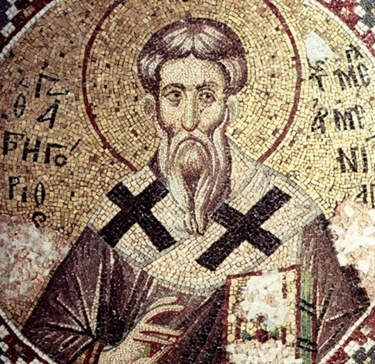 St. Gregory the Illuminator
They have a monastery on one of the islands near Venice called San Lazzaro, that I visited a few years ago, which is a center of Armenian culture and Armenian history. The monks there are the order that many of the Armenian bishops belong to.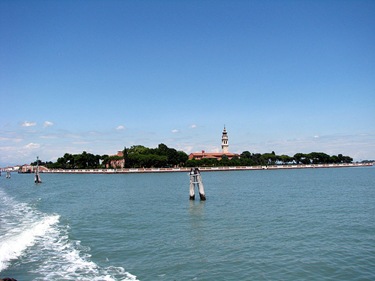 – – –
Tuesday, I went to the 11th annual "Partnership for Success" dinner for friends of Cathedral High School.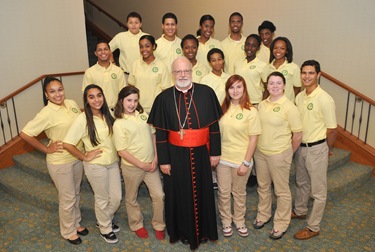 They raised around $1.2 million. They honored John White, one of the board members. It was a beautiful evening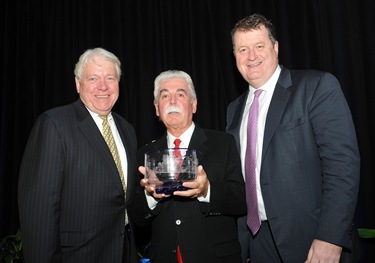 They had a film about Cathedral High School and three students spoke there, one graduate, who is now a student at B.C., and two seniors.
– – –
Wednesday I recorded a message sharing Church teachings on end of life issues for young people, and making them aware of the reasons that I am calling on Catholics to be involved in this issue. The message has been distributed to all Catholic high schools in Boston and it will be shown to the students before Election Day.
– – –
November always begins with the beautiful feast of All Saints, at which the Church honors all of those who have gone before us marked by the sign of faith and are now living in God's presence and interceding for us. This is not just the canonized saints who are known, but all of the anonymous saints. I always compare them to the Tomb of the Unknown Soldier. There is much holiness out there that we do not recognize during people's lives, but God sees their hearts and rewards their fidelity and love.
On the first of November we honor them, and it is followed by the Feast of All Souls on Nov. 2, which is a very special day of intercession for souls in purgatory who are in the process of purification in preparation to enter into God's presence.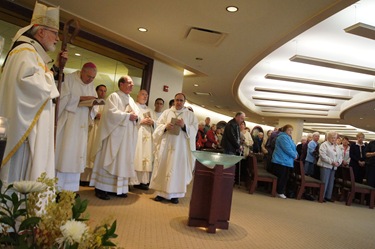 It is along with Christmas only one of two days when a priest is authorized to celebrate three Masses. I usually celebrate one in the morning, one at noon, and one in the afternoon.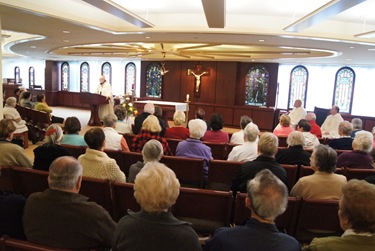 This year it was a joy to be able to celebrate that second Mass with my auxiliary bishops and the workers here at the Pastoral Center.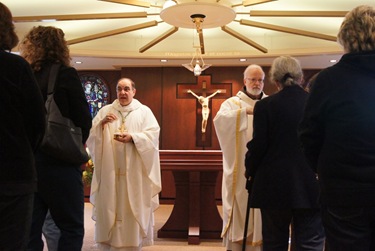 Until my next post.
In Christ
Cardinal Seán