Thursday, I attended a gathering to remember the life of Dr. John Silber.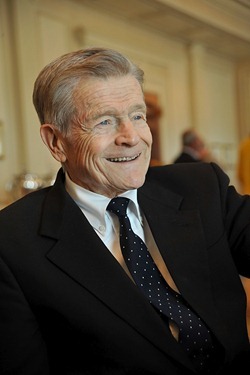 Dr. Silber was an extraordinary man who was president, and later chancellor, of Boston University, which is one of the very large universities in Boston.
Dr. Silber was a native of San Antonio, Texas. He was a profoundly religious man and was a good friend of Cardinal Medeiros from the days when Cardinal Medeiros was the Bishop of Brownsville.
When Dr. Silber came to Boston University, and began his extraordinary work of transforming it into the very high quality institution that it is today, he instituted a wonderful scholarship program named after his friend Cardinal Medeiros — the Medeiros Scholarships.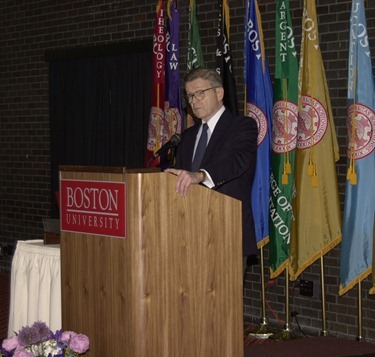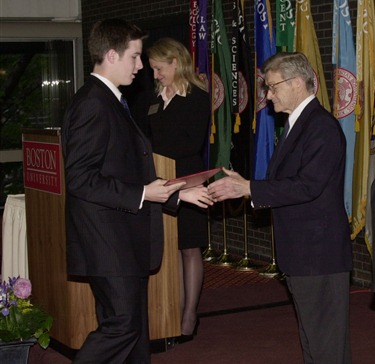 Under that program, a graduate from each of the Catholic high schools in the archdiocese is given a full four-year scholarship to Boston University. This has continued under Dr. Robert Brown, and we are very, very grateful for that. I always look forward to being part of the awarding of those scholarships every spring.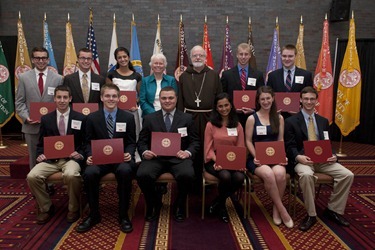 The 2012 Medeiros Scholars
Dr. Silber had been a student of theology and philosophy. He was particularly interested in Kantian philosophy. He was always very supportive of the Catholic ministry at Boston University and he used to joke that Boston University was the largest Catholic University in Boston! In fact, they may have more Catholic students than even our own Boston College. But they have always been blessed with a wonderful campus ministry, formerly with the Brotherhood of Hope and Mother Olga Yacob and now under the direction of Msgr. John McLaughlin.
It has been a few weeks since John Silber passed away but the University just organized this memorial service in his honor. I would say that there were about 800 people in attendance. They had a very fascinating, academic-type of program — as you might expect for someone who had been so connected to the university world. Among the very colorful speakers was Thomas Wolfe, author of the famous "Bonfire of the Vanities". He was a very old and close friend of Dr. Silber and spoke very much about his association with Dr. Silber.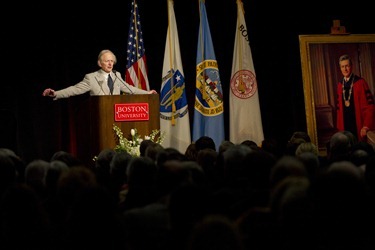 Two of the speakers were present through video and one of them was Dr. Henry Kissinger who had become a close friend of Dr. Silber when he was a member of the Commission on Latin America during the Reagan Administration.
It was, in fact, also during that period when I first met Dr. Silber, because he interviewed me at one point about the situation in Central America. It was the first time I had met him and, at the time, I was Bishop in the West Indies. There was also a video presentation by Elie Wiesel, the famous Jewish Holocaust survivor and author. He had been brought to Boston University by Dr. Silber. There were several musical presentations as well and of course remembrances by the current president of BU Dr. Robert Brown and many others.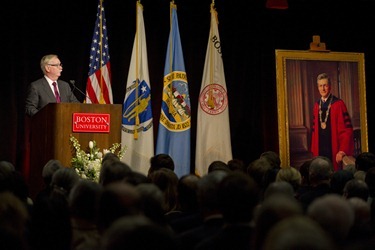 Boston University President Dr. Robert Brown
Dr. Silber also made an incredible contribution to the public school system in Chelsea and is credited with incredible growth at Boston University. He was also a very pro-life individual. I had him address the Catholic lawyers at the Red Mass a few years ago and he did an outstanding job.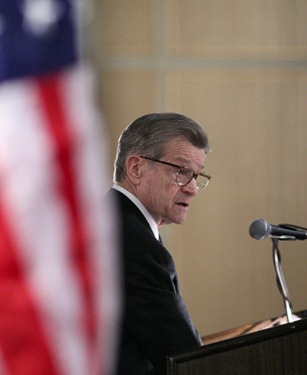 Dr. Silber speaking at the 2005 Red Mass Luncheon
He was a man who had a beautiful family. Everything he did he did well. I considered him a friend, and pray for him and his family.
– – –
Thursday I visited the Greek Orthodox Metropolis for the celebration of Vespers on the Vigil of the Feast of St. Andrew, accompanied by Dr. Vito Nicastro and father David Michael of our Office of Ecumenical and Interreligious Affairs.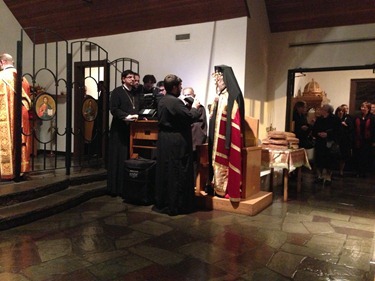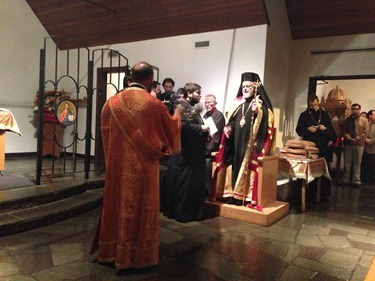 St. Peter and St. Andrew, who were brothers, were the founders of the Churches in Rome and Constantinople. Each year we have the customary exchange of visits with the Orthodox on our patronal feasts, in a sense, mirroring here in Boston the practice of the Holy See.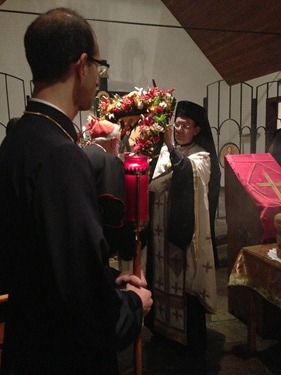 Venerating the icon of St. Andrew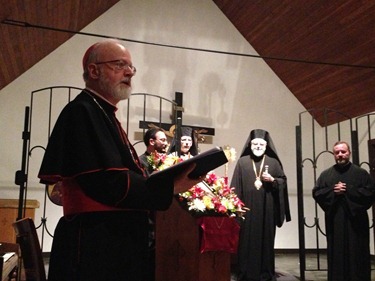 On the Feast of St. Andrew, the Holy Father sends a representative to the Phanar to be present to the Ecumenical Patriarch. Here in Boston, I go to the Metropolitan Cathedral Chapel for Vespers, and Metropolitan Methodios joins us for our Vespers service on the Feast of Sts. Peter and Paul.
The loaves are a symbol of St. Andrew because he was the one who told Jesus "Look there is a boy here with five loaves and two fish…" at the miraculous feeding of the 5,000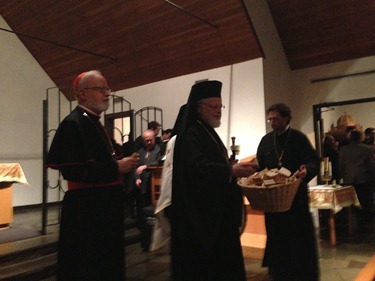 After the service, there was a collation and I had an opportunity to greet many members of the Greek Orthodox community who were there.
– – –
During this time of Advent, we have many days of recollection for priests in the different regions of the archdiocese. Bishop Dooher organized the meeting for the South Region at Glastonbury Abbey on Friday. The retreat master was Father James Kelly, the Guardian at the Arch Street Shrine in downtown Boston.
At the luncheon, we celebrated Msgr. Bill Glynn's 90th birthday.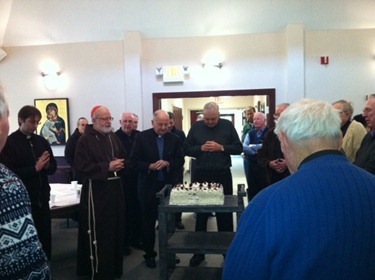 – – –
Our new incipient religious community, the Daughters of Nazareth, follow the spirituality of St. Charles de Foucault. So on Saturday I was very happy to visit them and celebrate Mass for the feast day of the saint.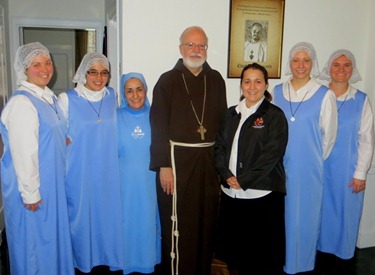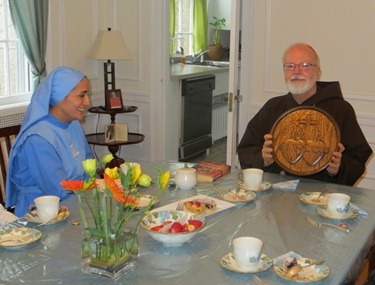 – – –
Then, I celebrated the Mass that afternoon at St. Edith Stein Parish in Brockton and I blessed the new Chapel area that they have prepared in the lower church. Afterwards, I was very pleased to be able to join a group of the local clergy for dinner.
– – –
Sunday, we welcomed the Vienna Boys Choir to the Cathedral for a very beautiful concert. During the first part of the program they sang a lot of Baroque music as well as some modern music. Then, the second half of the program featured Christmas carols.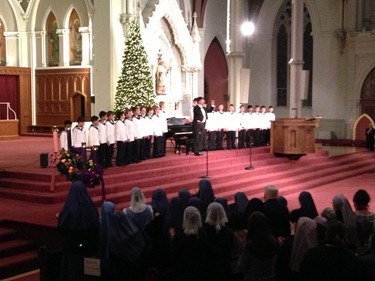 We were very surprised and pleased by the turnout for the concert. We were only expecting about 800 or 900 people, but we estimate there were about 1,500 or more.

Many people brought their children, which I think is wonderful. I suspect children do not often have a chance to hear this kind of music, but the fact that the choir itself was made up of children was a draw.
They told us a little bit of the history of the Vienna Boys Choir. It is about 500 years old and they were the singers of the imperial court in Vienna. Indeed, last summer they sang at the funeral of Otto von Habsburg the son of Blessed Karl von Habsburg who is buried at the Capuchin church in Vienna.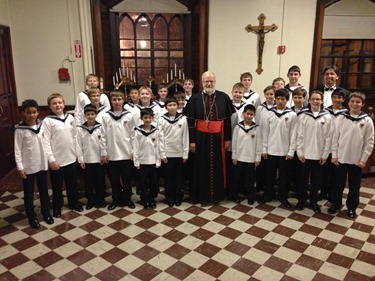 There are 100 boys in the choir and it is divided into four groups who travel around the world giving concerts. They said each year about a half-million people hear them perform. I'm glad we, here in Boston, were among them.
– – –
Monday, we had a gathering to bring together some of the faith leaders who worked with us during the physician-assisted suicide campaign.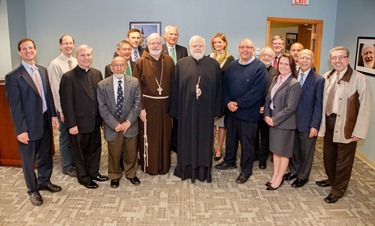 We shared some reflections on the effort and then we had a very good time of conversation.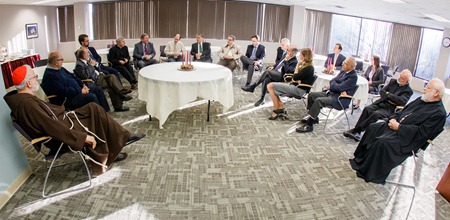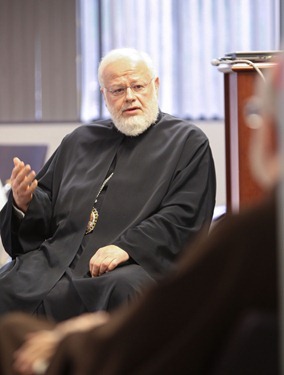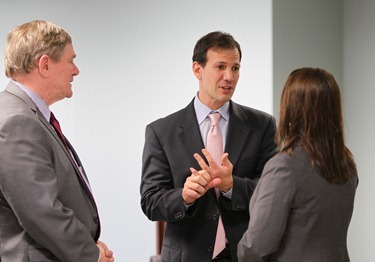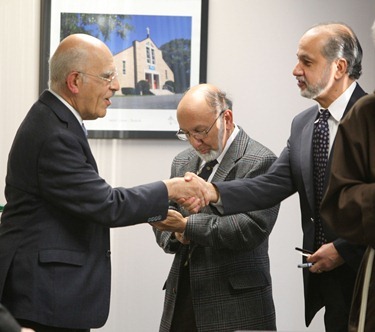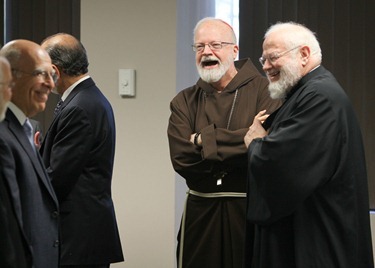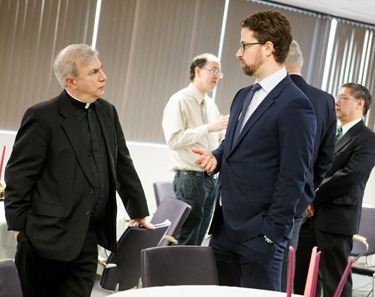 It was a very nice moment, particularly because there were number of groups we had not worked with before, so it was nice to have them there.
– – –
In the afternoon I met with Father Michael Harrington, Father Jude Osunkwo and representatives of the Nigerian Catholic Community here in the archdiocese, which worships at St. Katharine Drexel.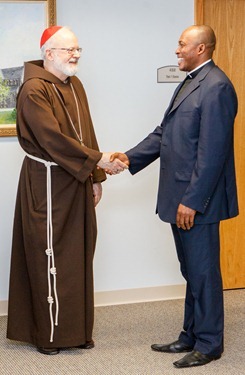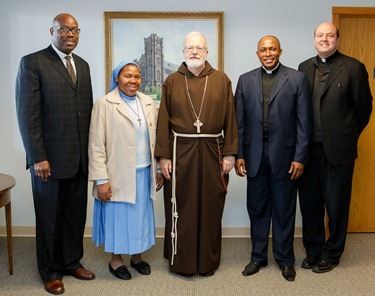 They wanted to update me on some of their activities and plans for the future.
– – –
That evening, we had our annual Advent Mass for the members of the order of Malta, during which Bishop-elect Deeley was received as chaplain of the order. Normally, this would have been done at the Order's national gathering in November, however, that meeting coincided with the announcement that the Holy Father had selected him to be a bishop.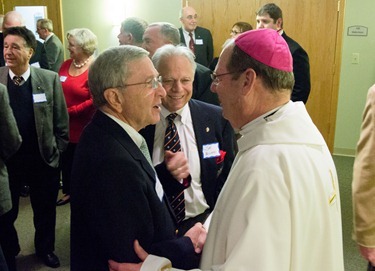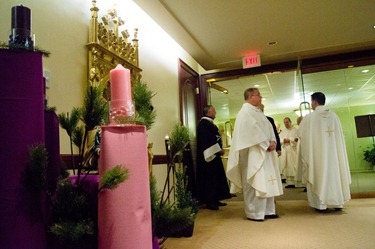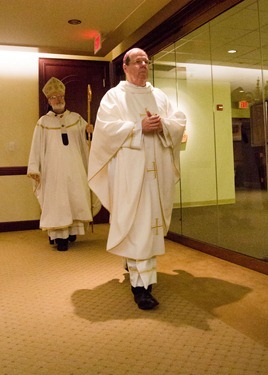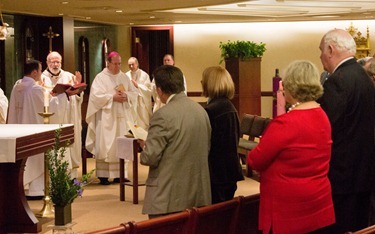 As part of this ceremony, he was given a stole which denotes him as a chaplain.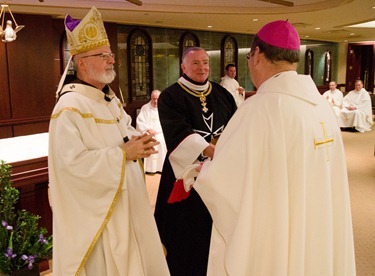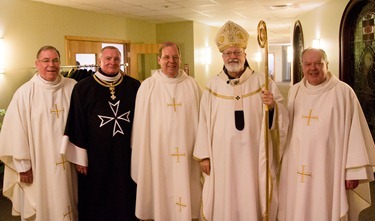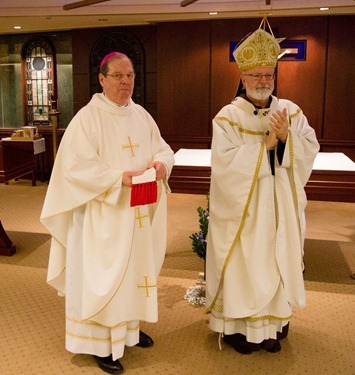 Afterward, there was a dinner at which we thanked Suzanne Downing, who is the outgoing chair.
– – –
On Tuesday I went to the women's correctional institution in Framingham.
We had lunch there at the restaurant that they have set up to train women for careers in food service. They also train women for careers in cosmetology and hairdressing.
After lunch, I had Mass for the women and then I visited those in the infirmary and isolation. Then, I had another meeting with women who are in the prerelease program.
Of course, at this time of the year it is difficult for women who are in prison, as many of them are mothers unable to be with their children.
During the visit I met a man, who I presume was a grandfather, carrying a little child. The little girl said, "I come every Tuesday to see my mommy." She was only two years old. He said he takes her to Mass every Sunday. It was very nice because it was obvious that he was trying to teach her about God.
Sister Maureen Clark has been the chaplain there for over 20 years. (I told her, "That's a long sentence!") But she has done just an extraordinary job and has implemented many innovative programs for the women. One of them is to have them read stories that are recorded and played for the children. In that way, they can read to their children, even though they cannot be with them.
– – –
That evening we had our final Archdiocesan Pastoral Council meeting of the year, at which we thanked those who are finishing their terms. There are number who are finishing their terms already. We had a very good presentation by Michael Levine on the year of faith and different programs around the new evangelization.
– – –
On Wednesday, I attended the Missionary Childhood Association's first annual Mission Education Day at Our Lady Help of Christians in Newton. The day was originally scheduled at the cathedral in October, which is Mission Month, but was postponed due to Hurricane Sandy.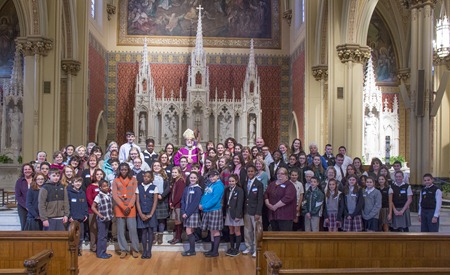 The Missionary Childhood Association is one of the four Pontifical Mission Societies in our Church. It is geared toward children.
We invited all the elementary schools and parish religious education programs in the archdiocese to send student representatives, and an adult moderator or two, to be commissioned as the official Mission Representatives for their schools or parishes.
Participants heard from Father Rocco Puopolo, a Xaverian Father who was a missionary in Sierra Leone and Sister Lisa Valentini about her time in Peru, the Dominican Republic and Haiti.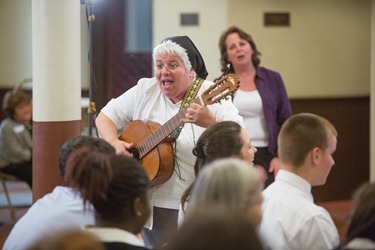 They talked about the importance of children being members of the Missionary Childhood Association, to not only grow in their faith but also to increase their awareness of the needs of others and how the Church is at work helping children around the world.
At the Mass, I blessed mission crosses that the children will wear at their school or parish as a sign of their new responsibility.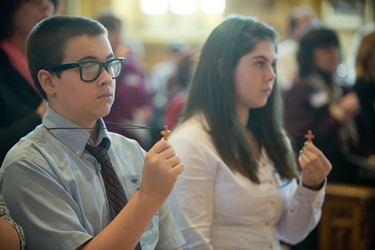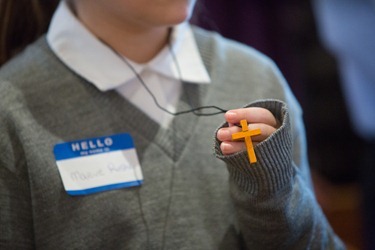 Each group also made a craft based on the World Mission Rosary to take back to their school or church to hang as a mission centerpiece.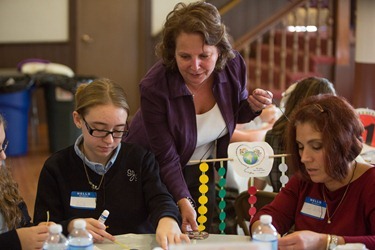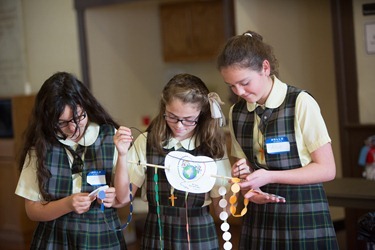 In my remarks, I urged the students to become more deeply involved with the missionary work of the Church and that this was going to be just the first of many great days like this of students coming together to learn more about their missionary vocation.
– – –
Wednesday afternoon I attended an informational session on Project Rachel with many priests who want to become more acquainted and more involved with the program. Project Rachel is a healing ministry for both women and men who are suffering because of a past abortion.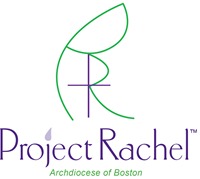 I thanked them for their participation and asked them to make their fellow priests aware of what was happening in this very important priestly ministry of healing and outreach to people whose lives have been damaged by an abortion. I urge you all to learn more about this important healing ministry.
Until next week,
Cardinal Seán