Welcome back!
Last Friday we celebrated the Episcopal ordination of Bishop Robert P. Deeley. On the eve of the ordination we participated at a dinner organized by the local alumni of the North American College.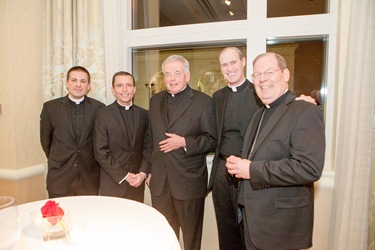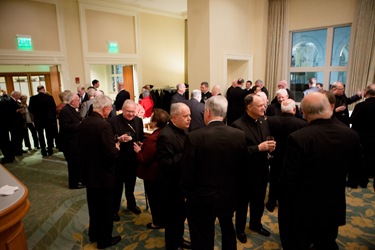 In addition to priests from the archdiocese who are graduates from the North American College and visiting alumni from NAC,  Bishop Deeley's classmates who were celebrating the 40th anniversary of their priestly ordination were a part of the dinner — along with Bishop Deeley's family. Many of his relatives from Ireland were also part of the celebration.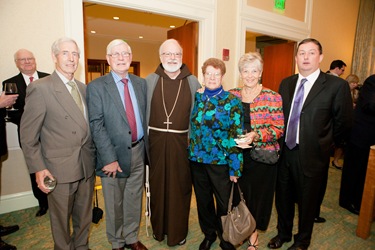 At the dinner, following NAC traditions, they offered three toasts, one for the Holy Father, one for the United States, and one for the college itself. One of the toasts was offered by Deacon Tom McDonald, one of our own seminarians who is presently enrolled at the North American College, and was home on Christmas break. The other two were offered by Bishop Kennedy and Father David Berberian of Albany.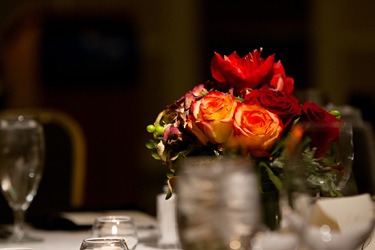 – – –
Bishop Deeley's ordination was the next day, on the feast of Elizabeth Ann Seton, the first American saint, who, as I pointed out in my comments in the homily, had as her first spiritual director Bishop Jean Louis Cheverus, the first bishop of Boston. He corresponded with her for a long time before she entered the Church. So, it was a wonderful feast day to be celebrating the ordination of an auxiliary bishop here in Boston.  Here is my homily: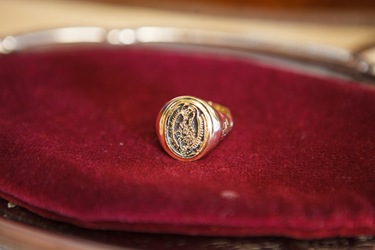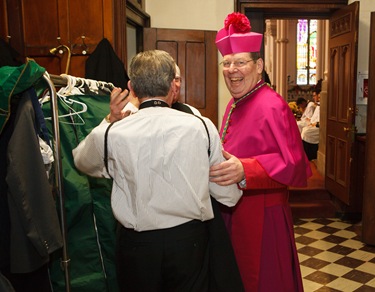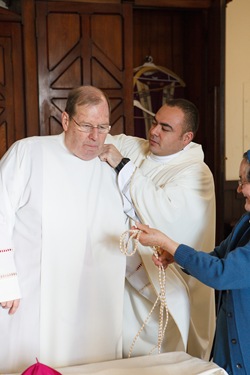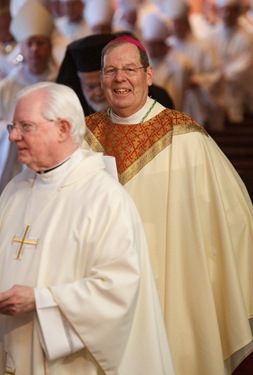 We were very pleased that so many people were able to attend. Archbishop Carlo Maria Viganò, the Apostolic Nuncio to the United States, made his first visit to Boston as apostolic nuncio for the occasion.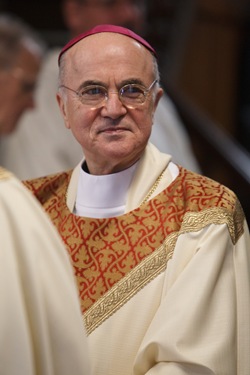 Archbishop Carlo Maria Viganò, Apostolic Nuncio
We were very pleased to have him. Also, many bishops came from outside of the archdiocese, and a number of Bishop Deeley's classmates as well. Bishop John Nienstedt and Bishop Robert Evans were the co-consecrators — both classmates of his.
Cardinal William Levada, who was the prefect of the Congregation for the Doctrine of the Faith when Bishop Deeley was working there, as well as Bishop Charles J. Scicluna, the new auxiliary bishop of Malta, also came to be a part of the celebration.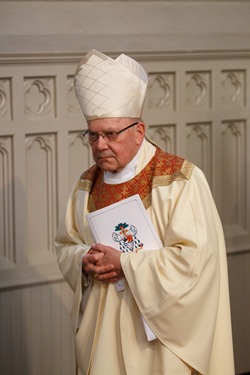 Cardinal Levada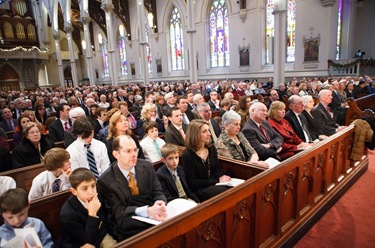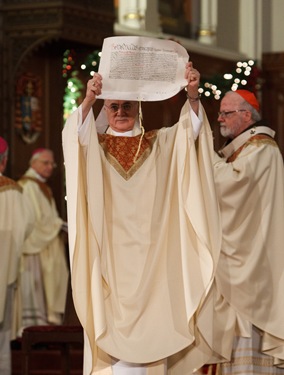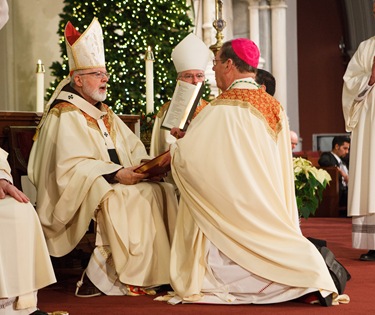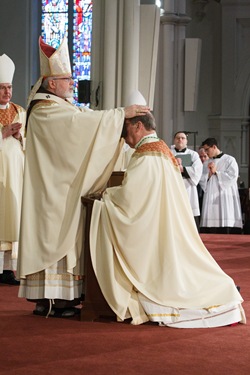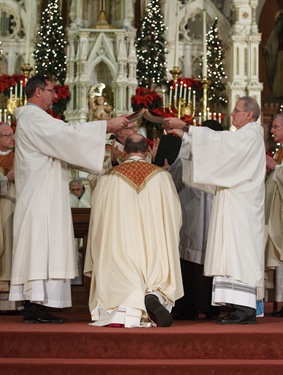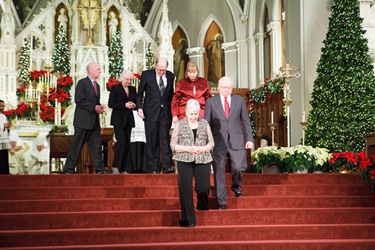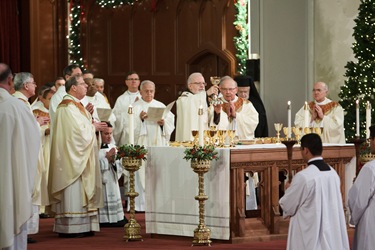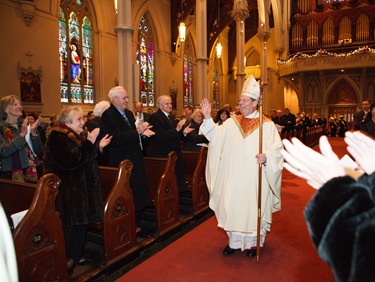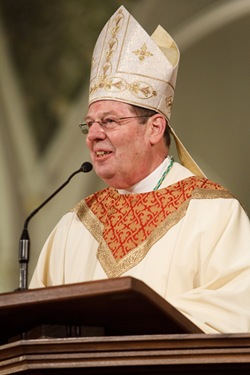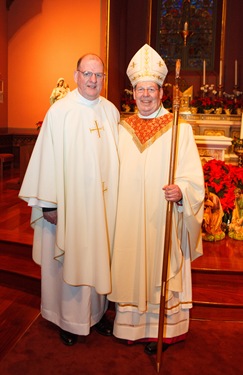 With his brother, Father Kevin Deeley,
Pastor at St. Michael's in North Andover
– – –
Each year I celebrate a Mass for the survivors of sexual abuse and their families. This year I celebrated it on Saturday and I was accompanied by Father John Curry, Father Steve Madden, the acting director of the Office of Pastoral Support and Outreach June Chin, and Deacon Paul who also works in the office.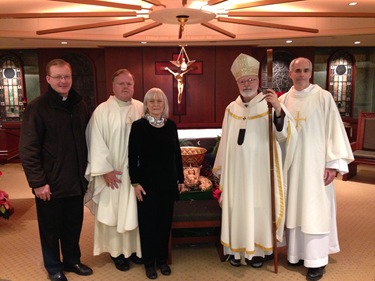 I would say about 80 people came to the Mass, and there was a reception afterwards. This Mass was initiated 5 years ago by Barbara Thorp and she was there for the Mass Saturday. We are very grateful to the incredible contribution that she made in the diocese's outreach to victims and their families. This Mass is one of the initiatives that she initiated. We hope to be announcing a new permanent director for the office very shortly. This is a very vital ministry of the archdiocese, to try and give pastoral care to all of those who have been affected by the sexual abuse crisis.
– – –
Sunday I left for Knoxville, Tennessee to celebrate the funeral for my father's sister, my aunt Marie O'Malley. It is not easy to get to Knoxville, so I had to travel Sunday afternoon. I was disappointed that I was unable to celebrate the Mass for Labouré College that is marking its 120th anniversary. Father Vincent Daily, pastor of St. Gregory's, celebrated the Mass in my stead.
I was told that over 150 administrators, faculty, students and alumni attended the Mass .
Laboure College has a great school spirit and is very committed to training nurses with a Catholic understanding of health care. They are expanding by moving to the former Aquinas College campus in Milton and will use the current facilities at Carney Hospital as clinical space.

The Funeral Mass for my aunt was at Sacred Heart Cathedral where she had been a very active parishioner for almost 50 years.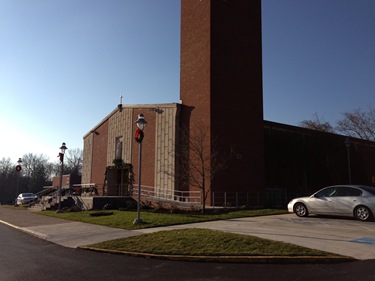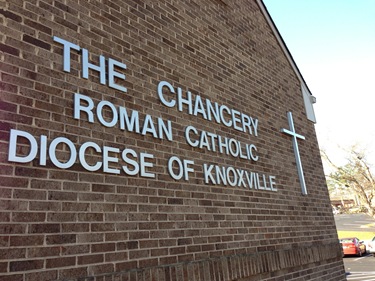 Many of my cousins were able to join us for the Mass. Knoxville's Bishop Richard F. Stika also concelebrated.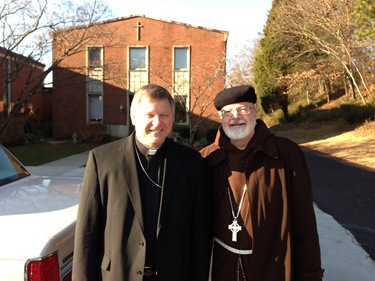 It was very encouraging to see how the diocese has grown so considerably. When my aunt first went there about 20,000 Catholics lived there. In one of the reflections, her oldest son was talking about when she arrived in Knoxville and she was working in a bank. People would come into the bank just to point her out as the Catholic and the Yankee that was working in their bank. It was such a novel thing!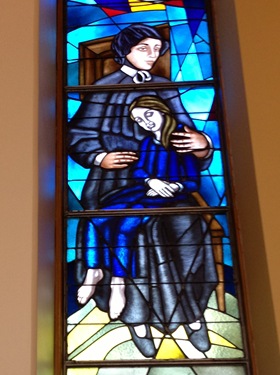 I took this photo of a stained glass window at the cathedral  because it had an image of Saint Elizabeth Ann Seton, which reminded me of the ordination and her feast day
Her husband was a railroad executive, and for some reason he ended up in Knoxville. My aunt had always been a banker so they offered her a job at a local bank. They were one of the founding families in the cathedral parish at Sacred Heart Cathedral.
I stayed at the bishop's house Sunday night. Cardinal Justin Rigali was there as well. He is living there during his retirement. They were very gracious to us. We certainly were the recipients of the great tradition of southern hospitality.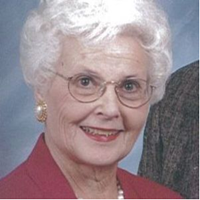 Marie O'Malley
I always tell the story that my aunt, having studied at St. Joseph's Academy and Ursuline College, had determined that her vocation was not to be a sister, so she was praying to the Blessed Mother to help her find a husband. She was on the train once going to Chicago, when this handsome young man got on the train. He reached in his pocket for a comb or a handkerchief, and a rosary fell out of his pocket. She said, "That's the man Blessed Mother has sent." Indeed she married that man on the feast of the Holy Rosary.
Until my next post
In Christ
Cardinal Séan