Last Thursday I went to Worcester to attend their Adopt-a-Student Recognition Dinner.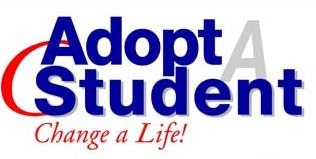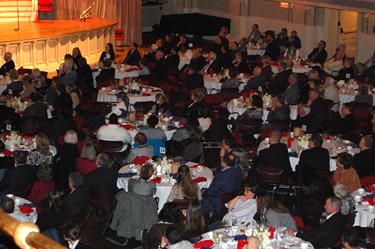 This year, they were marking the 25th anniversary of the program and I was asked to give the keynote address.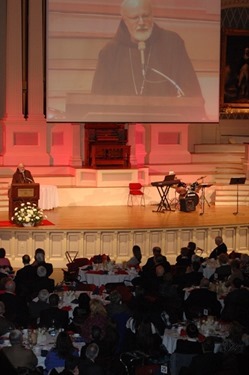 It is their largest event to date. There was a special recognition for Bishop George Rueger, retired Auxiliary Bishop of Worcester, for his great support of Catholic education and they established an annual scholarship in his name.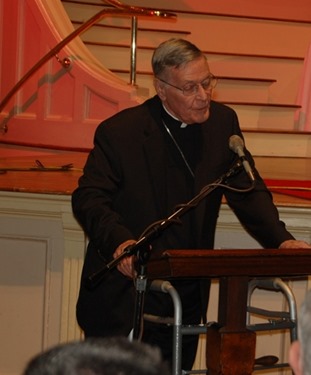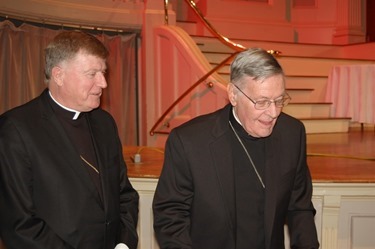 – – –
Friday, I met with our seminarians who are in the first year of their theological studies for Vespers and dinner at the Cathedral. There were eight seminarians with us, and they have two classmates in Rome.
As I say, it is an opportunity to spend some time with the seminarians and get to know them better.
– – –
Saturday, I went to the Diocese of Springfield to speak at their annual Catholic Men's Conference.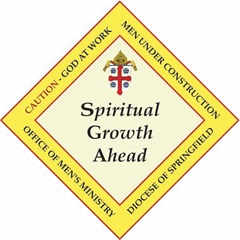 In my address, I spoke to them a little about the new evangelization and about the anniversary of Pope Francis' pontificate and his apostolic exhortation Evangelii Gaudium.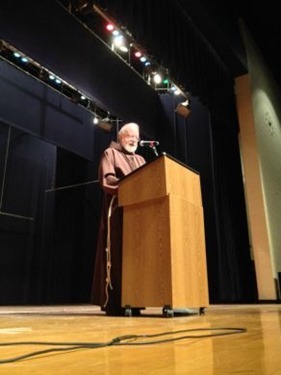 They had over 400 men in attendance. I was very pleased to hear that they had their largest turnout so far.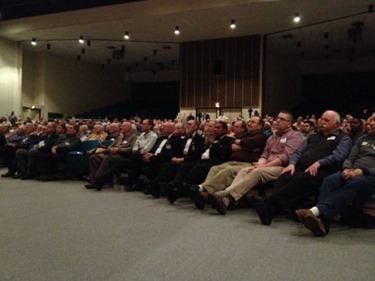 The men's conferences that are held in many dioceses are very important. The ones we have hosted in Boston have always had very good results and, very often, have resulted in parishes forming men's groups that continue the spirit of the conferences. I look forward to the day that we will once again have a men's conference in the archdiocese.
– – –
That evening, I attended the musical presentation of the cantata "Resurrection" at the Cathedral the Holy Cross.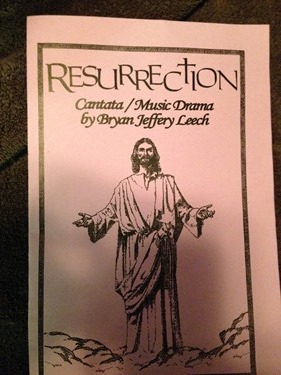 It was performed by the St. Patrick's Family Players from Watertown and tells the story of St. Peter as he prepares for his martyrdom. In this moment of great difficulty and distress, he recalls his experience with Jesus and the other Apostles and the joy he received at the Resurrection and in being forgiven by Christ.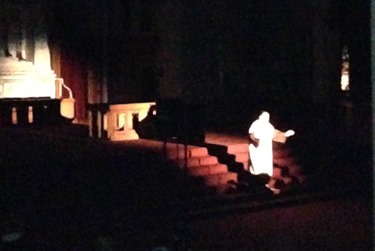 They have about 100 singers in the group and quality of the performance was just amazing.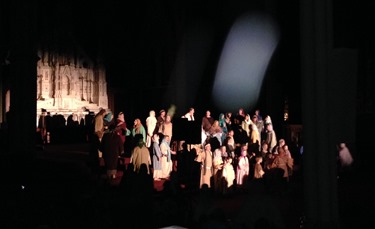 The performance was the first of five shows they are doing in area churches on the weekends leading up to Holy Week.
– – –
Sunday, I had lunch at the cathedral with Bob and Deb Rogers and their children Bob Jr., Sochia and Shannon. With them were Craig and Nancy Gibson and Sister Barbara Rogers, Head of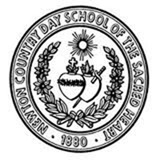 School at Newton Country Day School of the Sacred Heart.
They are great supporters of the work of Newton Country Day and it was lovely to spend some time with them and get to know them and their children.
– – –
The USCCB committee on migration, to which I am a consultant, organized a two-day trip Monday and Tuesday to the border in Arizona. The purpose of the trip was to raise awareness of the urgent need for immigration reform and to offer a Eucharist for the thousands of people who have lost their lives crossing the desert from Mexico into the United States.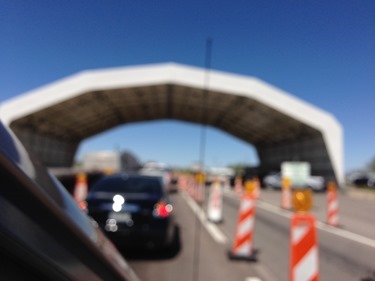 This building with a sort of roof is a checkpoint where they stop you between Nogales and Tucson.  They have a second border checkpoint about 30 miles in from the border
I arrived in the city of Nogales, Arizona Monday evening. Nogales is a divided city that sits on the U.S.-Mexican border — half of the city is in Arizona and the other half is in the State of Sonora, Mexico.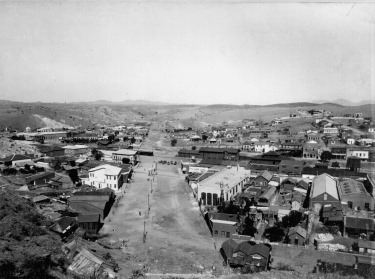 Nogales at the turn of the 20th century. You can see that the border was just a wide boulevard running through the city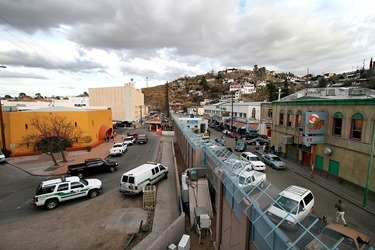 Nogales in more recent times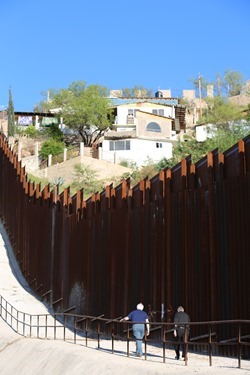 A Jesuit Father who works in the area, Father Peter Neeley, came first thing Tuesday morning to give us a tour of the border area. He explained dangers the people face crossing the border. He said that people end up walking about 30 miles in the desert because they have to get around the two checkpoints. Many of them cross at night, over very rough terrain. At night it can be freezing while during the day it can be 115 degrees.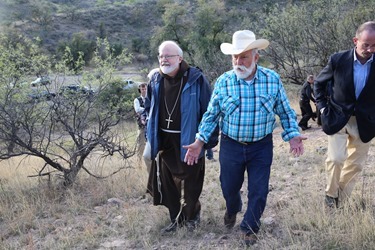 Father Neeley wanted us to experience what those mountains are like and the difficulty of just walking through that terrain. Let me tell you, it is very difficult. It is all up and down, very rocky and full of cactuses and briars not to mention the scorpions and rattlesnakes. Some of the people are brought in by smugglers who are very unscrupulous individuals. As I mentioned in my homily, some 30,000 children come unaccompanied over the border every year and thousands of people have died in the attempt to cross that desert.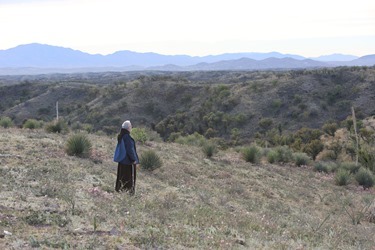 By 9 a.m., at the wall that was put up between the two halves of the city we had maybe 700 people on the American side and a couple hundred people on the Mexican side join us for the Mass. (Some people call it a fence, but it is actually more like a wall with slits to keep the wind from knocking it down. It really is a wall that divides the city and has been there for a couple of years. It reminded me of the Berlin Wall.)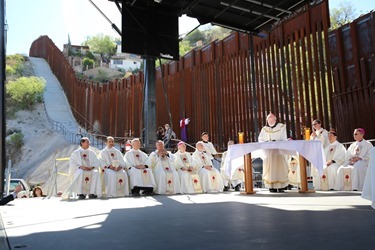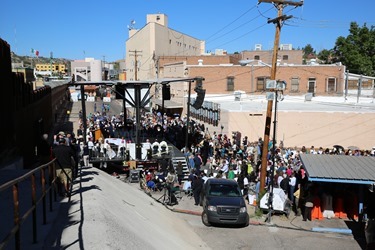 There was a stage set up at the base of the wall and the priests and bishops who were with me concelebrated.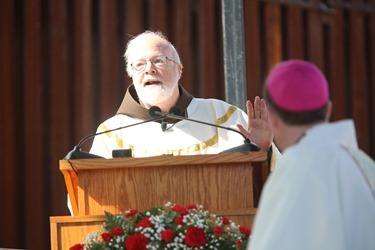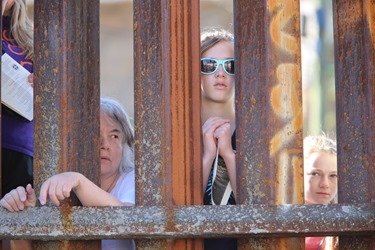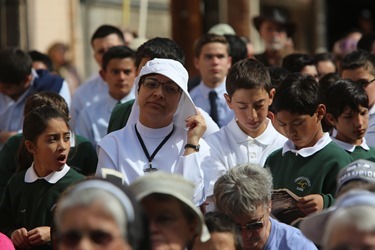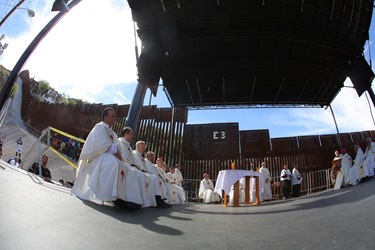 The Mass was bilingual, though mostly in Spanish, and when we gave out Communion, we gave to people on both sides of the wall.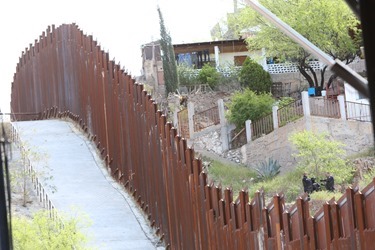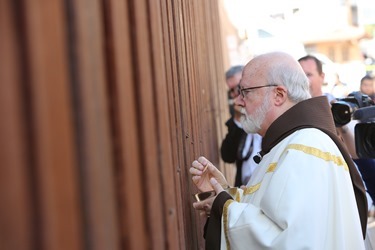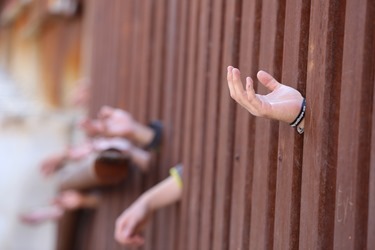 I was very happy to be a part of this effort because, as I said in my homily, for 20 years in Washington I worked almost exclusively with refugees from Central America, most of whom were undocumented workers. They would come fleeing the wars and violence in their home countries and were simply trying to earn money in the restaurants and other service jobs in Washington to be able to support their families here and back home. So, to me, these people were not statistics, but people that I knew, whose stories I knew, and was aware of all they had endured. I understood the reasons that led them to make that very drastic decision to cross the border and go into a foreign country without the benefit of legal papers in order to be able to work — no one came because they were looking to get on the welfare rolls. Indeed, it is a very young population of people who come, people in the very prime of their life, filled with energy and desire to work to help their families.
CatholicTV has produced this wonderful video explaining the circumstances that make people feel they need to leave their country. It shows that they are not any different from the immigrants who came in the past who came here with the same desire for freedom and the opportunity to do something for their families.
For years the government has been unable to come to an agreement because the whole process is held hostage to the politics of the issue. It is a complicated problem, and certainly there is no quick fix. However, it requires a rational conversation by people who are really concerned about the common good and concerned about respecting human rights. Hopefully, our presence at the border will encourage people in positions of power to work for immigration reform. We have to raise the consciousness of our Catholics, in general, of the need for comprehensive reform.
One of the themes of the visit, of course, was that we were connecting this to the Holy Father's first papal trip to the Italian island of Lampedusa. The Holy Father went to the frontiers of Europe where people are perishing at sea trying to seek a better life just as, at our borders, we have the situation of people trying to enter the United States and dying in the desert. It really is a very tragic situation and I was pleased that the media gave it so much attention because I think it is important for the Church to be present in these situations.
– – –
Following the Mass in Arizona, I came immediately back to Boston because I wanted to be present for the Funeral Masses for our two fallen Boston firefighters.
Father Dan Mahoney and Father Bob Casey, who serve as fire chaplains, celebrated the Masses and Father John Unni, whose church is just across from the firehouse, gave the homily at both Masses. We are all very grateful for these priests who give pastoral care to these firefighters because they have such a professional life that puts a great deal of pressure on their personal life and their families.
On Wednesday we gathered for the funeral Mass of Lieutenant Edward Walsh at his home parish of St. Patrick in Watertown. He was from a family with many firefighters .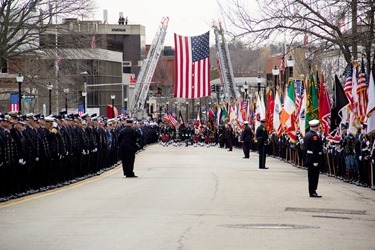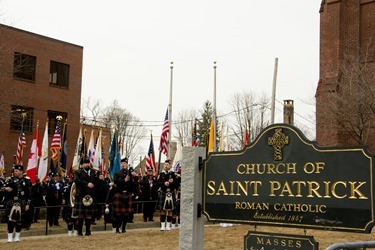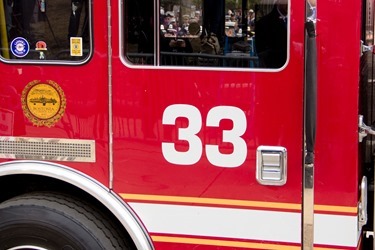 Ed was married with three small children. In fact, one of his sons is getting ready for his First Communion. It was a very moving Mass.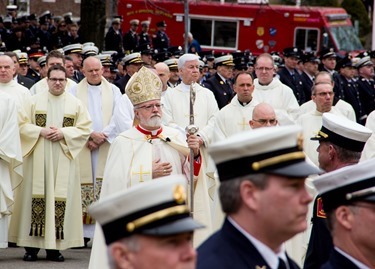 For those who have never been to a firefighter's funeral, particularly when they die in the line of duty, literally thousands of firemen come to support their fallen brother. At both Masses, they were standing at attention in front of the church for as far as the eye can see.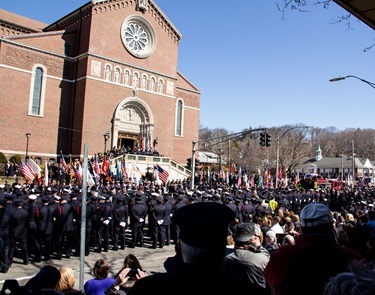 Thursday, there was the funeral Mass for Firefighter Michael Kennedy at Holy Name Church in West Roxbury. He was a young man, only 33 years old, who had served in the Marines and then as a fireman.
Holy name is a beautiful church and has this wonderful mosaic that is a replica of the mosaic at the basilica of San Clemente in Rome.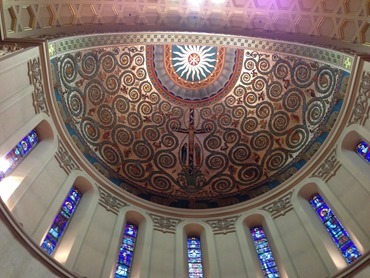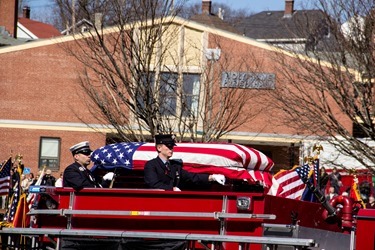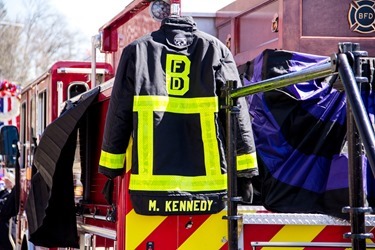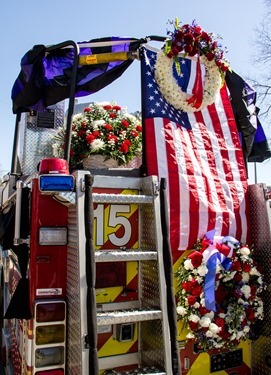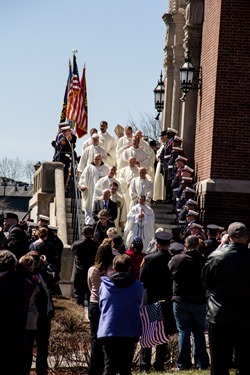 At Lieutenant Walsh's funeral I told the people that Jesus says, "Greater love has no one than he who lays down his life for his friends" and that Pope John Paul II said that human fulfillment comes from giving the gift of our lives. This is what these men did.
I also mentioned at Firefighter Kennedy's funeral that it was one year ago that the Holy Father was elected and in his first homily he told us we needed to take care of one another, especially the people who are on the margins, those who are suffering and those who are at risk. I said that message has created such a sensation in the world because there is so much isolation and individualism that people were excited by what the Holy Father had to say. But, I said, at the funeral of a firefighter we see the generosity of someone who puts his life at risk for others and that it shows that human life and community require us to make sacrifices for one another. In a community even strangers are, in a certain sense, a friend. In the service of these firefighters, we see that spirit.
Until next week,
Cardinal Seán