Thursday, I attended the Catholic Schools Foundation's Annual Inner-City Scholarship Fund Dinner Celebration held at the Copley Marriott in Boston. Peter and Carolyn Lynch have been the backbone of this event, which will be celebrating its 25th anniversary next year.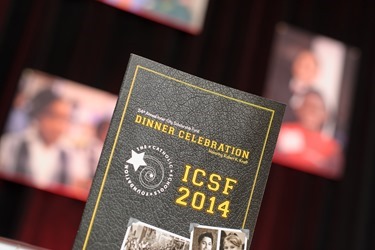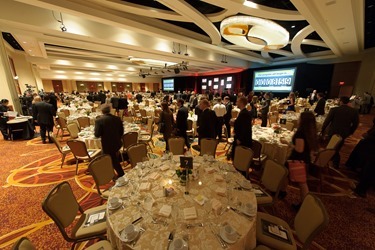 During the dinner they honored Patriots owner Bob Kraft for his support of the ICSF.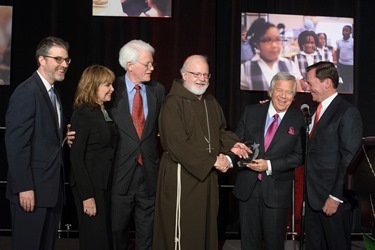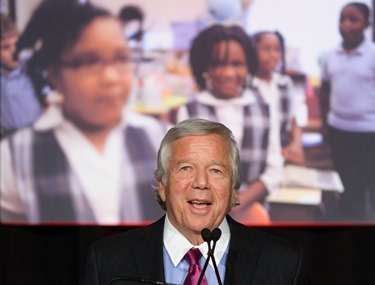 Bob Kraft has been a long-time supporter of the Catholic Schools Foundation and the Inner City Scholarship Fund. He has attended many dinners over the years.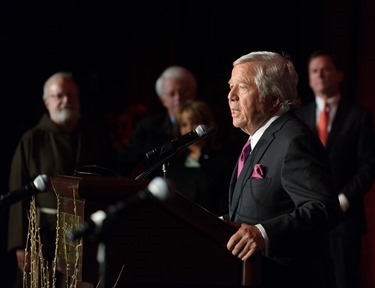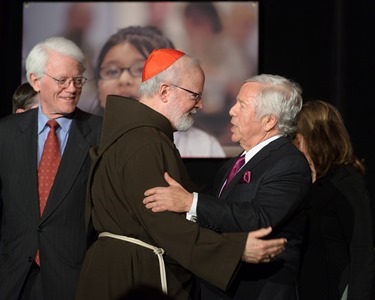 Usually Mary Richardson from Channel 5 serves as the emcee for the evening but this year she was unable to come, so the Executive Director of the Catholic Schools Foundation, Mike Reardon, served as the emcee.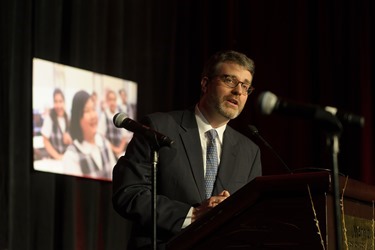 One of the highlights of the evening is getting to see some of the children who benefit the work of the Catholic School Foundation. The children from Lawrence Catholic Academy sang for us and every year they have a student speaker who gives a testimony of their experience of Catholic education.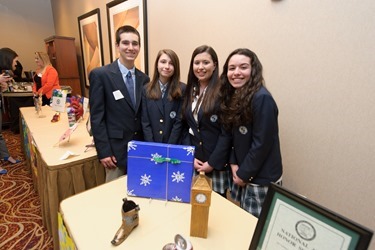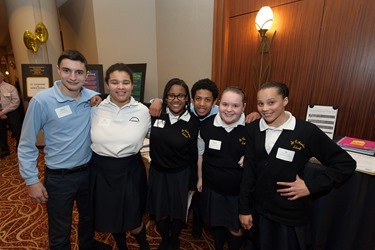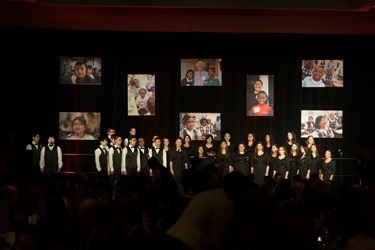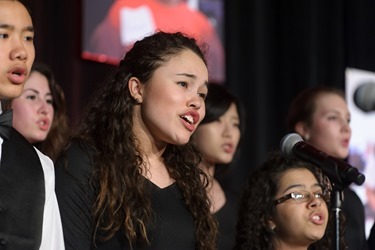 This year, we heard from Chaskiesha Figueroa who is a senior at Central Catholic High in Lawrence. She told us her inspiring story of overcoming many difficulties in her family and her neighborhood and how Central Catholic has been a refuge for her.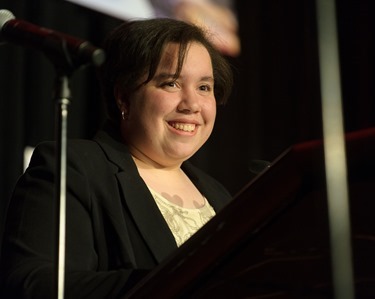 Despite the many challenges she has faced, she is now prepared to go on to college thanks to the fine education he received at Central Catholic with the help of the ICSF.
We are so grateful to this year's dinner chair, Jay Hooley of State Street Corporation and all those who worked so hard to make this event the success it was. I understand there were about 1,100 people at the dinner and they raised over $3,000,000. I understand that the Foundation will award more than $6,000,000 in scholarships and $1,000,000 in grants in the next school year.
– – –
Friday, I made a presentation at the Coworkers in the Vineyard of the Lord Conference for lay pastoral workers and clergy, which was held this year at Our Lady Help of Christians Church in Newton.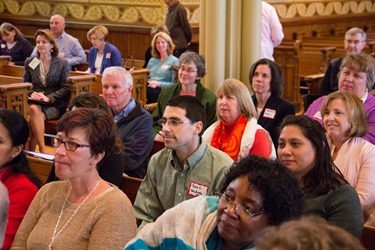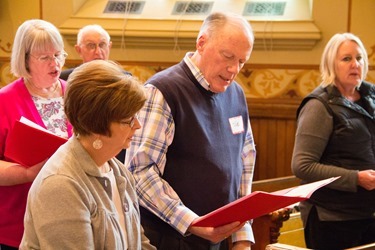 I gave a short talk and thanked the keynote speakers, Tom Corcoran and Father Michael White, the authors of the book "Rebuilt: Awakening the Faithful, Reaching the Lost, and Making Church Matter."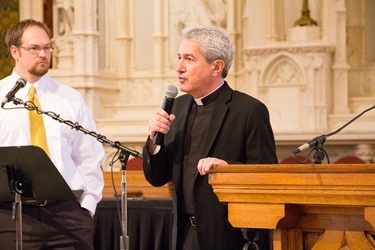 I was very pleased to see so many people made the time to attend this very important event.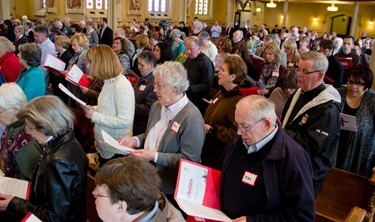 – – –
Then, at 4 p.m. I celebrated Confirmations for the young men and women from our various campus ministry programs.
It is always a very eclectic group, made up of people from all different backgrounds and walks of life as well as many foreign students.
I was very impressed by the fact that, in many cases, their parents and grandparents made the journey to Boston to witness their Confirmation. You could see how important it was to their families.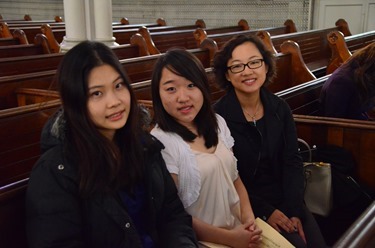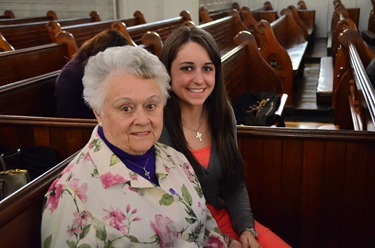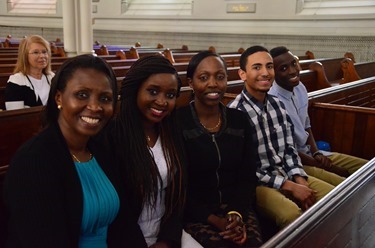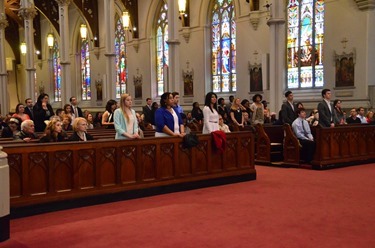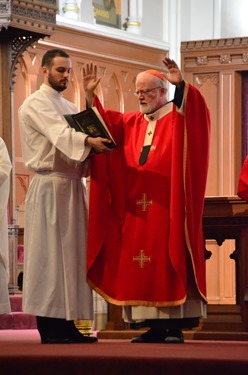 We are so grateful for the extraordinary work of all those who work in campus ministry. We are, of course, a university city and have somewhere around 300,000 students in the Archdiocese of Boston. So, campus ministry is a vital part of our pastoral work in which we serve not only our own people but young people from all over our country and all over the world.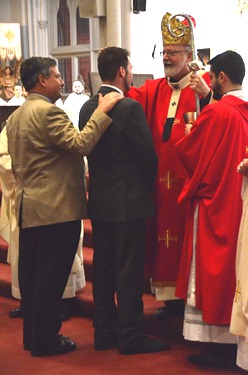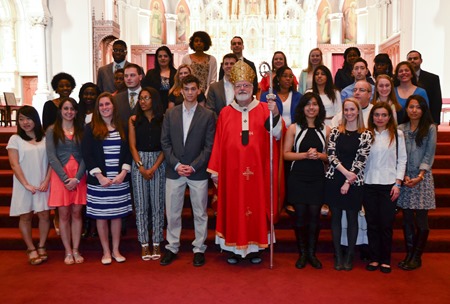 – – –
Saturday I celebrated a month's-mind Mass for Sister Luisa Vasconcelos who served at St. Patrick's in Roxbury for many years. Sister Lulu, as she was known, was buried last month in Cape Verde.
Sister Lulu was one of the first sisters in the community of the Franciscan Sisters of the Immaculate Conception founded by Padre Pio Gottin, an Italian Capuchin who worked in Cape Verde and later came to Boston to work with the Cape Verdean community.
– – –
That evening, I attended a dinner at St. Mary's in Waltham for the Fellowship of Catholic University Students, known as FOCUS.

Father Dan Hennessey and Father Richard Clancy gathered with the FOCUS missionaries who are working at MIT, Harvard and Boston University. We had a dinner and discussion with them.
We are very grateful for their presence on the campuses. They are very well-trained in evangelization and are very deeply committed to their faith and are a wonderful witnesses to the gospel.
– – –
Sunday, I visited the Catholic Center at Northeastern University for a Mass and a visit.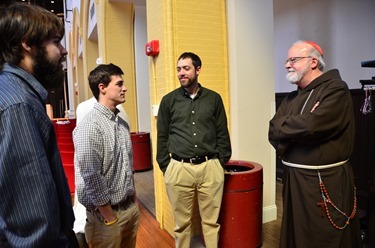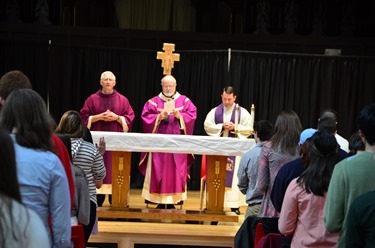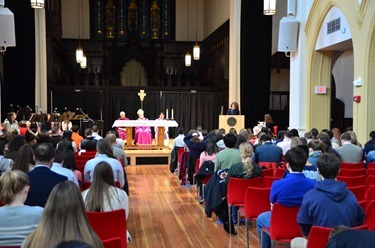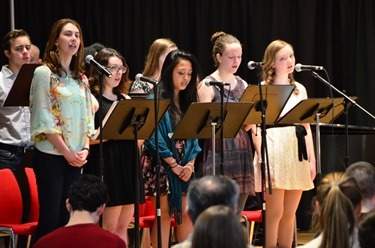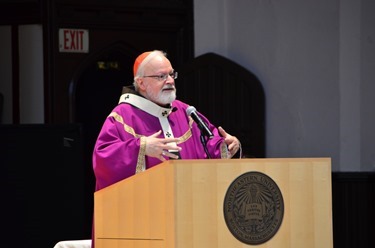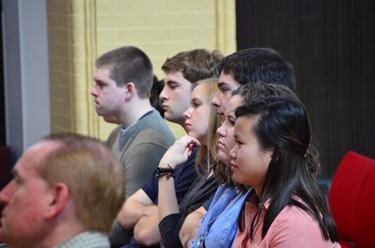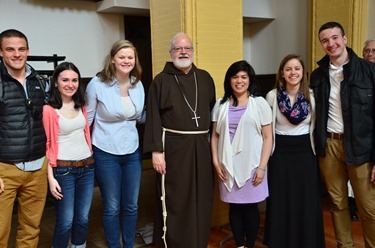 We are so grateful to the Brotherhood of Hope for all they do in campus ministry there.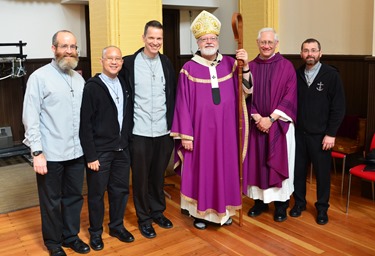 – – –
The rector of the cathedral, Father Kevin O'Leary, very much wanted to have a Lenten Mission for our Hispanic parishioners during Lent. So, the parochial vicar, Father Felipe Gonzalez, assisted me in putting something together. In the end, I asked Father Paco Anzoategui and Father Mario Castañeda to join me in preaching different nights in the mission.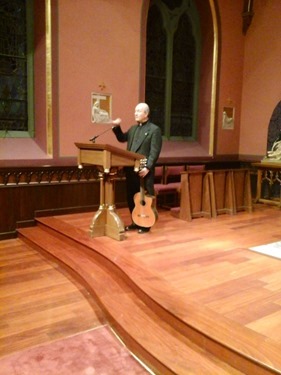 Father Paco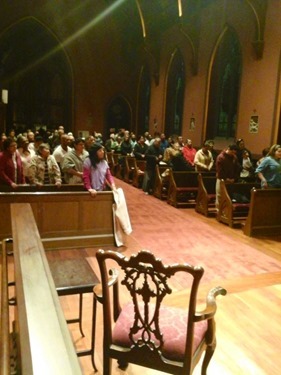 Father Mario was my secretary when I was the Bishop of Palm Beach. He used to be a race-car driver so people would ask me, "Does he drive 90 miles an hour?" And I would answer, "Only on the curves!"
Needless to say, we had many white knuckle trips around the diocese, but he is still a wonderful preacher.
I gave a talk on confession and mercy, which seemed to be very well received by the people.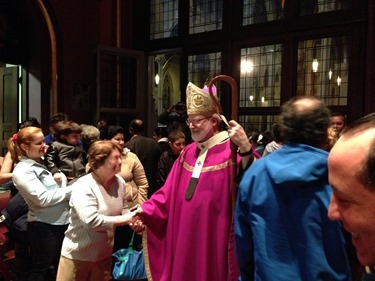 I was also very gratified that so many people came up to me and thanked me for being present at the Mass celebrated by the bishops at the US-Mexico border last week. The people are very aware of the Mass that we celebrated and it obviously meant a great deal to them.
– – –
Wednesday, there was a meeting of major superiors of men and provincial bishops. Twice a year, all the bishops of the Province of Boston, which is made of the Archdiocese of Boston and our suffragan dioceses — Springfield; Fall River; Worcester; Manchester, New Hampshire; Portland, Maine; and Burlington, Vermont.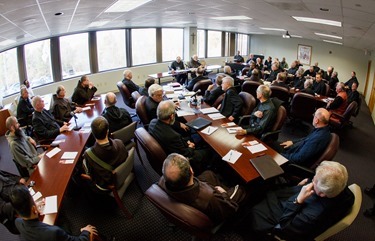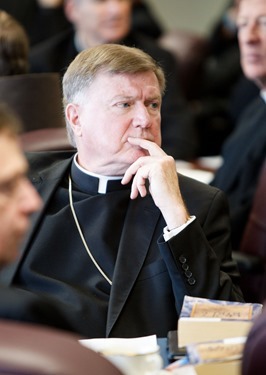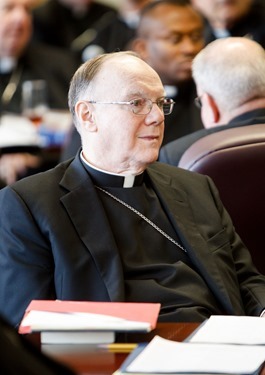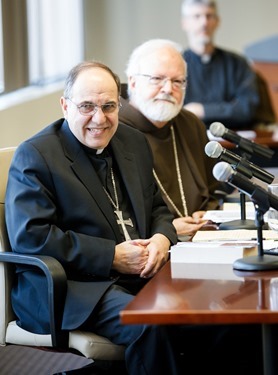 This time, we invited the major superiors of men's orders that are present in the region. I believe there were about 35 orders that were represented at the gathering. We discussed The Charter for the Protection of Children and Young People. We also spoke about religious life and vocations as part of the Year for Consecrated Life that we will observe in 2015.
– – –
That afternoon, I was joined by my good friend John McNeice for a lunch and a visit.
John was a recipient of our annual Cheverus Award for service to the archdiocese, which were presented last November. However, John was not able to be at the ceremony, so his visit gave me the opportunity to personally present his medal to him.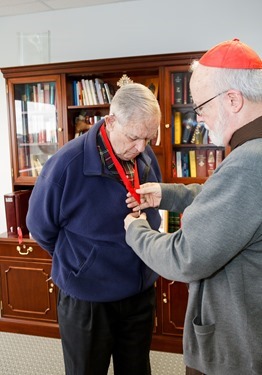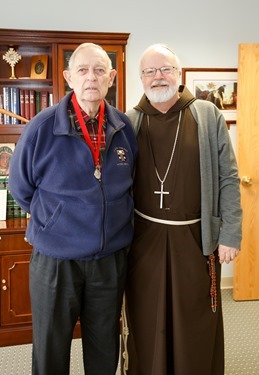 – – –
Then, in the afternoon, I attended the wake for Father Raphael Andonian. Father Rafael had served at Holy Cross Armenian Catholic Church in Belmont (very near to St. Luke's) for over 20 years. The Eparch, Bishop Mikael Mouradian presided at the memorial service for him.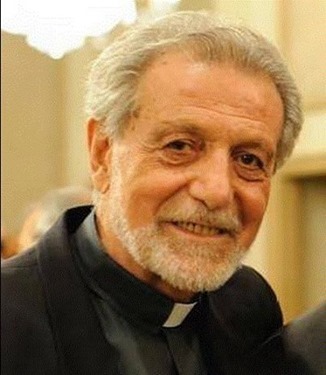 There are only nine Armenian Catholic parishes in North America and one of them is within the Archdiocese of Boston.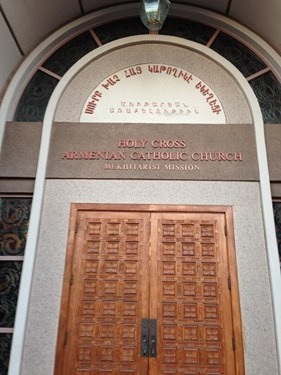 Their headquarters are in Lebanon and they also have a center for the monks that were instrumental in the early life of the Armenian Catholics: the Mekhitarist Congregation's Monastery on the island of St. Lazarus near Venice, Italy. That is where Father Rafael is going to be interred. I visited that center when I was in Venice. The monastery is the center of the Armenian Catholics' monastic life and is of great importance for all Armenians because many of the early historical documents from Armenia are housed there.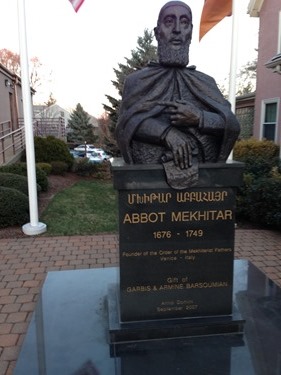 Most people presume that the Armenians are not Catholic, but there is one group of Armenian Catholics. They have a very ancient rite and, in fact, Armenia is the oldest Christian country in the world, dating back to the fourth century.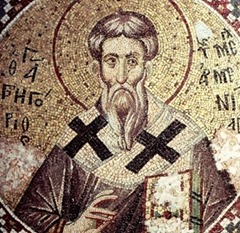 St. Gregory the Illuminator was the great apostle to Armenia
Until next week,
Cardinal Seán