Hello and welcome!
In the coming days, the Holy Father will be making his visit to the Holy Land where he will meet with Ecumenical Patriarch Bartholomew of Constantinople.
We are praying that the Holy Father's visit to the holy land will further the cause of peace. He is trying very carefully to balance the different constituencies there, with his visits to the Palestinians, the Jewish community and with the Christians.
Earlier this week, Metropolitan Methodios of the Greek Orthodox Metropolis of Boston and I issued a joint letter about the upcoming trip to the Holy Land, and I want share that with you here:
A Joint Letter on the Meeting of
Pope Francis and Ecumenical Patriarch Bartholomew in Jerusalem
May 21, 2014
Dear Sisters and Brothers in Christ,
We give thanks to our Lord for the coming meeting of Pope Francis and Ecumenical Patriarch Bartholomew which will take place on May 25-26, in the holy city of Jerusalem. We pray that this meeting in the sacred place of our Lord's Death and Resurrection will contribute to the restoration of full communion in faith and sacrament between our churches, and the salvation of the world.
This meeting marks the 50th anniversary since the historic encounter between Pope Paul VI and Ecumenical Patriarch Athenagoras in 1964 in Jerusalem which opened a new period in the relationship between our churches. We began a process of reconciliation through prayer, theological dialogue and common witness. Since that time, Popes and Patriarchs have met together regularly. Our churches have established formal theological consultations in this country in 1965 and internationally in 1979. These dialogues have been nurtured by the prayers of the faithful and countless acts of mutual respect. As Popes and Patriarchs have affirmed, we have come to see ourselves as 'sister churches' who are responsible together for affirming the faith of the Apostles.
The flourishing relationship between clergy and laity of the Archdiocese of Boston and the Greek Orthodox Metropolis of Boston has contributed to the process of reunion. As clergy and laity, we have prayed together, undertaken pilgrimages to Rome and Constantinople and have addressed critical issues facing our society. The brotherhood which has grown here is a treasured gift from above. As Ecumenical Patriarch Athenagoras said fifty years ago, "Having found one another again, we meet the Lord together."
The Roman Catholic Archdiocese of Boston and the Greek Orthodox Metropolis of Boston will sponsor a conference on September 25 to mark the 50th anniversary of the historic encounter of 1964.
We thank God for the work He has begun between us and trust firmly in Him for its completion. In fidelity, we commit ourselves to continue working for His will.
In the words of Pope Paul VI, we call our faithful to "a love which, learning from the past, is ready to forgive, tends to believe more willingly in good than in evil, and is above all concerned to follow the pattern of its Divine Master and to allow itself to be drawn to Him and transformed by Him."
We ask our clergy and laity to continue to pray for the unity of the Church and the witness of the Gospel in our world.
Cardinal Seán Patrick O'Malley, O.F.M. Cap. Metropolitan Methodios of Boston
– – –
On Thursday, I visited Catholic Charities' Laboure Center in South Boston with Meb Keflezighi, the men's winner of the 2014 Boston Marathon.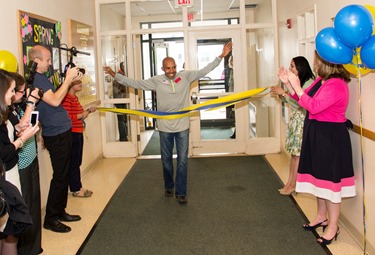 He gave a very beautiful testimony to the staff, guests and children at the center.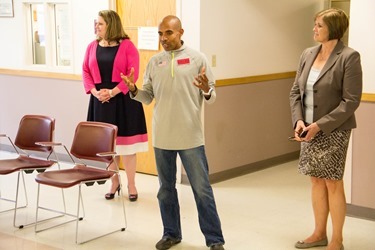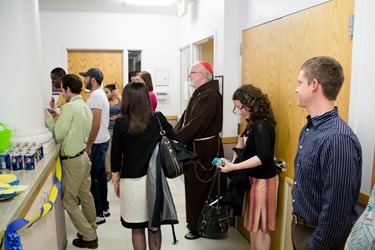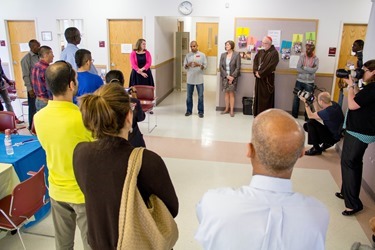 He said he grew up in Eritrea in a family of 10 children. Because of the war, his family fled the country. He said his father had to cross the desert to find his way to Europe to begin to bring the family out of the country. He spoke about leaving his home with only a few dollars, a flashlight and some matches to make fire to scare away the hyenas.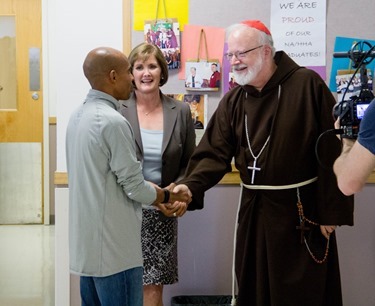 He also talked about the challenges that the family faced as they came to this country and the assistance they received from organizations like Catholic Charities. He said that although they needed assistance for a couple of years, all of his brothers and sisters went on to graduate college. Several of them are now professionals and, of course, he went on to win the Boston Marathon. Interestingly, he said he was going to stop running a year ago but he was in the marathon when the bombings took place and so he was determined to come back one more time.
After his talk we visited with the children who take part in the programs at the center. He was very good with them and the children were just precious.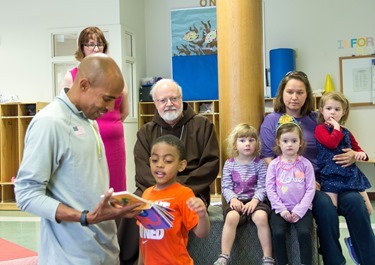 He even ran a little race with them around the center.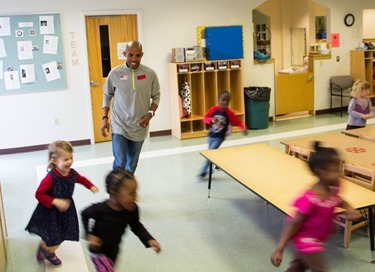 That night, Meb served as the keynote speaker at Catholic Charities Annual Spring Celebration that was held at the John F. Kennedy Presidential Library. I was very pleased to learn that the evening raised over $1.2 million to support the work of Catholic Charities.
They played this very nice video as an introduction to Meb's talk and I'd like to share it with you here:
During the evening, John Drew received Catholic Charities' Justice and Compassion Award.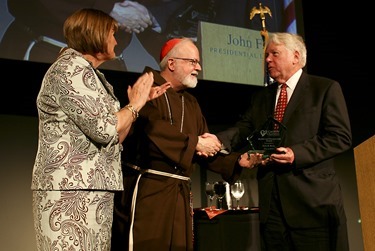 He and his wife are very strong supporters of Catholic causes and John has served as the president of the board of directors of Cathedral High School, a trustee for Caritas Christi, and on the board of Catholic Charities. He was there with his children, who gave beautiful testimonies about their father.
– – –
Friday, I departed for Indiana to take part in events around the commencement exercises at Notre Dame.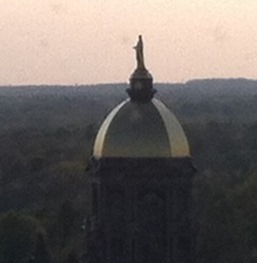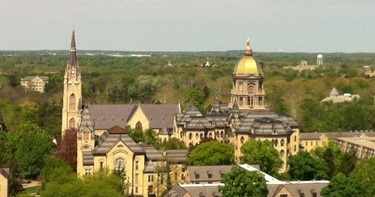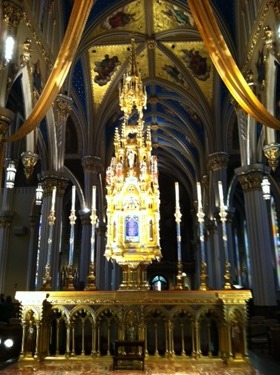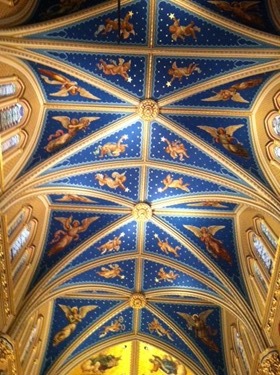 Saturday, was the baccalaureate Mass at the Joyce Center, which was attended by almost 14,000 people. It was a very, very impressive sight.
The president of Notre Dame, Father John Jenkins gave the homily. Afterwards, Bishop Kevin Rhoades of Fort Wayne-South Bend addressed graduates.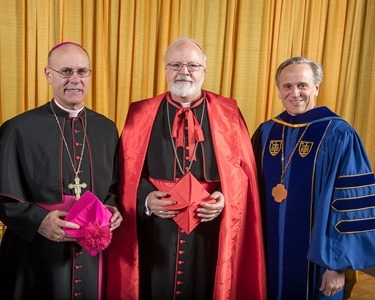 With Bishop Rhoades and Father Jenkins
The bishop told a charming story about a graduate who had asked the bishop to meet him by the grotto after the commencement. He said he was going to propose to his girlfriend and wanted the bishop to be there to bless their engagement. But the Bishop asked, "What if she says no?" So the young man said, "Well then, you had better hide behind a bush or something and I'll signal you when it is time to come out." So Bishop Rhoades said he was available if there was anyone who wanted to propose to their girlfriend after graduation!
– – –
The following day was the graduation itself, which was held in Notre Dame Stadium.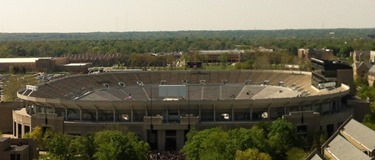 The keynote was given by Rev. Raymond Hammond who, of course is from Boston. He gave a very inspiring talk, which is not surprising considering the inspiring life he has led.
He and his wife are both doctors who went to Harvard Medical School, but they gave up their medical practice to found a faith community in Roxbury at a time when the city was convulsed with violence.
He is a man with a very profound sense of mission and he has always been very close to the Catholic Church. He is just a wonderful leader in the Boston community and in a national scale, as well. I was very honored to be sharing the stage with him.
This year, the Laetare Medal was presented to Brown University biology professor Kenneth Miller who is actually from Seekonk, so there seemed to be some Massachusetts-related theme to the day.
They presented me with an honorary Doctorate of Law. So, I have been telling people that I am going to hang out my shingle and start charging $500 an hour for consulting!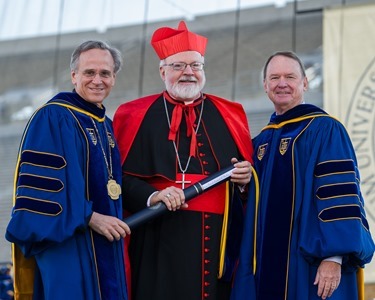 The last graduation I attended at Notre Dame was in 1966, when my brother, Ted, graduated.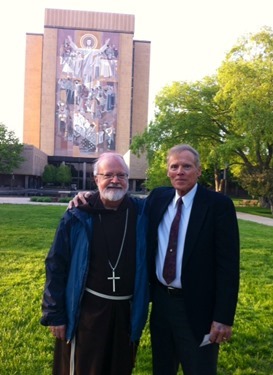 With my brother Ted in at Notre Dame.  Behind us is the library with its famous "Touchdown Jesus"
At that time I was just a young friar. They gave an honorary doctorate that year to a Franciscan cardinal, Cardinal Ricketts, the Archbishop of Lima. The speaker that year was British economist Barbara Ward, the first woman to give the commencement address at Notre Dame (though, at that time, it was still an all-men's school.)
Among the O'Malley's who have graduated from Notre Dame are my uncle Bob, my cousin Rob, my nephew Michael and, of course, my brother. We also had a Holy Cross Brother in the family, Brother Joseph Moran, who died a couple years ago at Notre Dame. So, there has always been a strong connection in my family with Notre Dame, as is the case with many Irish families from the Midwest.
– – –
Monday night, we had one of our St. Andrews Dinners for young men discerning a vocation to the priesthood at St. Mary's Parish in Waltham. There was a very good crowd of about 50 men there.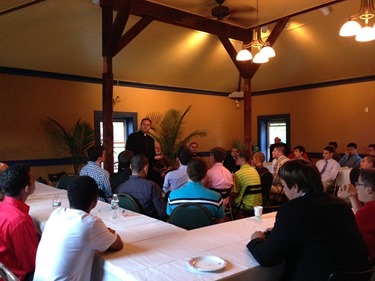 We began with Vespers in the church and then had a dinner of Chinese food in the "Upper Room" — the second floor of the old carriage house.
We had witness talks by seminarians Americo Santos and Sinisa Ubiparipovic and Father Carlos Suarez. Afterwards, I addressed the group we had a question-and-answer session.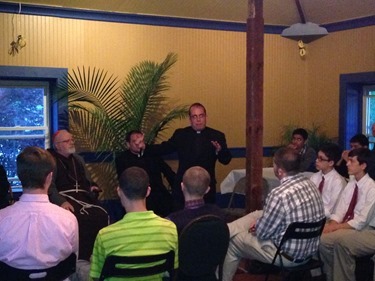 – – –
Tuesday, I was visited by Bishop Anphongso Huu Long Nguyen of the Diocese of Hung Hoa, Vietnam and Fr. Tuan Pham, OMI from St. Patrick in Lowell. Bishop Nguyen was in town and wanted to come for a visit.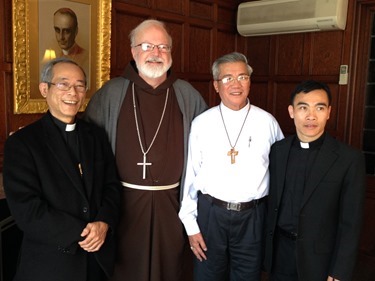 We were able to speak together in French. The bishop asked if I was going to learn Vietnamese, but I told him that you can't teach an old dog new tricks.
We spoke about a number of different aspects of his diocese and the Church in Vietnam. One story that I found particularly interesting was about an American who had fought in the Vietnam War and went on to become a priest working in Vietnam. Later, he was expelled by the government and is now working in Thailand with Vietnamese refugees. He also spoke about an area in Vietnam where there were something like 30,000 conversions in one year.
They said that the church in Vietnam is being granted a little bit more freedom by the government but there still a great deal of regulation and control. For example, as I mentioned last week, the government strictly regulates the number of men allowed to enter the seminary each year.
There is a great faith among the Vietnamese people. For the last several years, about 10% of the newly ordained priests in United States are Asian and the majority of those are Vietnamese, even though they are very small percentage of the overall Catholic population. Some people have been calling them the "new Irish" because of the number of vocations that are coming out of their faith community. Although in Vietnam itself Catholics are a very small minority, however Catholics are a very large percentage among Vietnamese-Americans because many of the Catholics fled the country after the war.
– – –
That evening, I attended the ceremony for the awarding of the Medeiros Scholarships at Boston University. Father David Barnes, our chaplain at Boston University was there with us.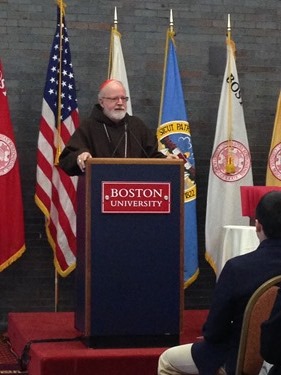 Twelve graduates of Catholic high schools received full scholarships to Boston University, altogether worth a total of $2 million: Carli DiMeo, St. Mary's High School; Grace Ferri, Austin Preparatory School; Eric Loehle, Bishop Fenwick High School; Richard McAllister, Archbishop Williams High School; Mary McCarthy, Academy of Notre Dame; Nicholas Neville, Archbishop Williams High School; Collette O'Connor, Fontbonne Academy; Sheila Orechia, Ursuline Academy; Rebekah Paxton, Academy of Notre Dame; David Souza, Saint John's Preparatory School; Michael Tomaino, Catholic Memorial High School; Kimberly Tran, Pope John XXIII Central High School
These scholarships have been awarded each year since the time of President Silber, and President Brown has continued this tradition.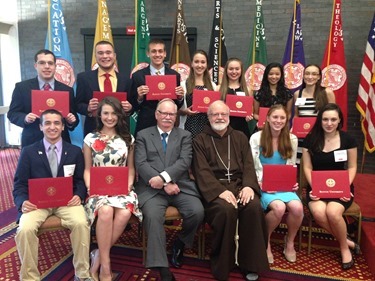 With President Brown and the scholarship recipients
Among the recipients was Collette O'Connor, the daughter of Fran O'Connor who works with us here at the Pastoral Center.
– – –
Wednesday, we had our annual Priest Convocation at the Westin Hotel in Waltham. It is a wonderful day of priestly fraternity.
Each year we like to invite a different speaker to address the men on some aspect of priestly life. This year our speaker was Bishop Christopher Coyne, who of course is a former priest of the archdiocese.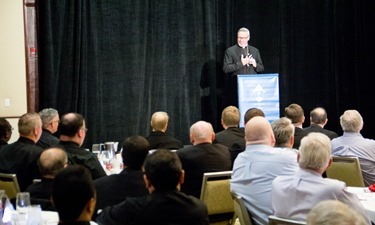 In his remarks, Bishop Coyne spoke about the changes priests face as the Church is no longer at the heart of a Judeo-Christian culture, but is now on the periphery of a secular-relativistic culture.
He said we are in mission territory and explained how, in a way, we are reaching out to invite people to our faith, rather than simply trying to encourage people who are already with us in the faith.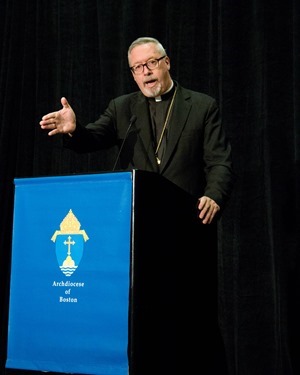 He also spoke about the shift in the Church, as we move from being a body composed mostly of people of European descent living in the North, to being one composed of mostly Latinos in the South and the West of the country. For the priesthood, and Church leadership, that can be a radical change. For us, the prayer of the Church has a "Spanish accent", he said.
Following Bishop Coyne's address, we had a period of questions and answers and we had a very good dialogue with the men. Following that, we heard from our Vicar General, Bishop Peter Uglietto, and I gave the closing talk.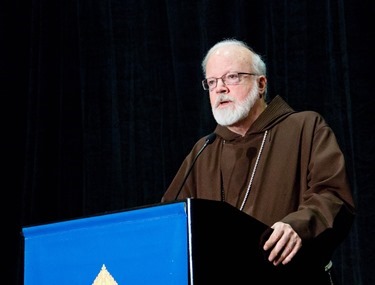 The priests always enjoy being together. It is a wonderful moment of priestly fraternity to gather before the summer.
– – –
And finally, tomorrow we will ordain nine men to the priesthood at the Cathedral the Holy Cross: Deacons Jeffrey Archer, Steven Clemence, Peter DeFazio, George Fitzsimmons, Kevin Hickey, Karlo Hocuscak, Mark Storey, Lawrence Tocci and Jiwon Yoon. It is a particular joy for us because this is one of the largest ordination classes in recent years.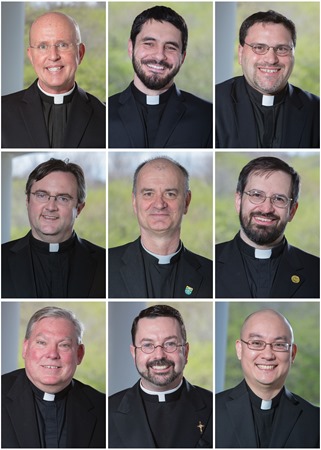 I ask you to join with me in praying for these men as they begin their priestly ministries.
Until next week,
Cardinal Seán