Hello and welcome!
Last Friday I was very happy to go to Weymouth to celebrate a Mass to commemorate the 60th anniversary of St. Jerome School.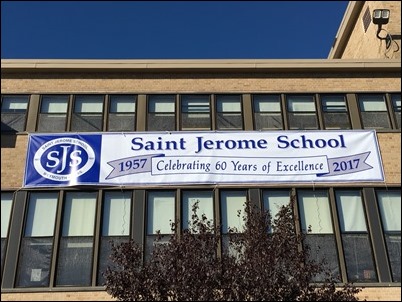 A number of priests concelebrated with us, including Bishop John Dooher, who is the pastor of St. Jerome Parish.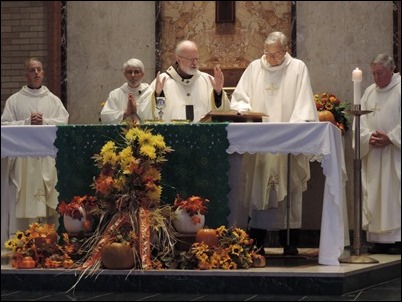 The school was also celebrating the election of their new student government, and so I presented a pin to each of the new class officers.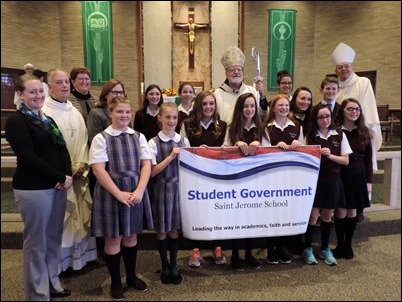 ---
That evening, I had one of my regular dinners with seminarians. This time, I met with several of our seminarians in the third year of Theology.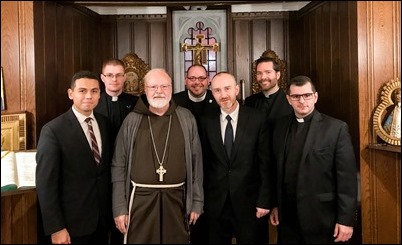 Throughout the year, I always like to invite a different group of seminarians to join me at the cathedral rectory for Vespers, dinner and a time of conversation. It's a way to get to know them better, and I always find it a very uplifting experience.
---
Saturday, we had our annual Archdiocesan Social Justice Convocation, which was held at Boston College High School once again this year. The theme of this year's convocation was "Justice and Solidarity – Caring for Refugees and Immigrants."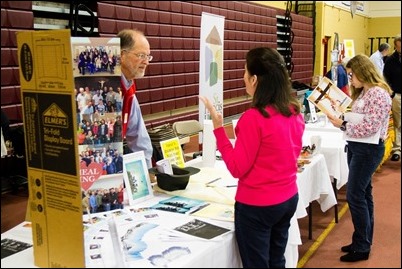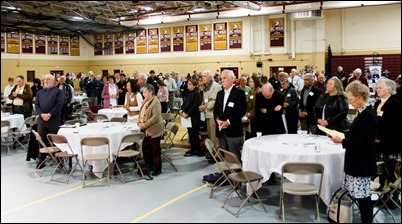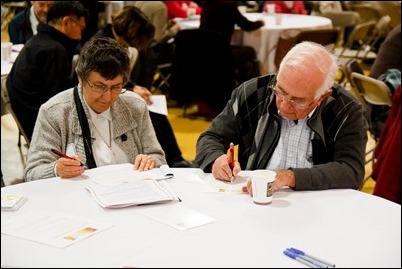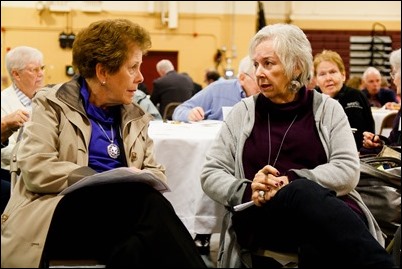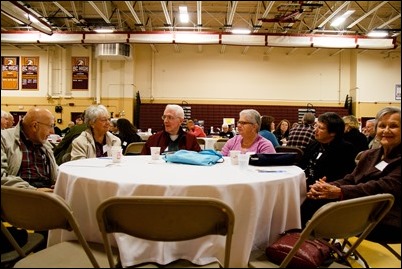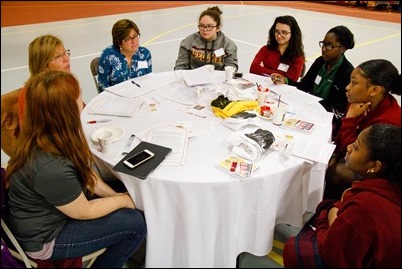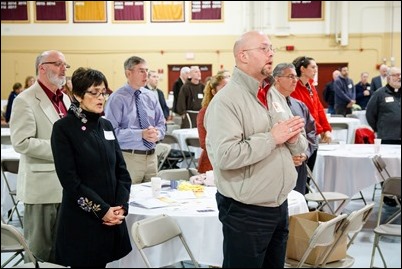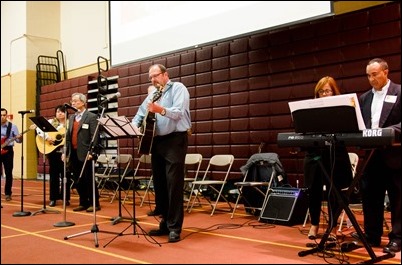 I gave a brief talk to greet the people and thank the convocation organizers.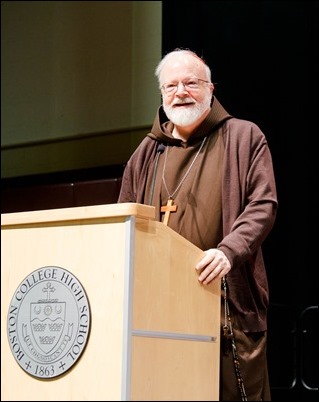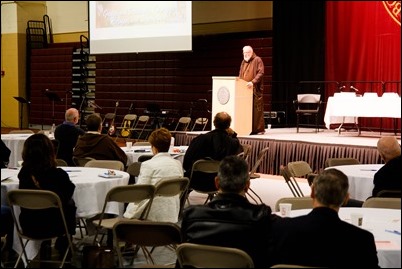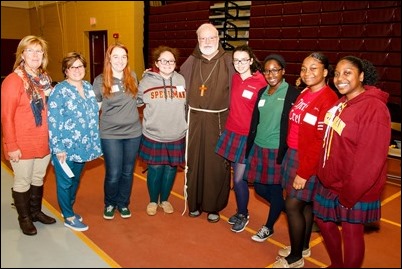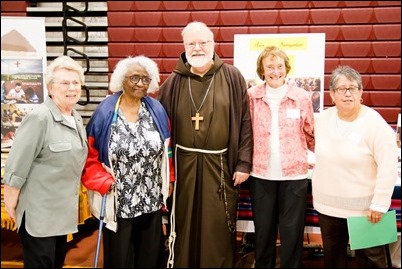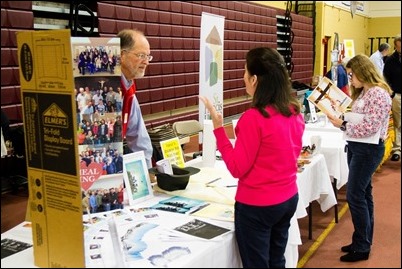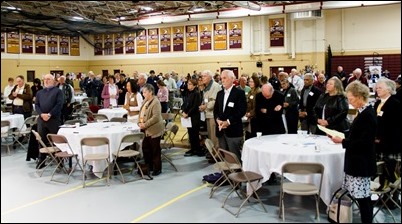 The two keynote speakers for the day were our own Father Bryan Hehir and Sean Callahan, the president of Catholic Relief Services who also happens to be originally from West Roxbury.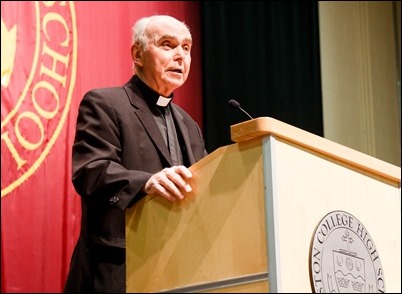 Father Hehir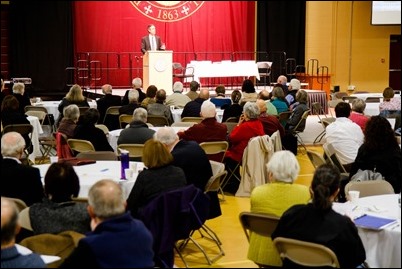 Sean Callahan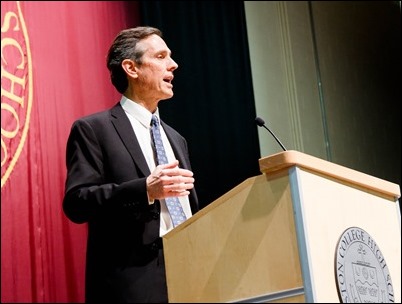 After his talk, I had an opportunity to talk with Sean, who has been heading CRS since the end of last year, when president Carolyn Woo stepped down.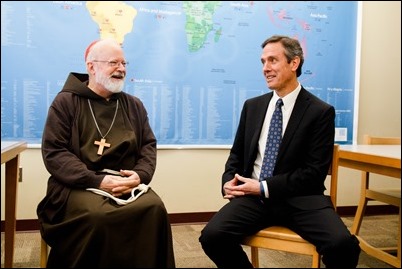 He shared with me some of the experiences of his many years with CRS. We spoke about how he began working with CRS 17 years ago in Nicaragua, and that he had been in the Diocese of Bluefields where my classmate Bishop Paul Schmitz serves. He recalled how he was supposed to have been with Bishop Paul on the fateful day when he and several sisters were on their way to bring Christmas presents to a local village, and guerillas mistook their car for a government vehicle. They launched a grenade at them, killing two of the sisters and seriously injuring Bishop Paul.
Since that time, Sean went on to be stationed in many different parts of the world, generously serving the cause of Catholic Relief Services. We were so pleased to have him participate in his convocation where he was able to explain the important work that CRS does with refugees.
The convocation also featured a panel discussion sponsored by Catholic Charities, where Marjean Perhot and Debbie Rambo spoke about the work that Charities does supporting refugees and immigrant families who are experiencing difficulties. Of course, one of the key issues our immigrant families are facing is the possible revocation of DACA as well as Temporary Protected Status for immigrants from several nations.
In fact, earlier this week I met with a local committee representing immigrants from Haiti, El Salvador and Honduras to talk about their efforts to obtain an extension to TPS.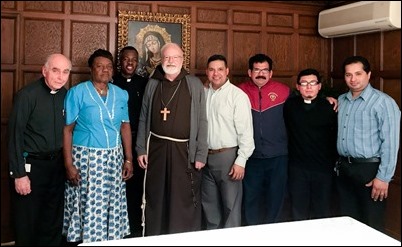 ---
That evening, I traveled to St. Mary's Church in Bristol, Rhode Island to celebrate the Mass of Investiture for the Order of the Holy Sepulchre Northeast Lieutenancy.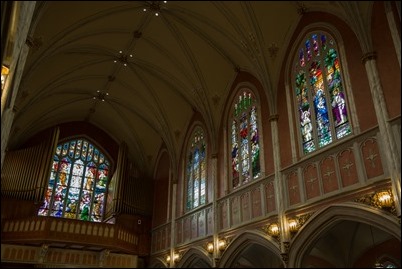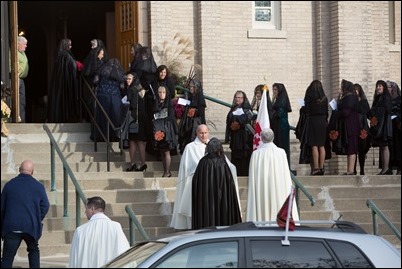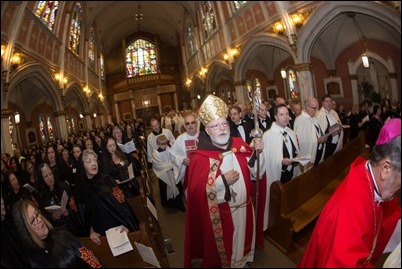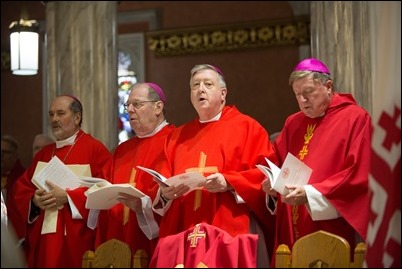 The Mass of Investiture is a very beautiful ceremony, drawing on the order's long history, which dates back to about 1100. The Order was originally comprised of knights charged with protecting the Church of the Holy Sepulcher and other sacred sites in the Holy Land and today, they continue that mission through supporting the works of the Church there.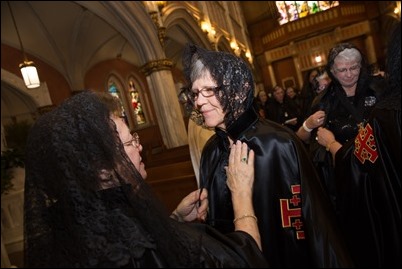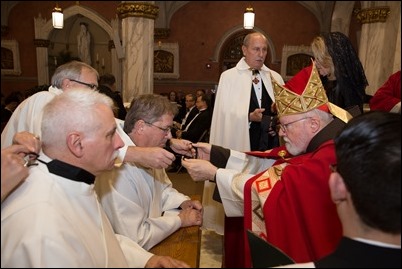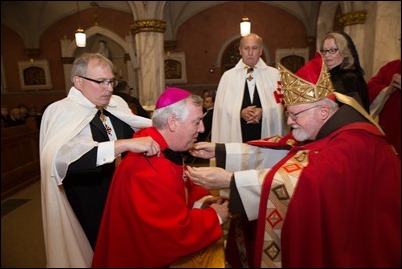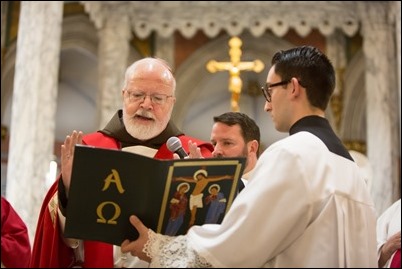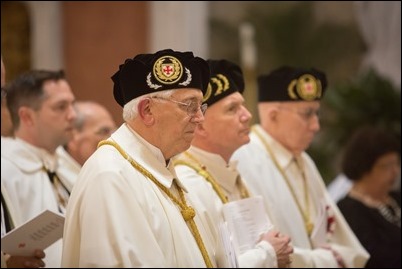 We were also blessed at having Msgr. Anthony Mancini, the rector of the Providence's Cathedral of Sts. Peter and Paul, have his choir from the cathedral sing for us at the Mass. They were truly magnificent.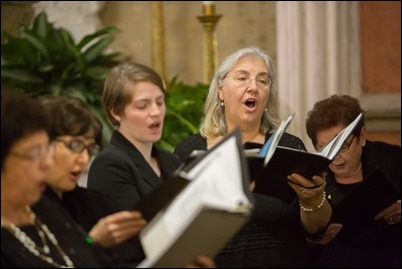 This was John Monahan's final investiture ceremony as Lieutenant of our Lieutenancy. We are very grateful for his many years of service and the work that he and his wife Cynthia have done on behalf of the Order. They have done so much to support the work of the Church in the Holy Land, and we are so pleased to see that in the last few years has been such growth in the Northeast Lieutenancy.
Following the Mass, we gathered for a dinner at which they presented me with the Gold Palm of Jerusalem medal, one of the Order's highest honors. I was very humbled to have received it.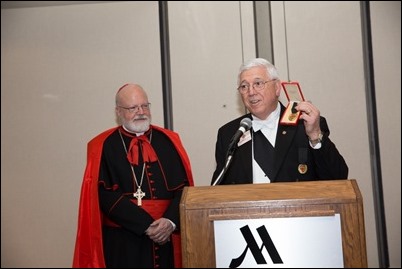 ---
The following day, Sunday, I went to St. John's in Quincy for a Mass at which two new sisters of the Daughters of Mary of Nazareth made their temporary profession – Sister Elizabeth and Sister Fatima.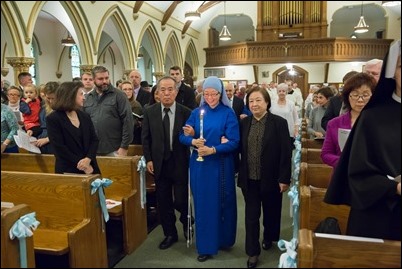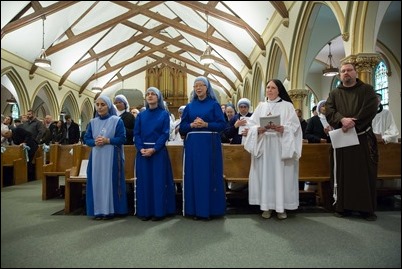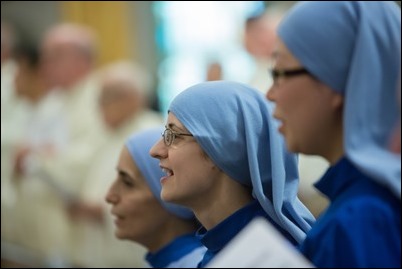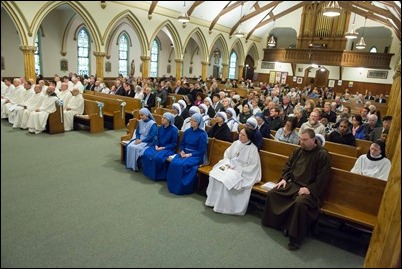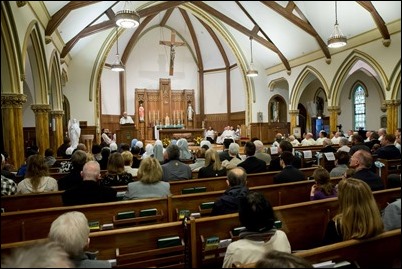 We were pleased to be joined by the many priests and sisters who came to be part of this joyful occasion at which the sisters pronounced their vows and received their scapulars, copies of the Sisters' rule, and their crosses.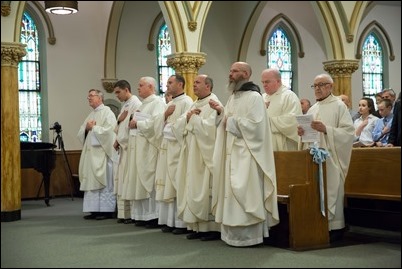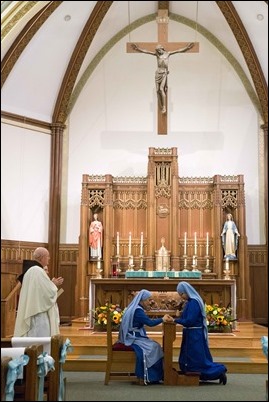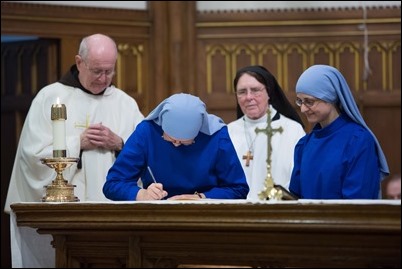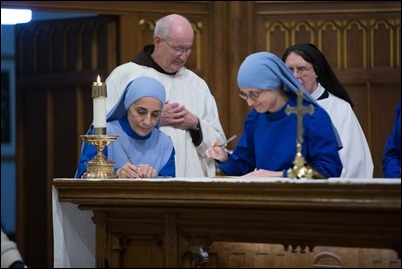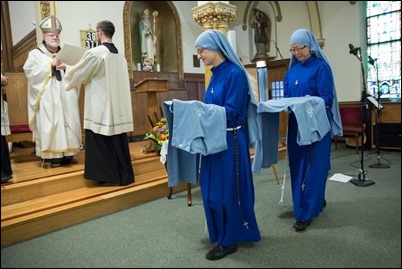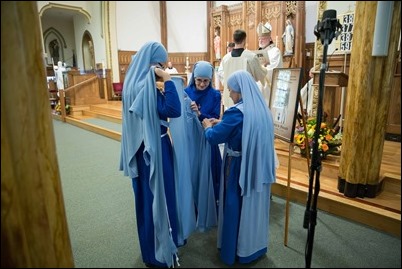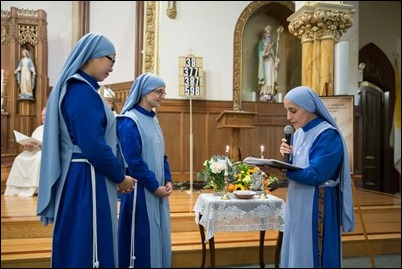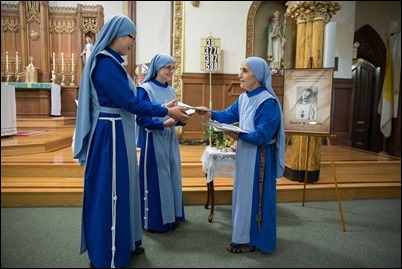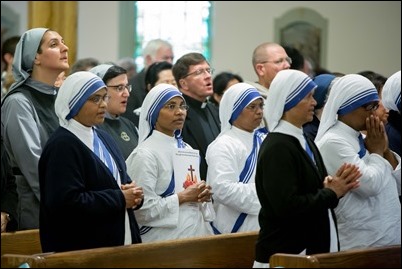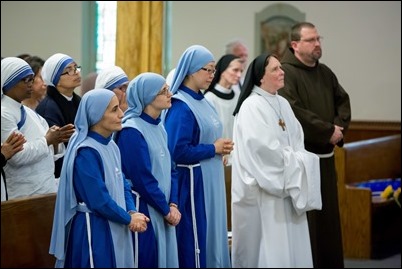 In my homily, I pointed out that the date was the 5th of November, Guy Fawkes Day. (Some will remember the old poem "Remember, remember the 5th of November.") Guy Fawkes was a Catholic in England who plotted to blow up the English House of Lords on November 5, 1605, but was arrested before he could carry it out. In a sort of "anti-commemoration" of that day, each year on November 5, following English tradition, they used to burn the pope in effigy on Boston Common. But I told the people that now we have a new and better reason to "Remember, remember the 5th of November" — the beautiful profession of these two women dedicating their lives to God.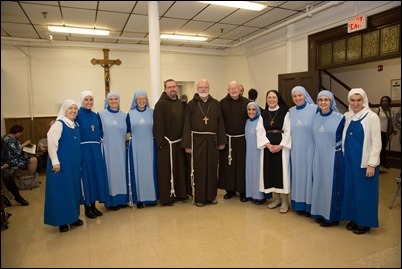 ---
That evening, I went to our Redemptoris Mater Seminary in Brookline for a dinner they were hosting for some friends of the seminary.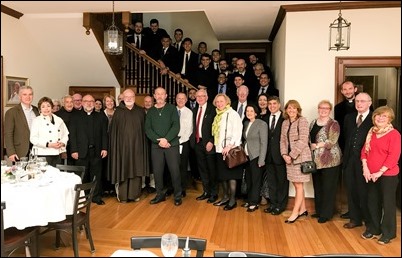 We began our evening with Vespers together, after which we had a wonderful meal, which, as always, included the seminarians leading us in song. It's always a very uplifting experience visiting the Redemptoris Mater Seminary, and I'm sure the friends of the seminary appreciated being there.
---
Tuesday, I went to Immaculate Conception Church in Malden to celebrate the funeral of Father Jim Canniff.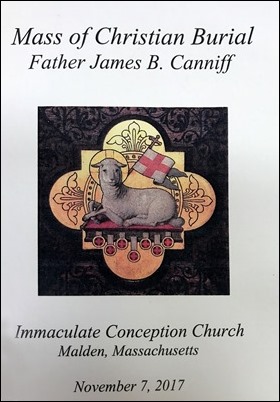 Father Canniff was, for many years, the pastor at St. Mary's in Charlestown as well as a Navy Reserve Chaplain but had been in residence at Immaculate Conception since his retirement in 2001. Father's death was rather sudden, so it came as a shock to the whole community.
Bishop Frank Irwin, a friend and classmate of Father Canniff's, was our homilist for the Mass. It was wonderful to hear him preach once again and I know it was a great consolation to everyone to have him there and deliver such an excellent homily to bid farewell to Father Canniff.
Until next week,
Cardinal Seán