Hello and welcome back!
On Thursday, there was a dinner at the Boston College Club to honor our senior priests, with special recognition to Msgr. James Tierney for all his service as the head of Regina Cleri.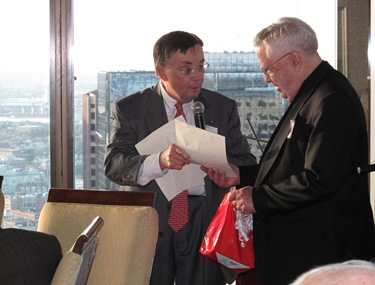 The dinner is an annual event sponsored by the BC Club and the Order of Malta. This year, there were about 70 senior priests who were able to attend. We are so grateful to Jack Joyce and Jim O'Connor who are the moving forces behind this very beautiful event.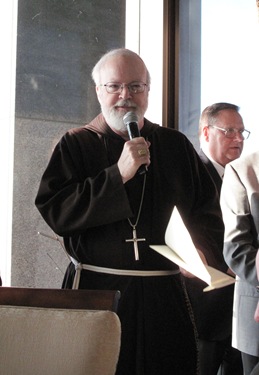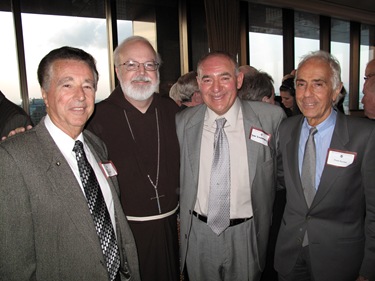 It turned out we actually had lovely weather for this event (an anomaly in Boston these days) so the view was spectacular as you can see in the background of some of the photos.
Bob Crane and the Treasury Notes provided entertainment, along with a wonderful group of bagpipers.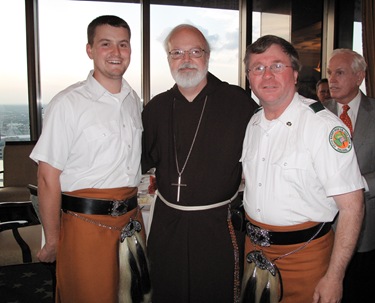 We even had a guest appearance by Boston's own Irish Tenor: Billy Bulger.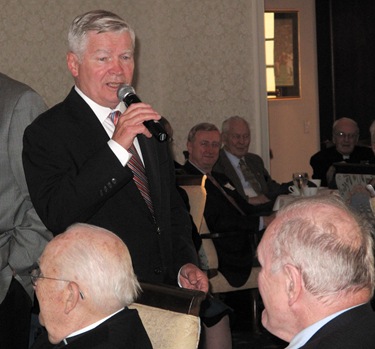 The Treasury Notes gave me a gift of a washboard (the type they play with thimbles). Well, we had a visiting bishop from Uganda with us, Bishop Paul Ssemwogere, and he didn't seem to know what to make of this gift!
As we were leaving the party, we were able to greet Father Tom Regan who was dining with the new Jesuit provincial, Father Miles Sheehan, in another part of the club. It is always good to see them.
– – –
On Friday, there was a Mass at St. John's Seminary and a dinner to charter a new Serra Club for Boston.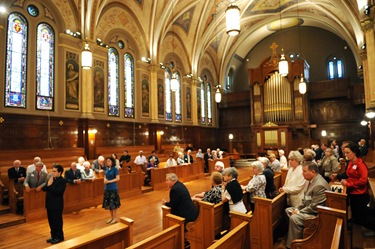 For those who may not be familiar with the organization, its purpose is a very simple but important one: to support priests and promote vocations to the priesthood.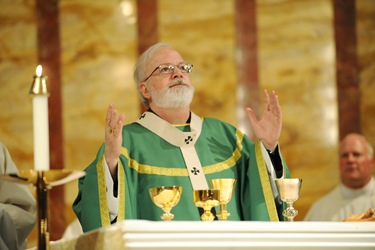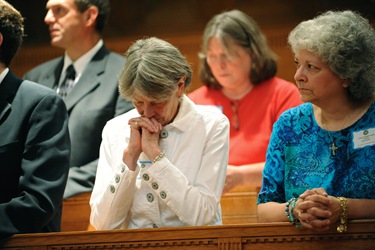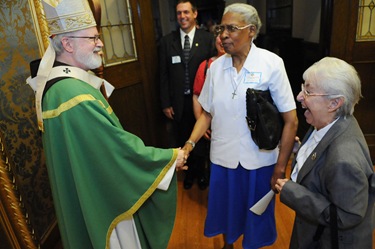 We are hoping that promotion of priestly vocations and vocation recruitment will be a very important part of the Year for Priests.
Serra Club takes its name from Blessed Junipero Serra, a Franciscan priest who founded a number of California missions in the 18th century.
I have always had a special spot in my heart for them. My dad joined Serra in 1960 and was a very active member his whole life.
The first president of the Boston club is Loretta Gallagher, who worked very closely with our Director of Vocations, Father Dan Hennessey on establishing the new chapter.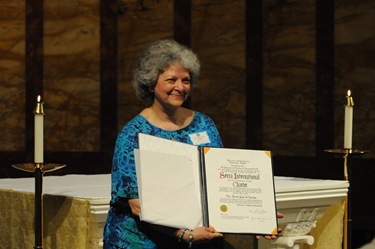 Loretta Gallagher
The officers of the Serra Club for the United States and even the president of Serra International, Cesare Gambardella from Italy, were there to attend the ceremony.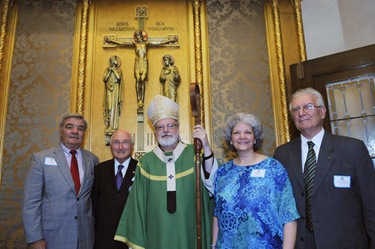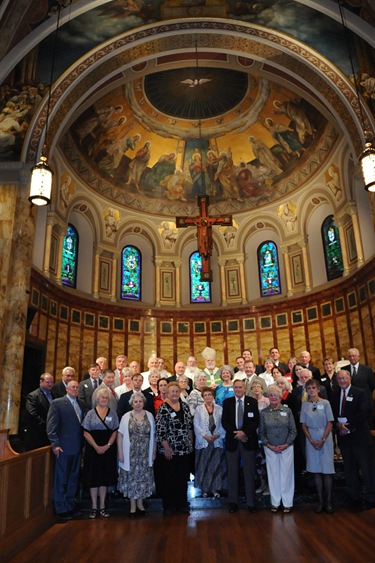 I was very pleased to see Father Arthur Kennedy, the rector of St. John's Seminary, and Father Peter Uglietto, rector of Blessed John XXIII Seminary,­ were there.
At the dinner the Serrans gave me the gift of some very special photos.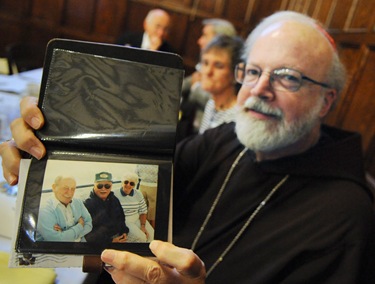 They had written to the Serra Club that my father belonged to, looking for photos of him back then. I wish I could post more of them here, but they are packed away because I am going to show them to my family when I see them this coming week.
There was also a little entertainment. They sang a song to the tune of "Take me Out to the Ball Game," in which they poked a little fun at Father Hennessey.
Here are the words to the song:
We are glad we joined Serra,
We agree it's the best!
Father Dan Hennessey: he is great
Though, at times, for Mass he is late!
So we'll pray, pray, pray for vocations
With the Cardinal leading the way
For it's priests, nuns, brothers we need
In the world today!!
I joked with them afterwards saying, "See Dan, that's what happens when you show up late for Mass once and they write a song about you."
They all protested that it's been more than once!
– – –
The next day we had the Mass for those religious brothers celebrating their jubilees.
One, Brother Bede Benn, a Xaverian Brother, was celebrating his 70th anniversary. He is still very active in his ministry and he even proclaimed one of the readings at the Mass.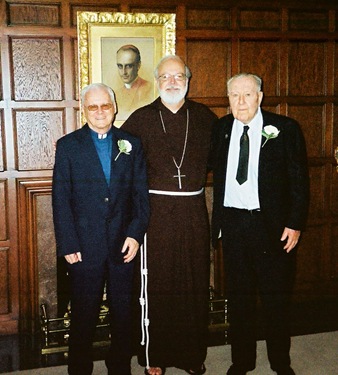 With Brothers Bede and Leonard
The other brother, Brother Leonard Haley, was "only" celebrating his 50th. I told him he has just 20 years to catch up with Brother Bede!
I was interested to learn that both of them happen to be originally from the same parish – St. Catherine's in Somerville.
They have had long, beautiful ministries serving the Church in a variety of ways. May the Lord continue to bless them!
– – –
On Saturday night, Craig and Nancy Gibson hosted a birthday party for me at their home. As some of you may know, I turned 65 on Monday. (I don't get to retire, though!)
They gave me a gift of this beautiful Madonna which comes from Lourdes.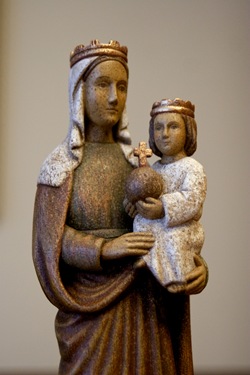 On our recent trip there with the Order of Malta, they saw me admiring the statue in one of the shops. Apparently, when I wasn't looking, they doubled back and bought it for me. It was wonderfully thoughtful of them.
– – –
On Sunday morning, I attended the annual St. Peter's Fiesta in Gloucester.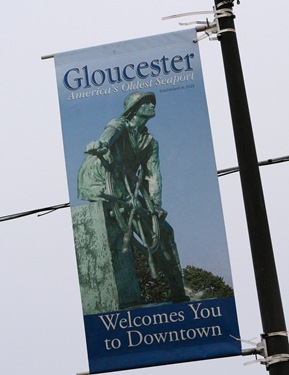 There was a big outdoor Mass at St. Peter's Square followed by a procession.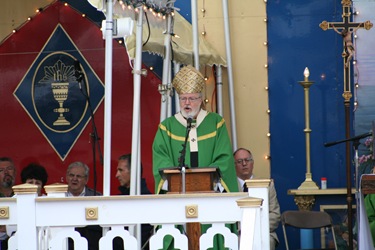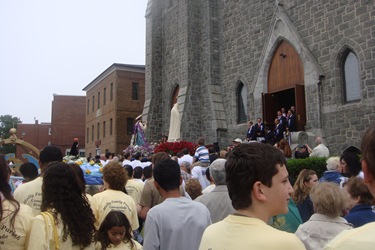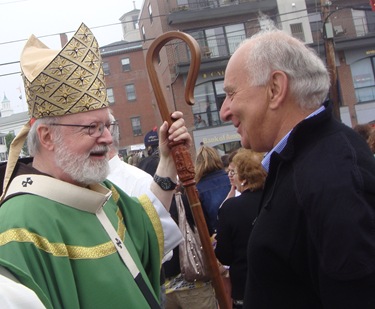 Greeting Frank Previte after the Mass
Fathers Timothy Harrison and Ronald Gariboldi, co-pastors at Holy Family Parish, were there, along with Father Dan Hennessey, whose family is from Gloucester.
It was such a wonderful multi-ethnic celebration. During the procession, there were a great many floats and different statues from the Portuguese, Italian and Brazilian communities such as Our Lady of Fatima, Our Lady of Annunciata, and Our Lady of Aprecida. At the church, I addressed the people in Italian and Portuguese at the end of the procession.
The weather was overcast, but we got through the Mass and procession without any rain. We offered the Mass for Matteo Russo and John Orlando, two fishermen who were lost at sea on the fishing vessel Patriot this past January. They are related and both their families were there.
Dan Guerra, who heads our MIS department here at the archdiocese, is also from Gloucester. Coming back from the Mass we visited his family's restaurant, Ristorante La Trattoria and Pizzeria of the West End, and blessed it for them.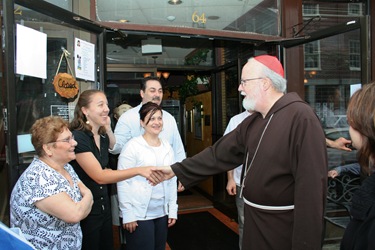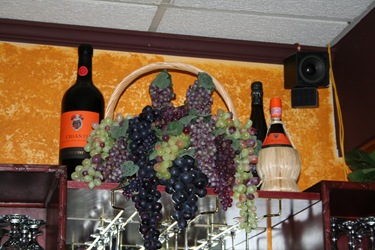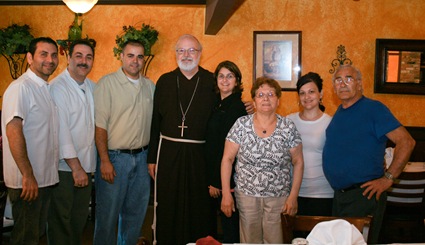 That's Dan and Graziella Guerra standing next to me along with members of the Cusenza family, who own the restaurant
I was happy to see that it is an authentic Italian restaurant — it has a statue of Padre Pio in it!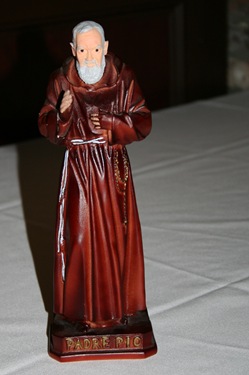 Then I asked Dan to take a picture of this big cappuccino sign. I joked with him that I always tell people that the Jesuits have 36 craters on the moon named after them and my order only has a cup of coffee!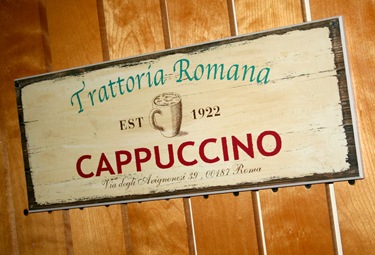 – – –
In the afternoon, I went to the Northeast Catholic Family Conference at St. Mary's in Waltham. It was a great success thanks to the hard work of Father Mike Harrington who is one of the principal organizers.
During the day, they had talks, adoration and activities for all the different members of the family.
I went there to say the closing Mass. Afterwards, there was a barbeque where I was given another birthday cake and the Spanish community sang "Las Mañanitas" to me — even though it was more like "Las Nochesitas" because it was rather late!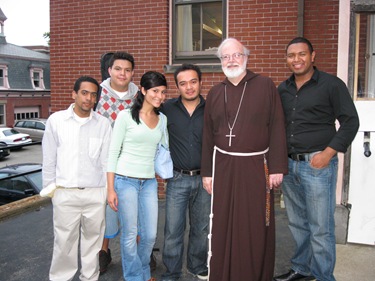 Members of the Spanish Community who sang for me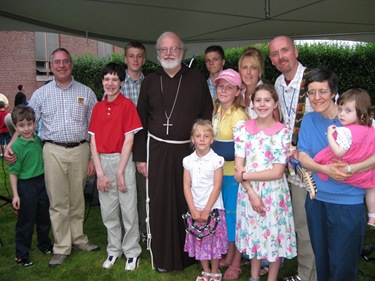 These two families make up the band, "Next Level" which played at the conference.  They also treated me to a rousing "Happy Birthday" in English
– – –
I've spent much of the rest of the week with my family getting a little rest. I will be praying for everybody and I hope that everyone has great picnics, nice weather and that summer will come before the Fourth of July!
– Cardinal Seán