Hello and welcome,
This week, the American Cardinals dinner, the annual fundraiser for the Catholic University of America was held in St. Louis. The dinner this year was a great success, raising over $1 million for scholarships to CUA.
As always, the evening begins with a Mass, and this year it was celebrated by Archbishop Robert Carlson in the very beautiful Cathedral Basilica of St. Louis. I would certainly say it is one of the most beautiful cathedrals in United States.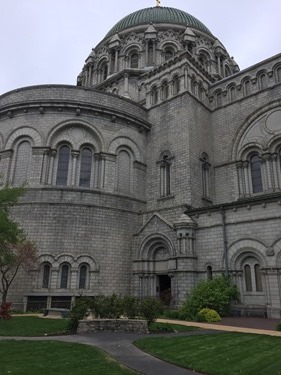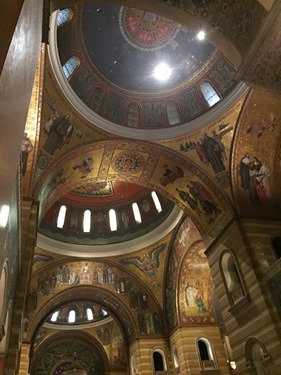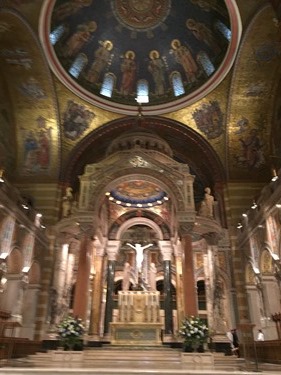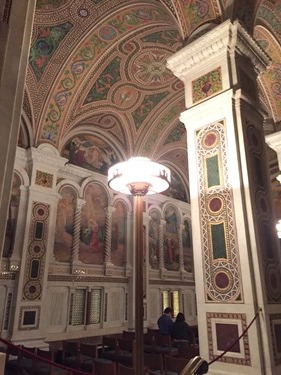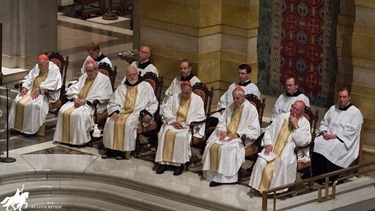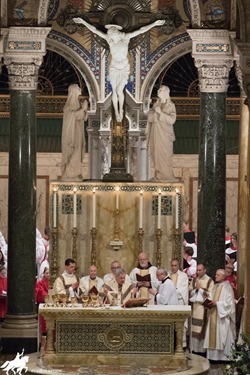 In his homily, Archbishop Carlson recalled Cardinal Francis George who, of course, had planned on being there but, sadly, passed away recently.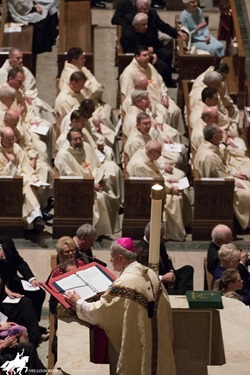 There was a large contingent of priests and people present, including several of the trustees of the University, as well as a number of students.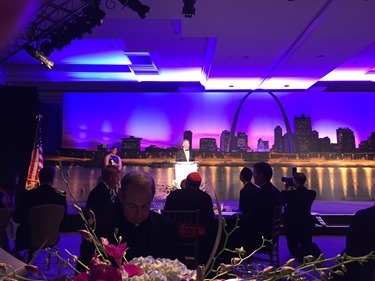 Following the Mass is the dinner program. The ballroom was impressively decorated with a number of the emblematic symbols of St. Louis.
– – –
From there I went to Washington D.C. to join in the celebration of the 175th anniversary of St. Matthew's Cathedral. I had worked there for 20 years, so they invited me to give a talk on the Cathedral.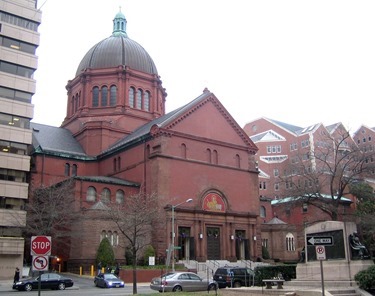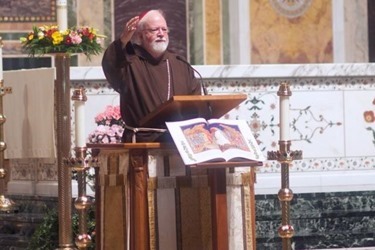 I shared many of my personal experiences of working there, and reflected on the idea of the cathedral as the New Jerusalem, a field hospital and the home of the Good Shepherd.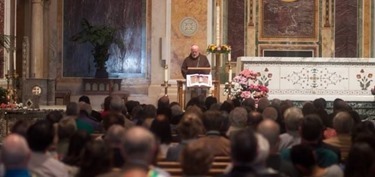 There were about 800 people there for the celebration. It was an opportunity to see a great number of former parishioners, and many people I had baptized or married.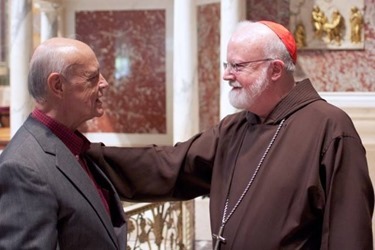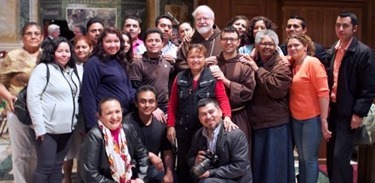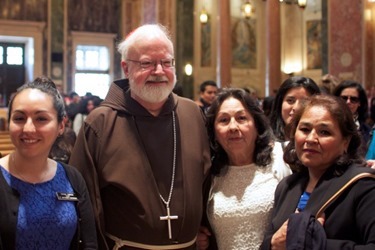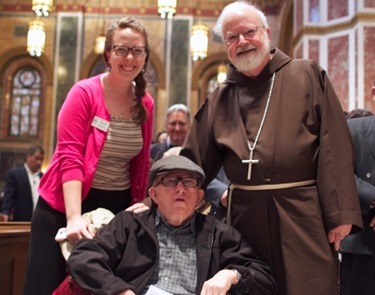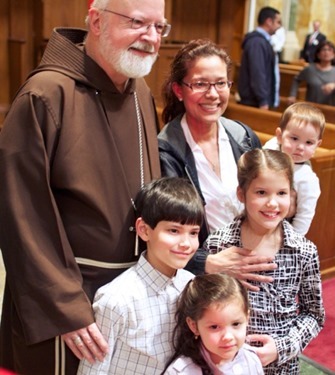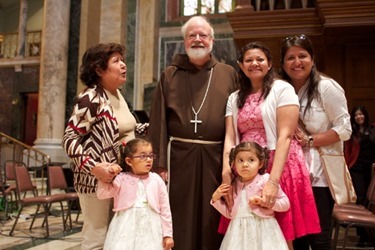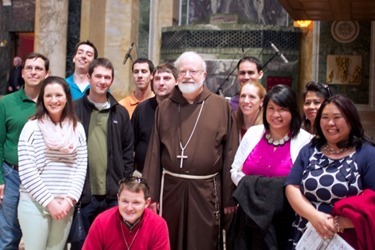 – – –
Tuesday we had a Mass to thank Father Kevin Sepe for his fine service as Episcopal Vicar and Secretary for Parish Life and Leadership. Father Kevin is leaving his post at the Pastoral Center to become a pastor in Wellesley.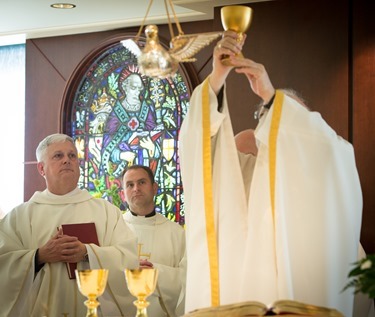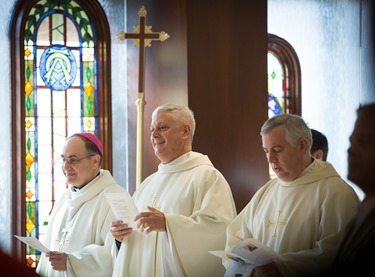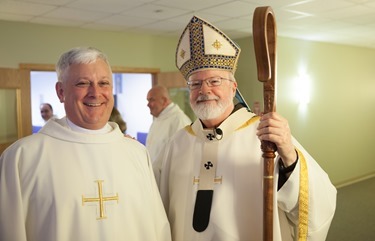 After the Mass, we had a light reception upstairs, with a very impressive cake!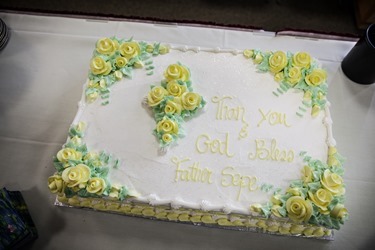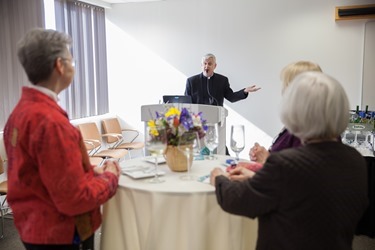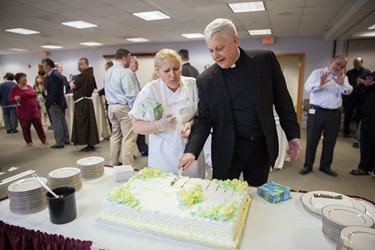 We are also grateful to Father Bryan Parrish, who will be stepping to Father Sepe's shoes.
– – –
Tuesday evening, we had one of our regular St. Andrew's Dinners for young men considering a vocation to the priesthood at St. Margaret's Parish in Burlington.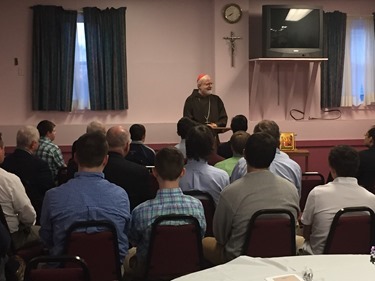 It's always an opportunity for us to spotlight our seminarians, and several of them spoke and gave witness talks. Afterward, the young men had an opportunity for questions and answers.
I have always found that these dinners are a very good way of introducing the theme of vocations and vocational discernment to young men throughout the diocese.
– – –
Wednesday morning, we had our regular meeting of the bishops of the Boston Province here at the Pastoral Center. We meet twice a year as a province.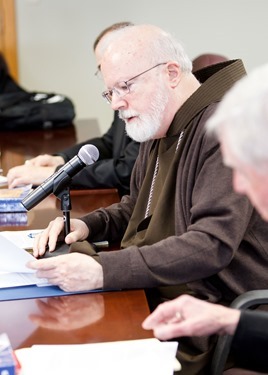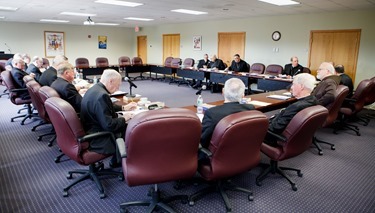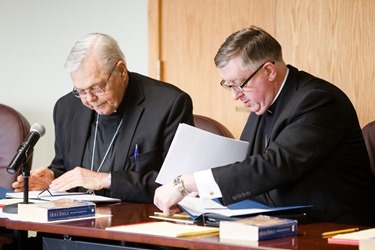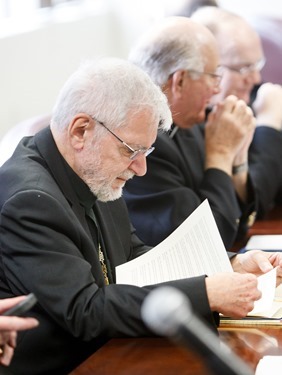 We were happy that so many of the bishops were able to be with us, including a number of retired bishops, such as Bishop McNaughton, who is a retired Maryknoll bishop who lives in the area. This was also the first time that Bishop Chris Coyne, the new Bishop of Burlington Vermont, was with us.
– – –
That afternoon, we had our gathering of the recently ordained priests. We gathered for a Holy Hour in our Bethany Chapel and, afterwards, we had a discussion on pastoral themes, including the upcoming Year of Mercy.
We concluded our gathering with a dinner together.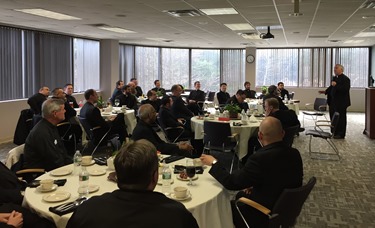 From that dinner, I went to another dinner with some of our pre-theology seminarians at the Cathedral.
When I meet with the priests, we have something of an outline of themes to discuss, but with the seminarians, it's much more of a free-flowing discussion.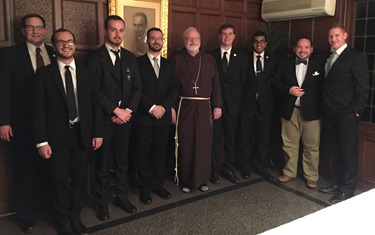 I found them to be very enthused and looking forward winding down the academic year and beginning their summer assignments.
– – –
Thursday, I met with a group of students from Boston College whom I had briefly met back in September and had asked me if I would meet with them.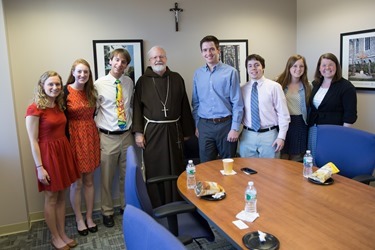 We had a very nice dialogue. They all seem very interested in their faith in the life of the Church and we spoke about the themes of vocation and evangelization. Afterward, they had a small tour of the Pastoral Center.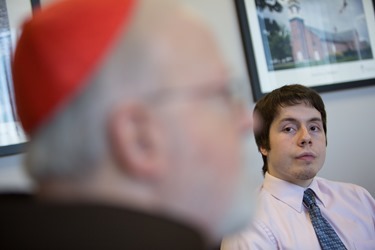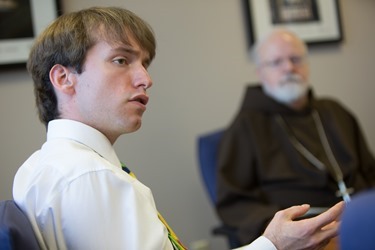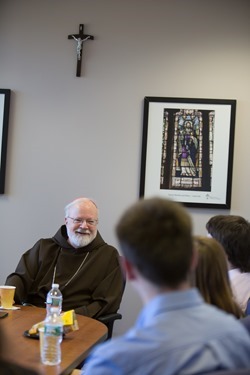 – – –
Then, in the afternoon, we had a meeting of the Board of Directors of Pope St. John XXIII National Seminary in Weston. Among the issues we discussed was the planning of the ground breaking for their new library building.
– –
Yesterday evening, I attended the dinner at Boston College celebrating the naming of the college's School of Arts and Sciences after Robert Morrissey.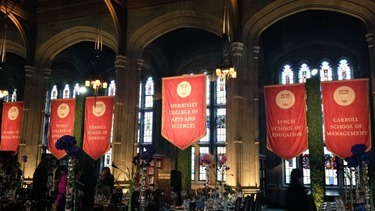 The dinner was held in the beautiful library building.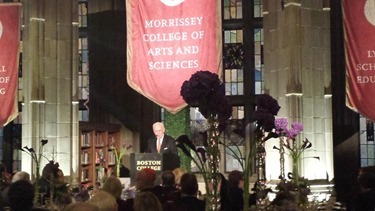 Bob is a very generous and committed Catholic who has been very involved with the archdiocese, particularly with our finance committee. He and his five children are graduates of Boston College and he was a member of the Board of Trustees of Boston College for more than 30 years.
– – –
Earlier today, we celebrated the Funeral for Father Mike McClellan, who died unexpectedly at his parish in Canton on Good Shepherd Sunday. It was certainly quite a shock to all of us.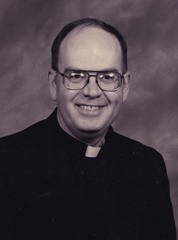 His brother, who is a Franciscan preached the Mass and many of his classmates joined us as well. It was a sad loss, but we commend his soul to God's mercy and pray for his parishioners, many of whom are still in shock. A sudden death like this leaves people completely unprepared. He was a relatively young man, so that made it all the more traumatic.
– – –
Finally, this past week I received a wonderful surprise. Students from a number of our Catholic schools sent me cards, letters and other art for Good Shepherd Sunday.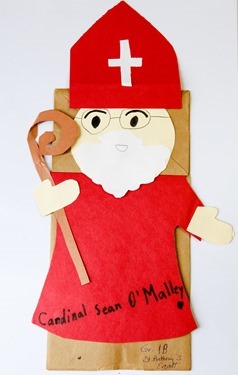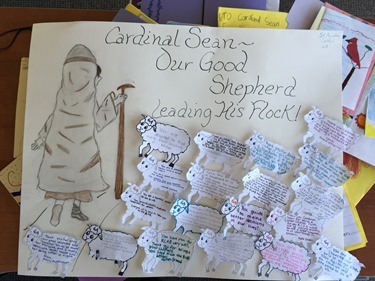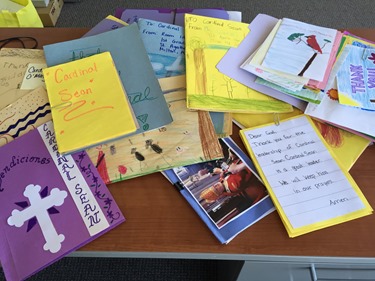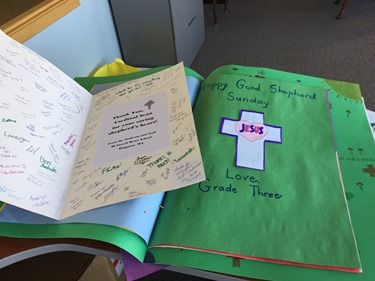 I'd like to thank the following schools for their gifts:
Austin Preparatory High School
Bishop Fenwick High School
Immaculate Conception School, Newburyport
Lowell Catholic High School
Malden Catholic
Mount Alvernia Academy
Notre Dame Academy, Hingham
Sacred Heart School, Kingston
St. Agatha School, Milton
St. Anthony School, Everett
St. Catherine of Genoa School, Somerville
St. Jerome School, Weymouth
St. John Paul II Catholic Academy, Neponset
St. John the Baptist School, Peabody
St. John the Evangelist School, Beverly
St. Joseph Prep, Brighton
St. Joseph School, Haverhill
St. Mary of the Hills School, Milton
St. Michael School, North Andover
Trinity Catholic Academy
Until next week,
Cardinal Seán