Hello and welcome!
On Sunday, I went to St. Mary's in Danvers to celebrate the rededication of their altar and their newly renovated church, which is just stunning.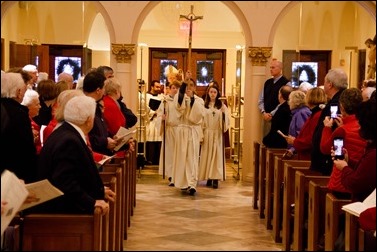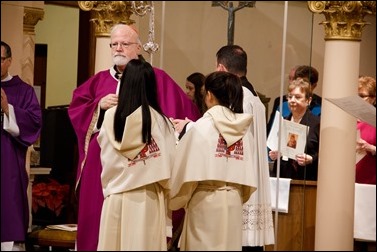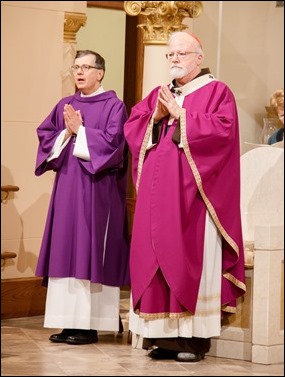 The pastor, Father Michael Doyle, and his team have done a wonderful job, and the people are rightfully very proud of their new church.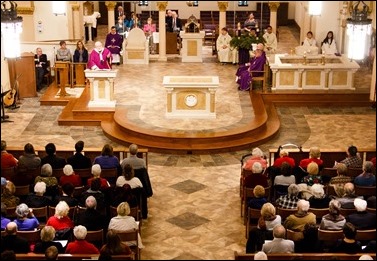 On the front of the altar, there is the depiction of a pelican feeding her young, which since the Middle Ages has been a Eucharistic symbol.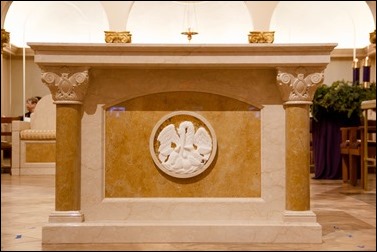 This is because people used to think that the pelican would wound herself and feed her own flesh and blood to its young. Of course, what happened was that the pelican would swallow fish and partly digest them so the young would be able to eat it, but the symbolism, of course, is Christ feeding us his body and blood.
In addition to the altar, they have a wonderful new tabernacle with a lapis lazuli dome that opens on both the front and the back – with the front facing the sanctuary and the back facing a Blessed Sacrament chapel behind the altar area.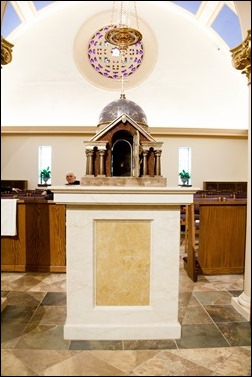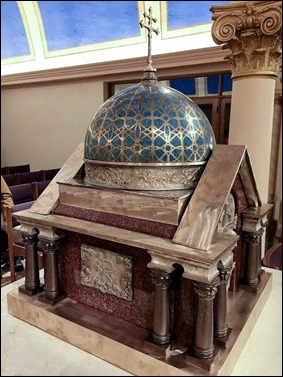 The tabernacle was created by Pablo Eduardo, a Bolivian sculptor who lives in Gloucester and has a studio there. He is a very talented young artist who has done a lot of religious artwork. I've known him for many years because his father used to work with me at the Centro Catolico, he was the editor of our newspaper, El Pregonero. So, I am very pleased to see that Pablo is so involved in creating religious art. He has numerous pieces of art in the Boston area, including statues of St. Ignatius and St. Thomas Moore at Boston College and the crucifix and baptismal font for St. Bonaventure Church in Plymouth.
The rite is very powerful, filled with stunning prayers describing the theological meaning of the altar for the Church.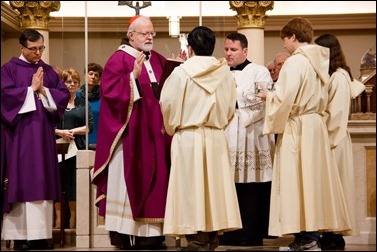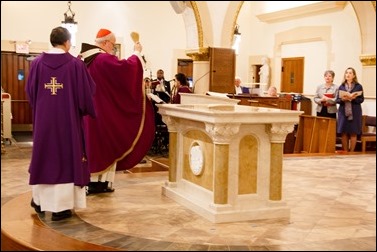 During the rite, we blessed the people, the altar and the door with holy water. After that, we placed the relics of several saints into the altar and consecrated it with Holy Chrism.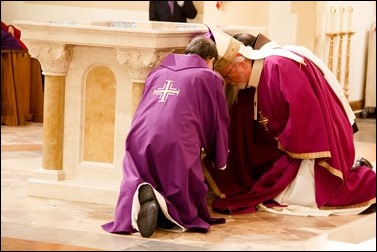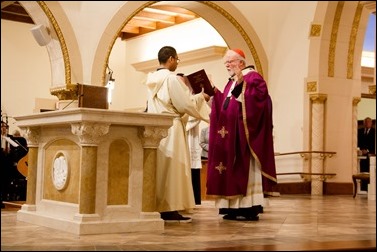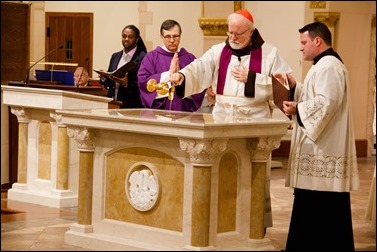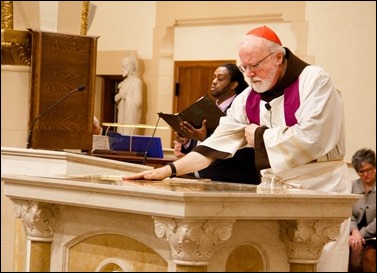 Then, a container of burning incense is placed on the altar. I incensed the altar, and the deacon incensed the people.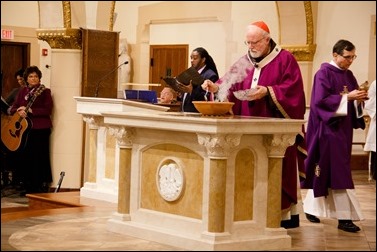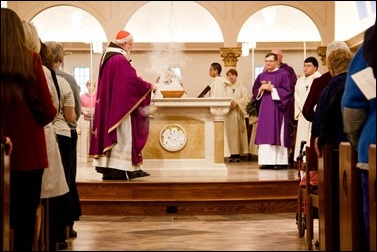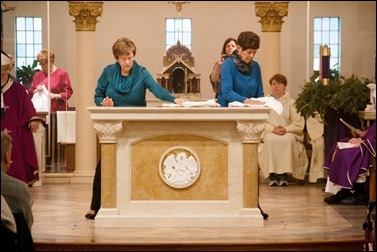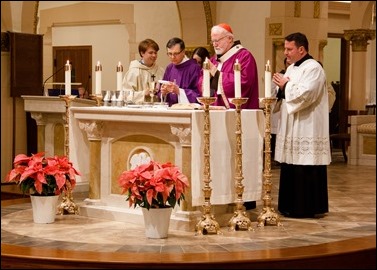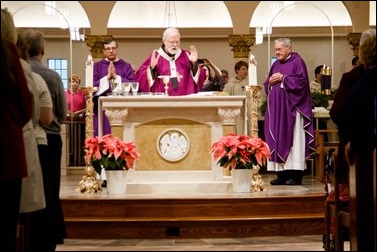 As the Holy Father has said, we need to teach people about God through the "Via Pulchritudinis", the Way of Beauty. The Church has always been a promoter of the arts, beautiful music, architecture and sacred sculpture as a way of helping people to glimpse the beauty of God. The newly refurbished St. Mary's Church is truly a beautiful sacred space that the parishioners are rightfully very proud of.
– – –
On Monday, I was very happy to celebrate a Mass at our Pastoral Center to mark the 50th anniversary of the priestly ordination of Bishop Arthur Kennedy. We are very happy we had the opportunity to share in the festivities with his family and friends.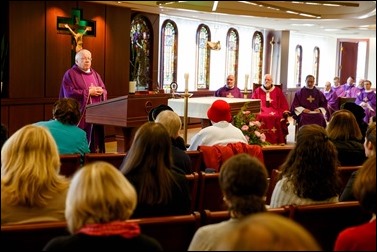 In his homily, Bishop Kennedy gave a beautiful reflection on the meaning of the priesthood.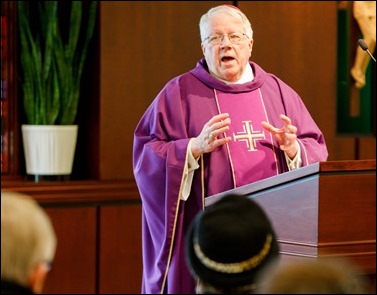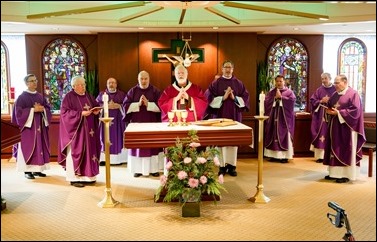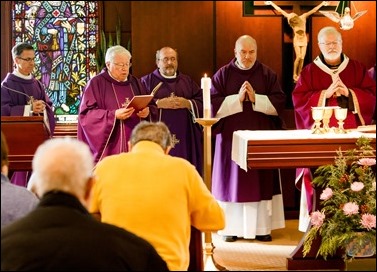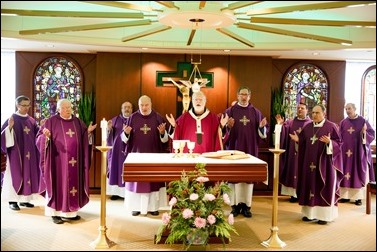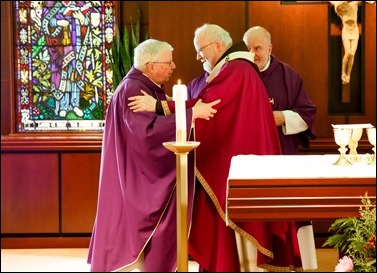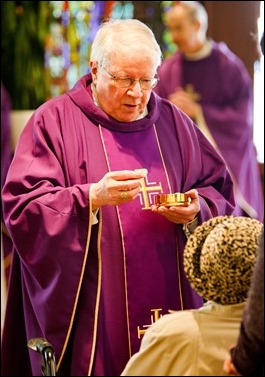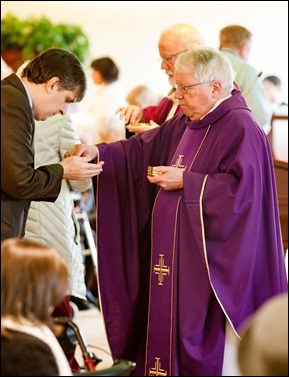 There was a very nice turnout of priests and people who joined us to celebrate this important milestone with Bishop Kennedy. He had also celebrated a Mass the day before at St. John's Seminary, but we had invited him to also celebrate with us at the Pastoral Center.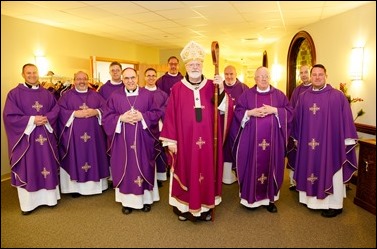 We congratulate Bishop Kennedy and are very grateful for his many years of ministry and faithful service to the Church.
– – –
Around Christmastime, I always like to visit the different prisons and shelters around the archdiocese. So, on Tuesday, I went to MCI Framingham, the state's women's prison, where Sister Maureen Clark has been the very faithful chaplain for many years, doing such extraordinary work.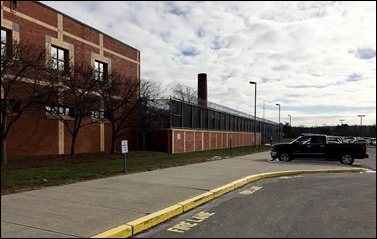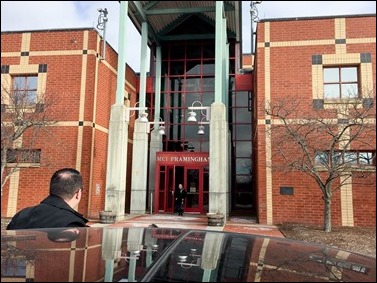 I was very pleased to see that the chapel had been refurbished since I last saw it. There are beautiful stained-glass windows depicting St. Francis' Canticle of Brother Son, the ceiling and walls have been repainted and they have re-gilded areas around the altar. It looks very beautiful.
There were about 200 inmates with us for the Mass at the main facility. During the Mass, I had an opportunity to give a special blessing to a young woman who has been prepared for her First Communion and Confirmation.
We were also joined by a group of volunteers, including the organist and singer from St. John's Parish in Wellesley, who came to assist us with the music.
After visiting with some of the women in the main facility, we went to the pre-release facility, which is nearby. These are women who are approaching release and, in fact, some of them are already on work release programs.
There, we had a Scripture service and dialogue with the women.
One of the issues that the bishops of Massachusetts are very concerned about is the reform of our judicial system. We know that this was discussed during the presidential campaign and we see that President Obama has given a very large number of commutations and pardons to people with excessively long sentences.
The prisons are terribly overcrowded. Drug courts, for those who are involved in nonviolent crimes related to drugs, would help to drastically reduce the number of people who are incarcerated.
Very often, offenders are given suspended sentences, sent to treatment, and asked to take part in weekly drug testing to make sure that they are working to overcome their addictions. This allows people to maintain their housing and their job. Whereas, if those people are incarcerated, the transition back to society is so much more difficult, after separation from their families and having lost their housing and job.
So, drug courts represent an important step forward in keeping people out of prison and helping them to overcome their addictions. The funds that we expend as a society to house people in prisons are in the millions of dollars and, at the end of the line, the recidivism rate is great. Clearly, this has not been an effective way of rehabilitating people and reintegrating them into society. We must keep searching for a better way.
I urge you all to read the letter sent by the bishops of Massachusetts to the committee considering criminal justice reform here in the Commonwealth. It addresses some of the concerns we bishops have as we address these issues going forward.
– – –
Thursday, I went to visit Bishop Elliott Thomas who is currently at the Jean Jugan Residence run by the Little Sisters of the Poor in Somerville.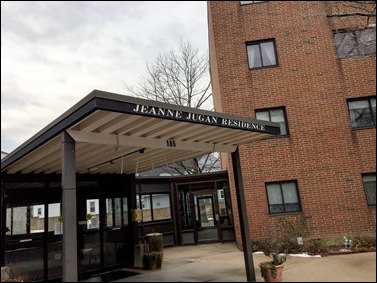 I ordained Bishop Elliott to the priesthood and the episcopate and he later succeeded me as Bishop in the Virgin Islands.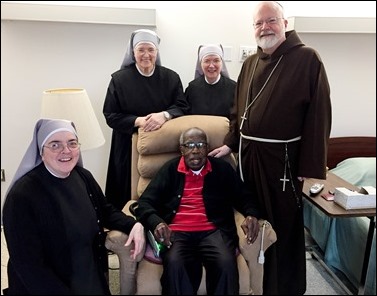 It was very nice to be able to visit with Bishop Elliott and the Sisters.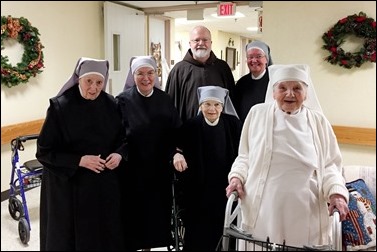 – – –
Also Thursday, we had our annual Christmas party for the staff of the Cathedral. I was very happy to join them and thank them for all their service and hard work.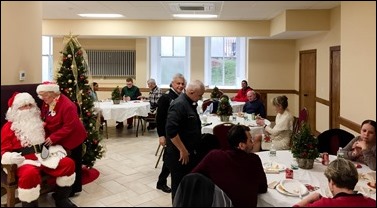 I made sure to pose for this photo, just to prove to all the children out there that I am, in fact, not Santa Claus!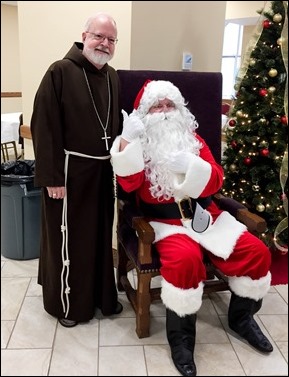 – – –
And finally, as we prepare to celebrate this very joyous time of the year, I would like to share my Christmas message with you: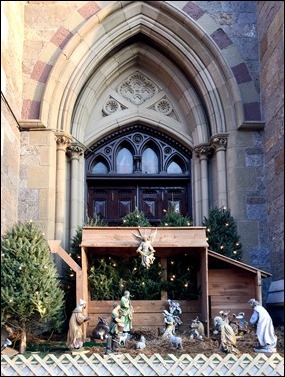 Christmas is such a special time for families and loved ones to come together to share their gift of love and faith in the Christ child.
At this time of year, we are called upon to be more mindful of those in our midst who are poor, those who are lonely and forgotten.
It is through the generous sacrifice of so many people that our community reaches out and helps people to realize that God is with us, He does love us, and we are called to share our food, our shelter, our companionship with those in need.
Each day we witness so many accounts of the struggle for freedom and life, so many refugees especially in Syria at this time. Together we pray and work that peace will come into this world at Christmastime. That the Prince of Peace and his call for universal brotherhood will touch the hearts of people to work together for a world where there is greater solidarity, where there is reconciliation, where people care for one another.
Pope Francis recently celebrated his 80th birthday. He began the day by gathering for a meal and fellowship with homeless men and women. The Holy Father is such a gift to the whole Church and the world. We pray that his example will continue to touch people's lives. We pray that the Lord will give him good health so that he will be able to continue to lead our Church.
We have all received the greatest gift imaginable, that Jesus Christ coming into our world is our savior.
Be assured of my prayers for a blessed Christmas for you and all of your loved ones.
Cardinal Seán