Hello and welcome!
As I mentioned in my post of last week, each year at the beginning of July I like to invite one or two of our newly ordained priests to share their experiences with you.
This week, I like to share with you the reflection of Father Andrea Filippucci who is now serving his first assignment at St Patrick's in Lawrence.
– Cardinal Seán
– – –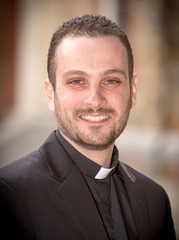 Allow me to introduce myself: My name is Andrea Filippucci and I was born in Rome, Italy, on June 1st 1986. I am the sixth of eleven children: six brothers and five sisters!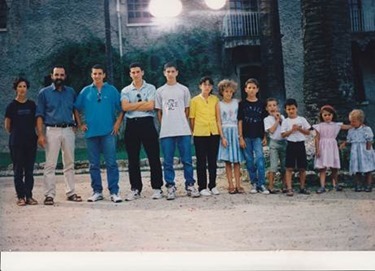 My parents, Piergiorgio and Lucia Stefania, were very faithful Catholics, and missionaries for the Catholic Church. Before I was even born, they had already been sent by Saint John Paul II to announce the Good News in Umbria, a central region of Italy.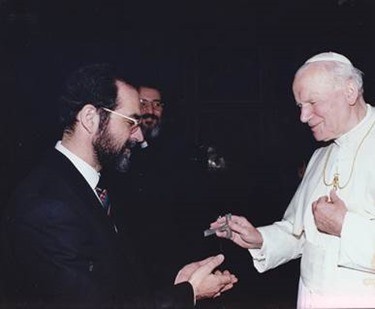 My father was a nuclear engineer who left his job, his career and his family, in order to follow Christ through this particular call for his family. This fact clearly influenced me in my life. From an early age, I saw how God truly provides, and how money and career gain their proper importance when we put the love of God first.
My childhood was fantastic. I loved having a big family, praying with them, going to Church together…having great Sunday meals! Sunday was always a special day! I was very close to my father, I would follow him wherever he went. Thinking about it, I don't know what the reason was! But I truly loved being with him.
All of this came to a sudden end when, on February 13, 1997, my father died suddenly as he was praying. He was 45 and my mother was pregnant with their eleventh child. He had always been a healthy person and had never had any health issues. That morning, he dropped us off at school and nobody would have ever imagined something like this. It was a true shock.
When I saw that a friend of the family had come to pick us up at school, I knew that something had happened. I came home and everybody was silent. My mother called us, one by one, in a room, and she told us the news. Then, she opened the bible. I have no recollection of what happened after that. I just remember telling God in my heart that I hated Him and that I would never forgive Him. I was only 10 years old, and my father was gone forever.
As my anger built up inside, I began to look for a release valve, but I know that I was inexorably on a downward spiral. By the time I was 15 or 16, I was in open rebellion against God and my family. I could not accept that they still believed in a God whom I thought was either powerless or cruel. My two older brothers tried to "save the ship" and they tried to help me best as they could. Needless to say, there were many fights in the family. I was not alone after all; one of my brothers felt like me, even though he had never said that, and we formed a sort of alliance in order to "bring down the government"!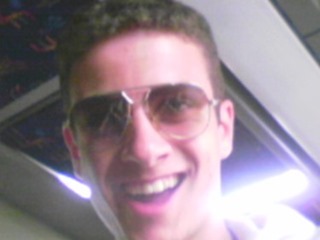 At that time, I decided I had left the Church for good and I started hanging out with my friends more and more. I would go out almost every day or every night to be with my friends or my girlfriend. To show my independence, I even pierced my ear three times!
Clearly, my mother wasn't happy but at this point I had convinced myself that I didn't care. Nonetheless, I was like a man desperately looking for a well to draw water, except that the more I drank, the thirstier I became. It's as if the waters had been poisoned: I looked for happiness, but I could not find it.
In 2004, when I was 18, everything changed. That must have been the worst year of my life. I was literarily going crazy, searching for something real in this life. I had excluded God a priori, but nothing was ever enough. I always needed more: more money, more friends, more girls, more everything. I was never satisfied. I guess that's what moved me toward a change, my inconsolable and deep dissatisfaction and, at the darkest hour of my adult life, the light of Christ began to appear in the horizon.
That summer, after a series of reckless events, my mother gave me an ultimatum: I either accepted to spend the summer working at a Catholic center in Israel or I was on my own. That's when I decided to take up her offer and ended up going to the Domus Galilaeae.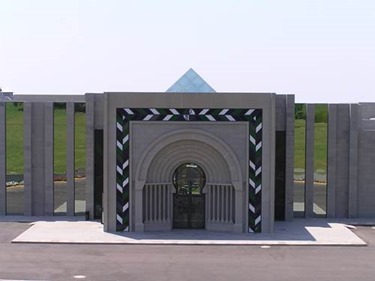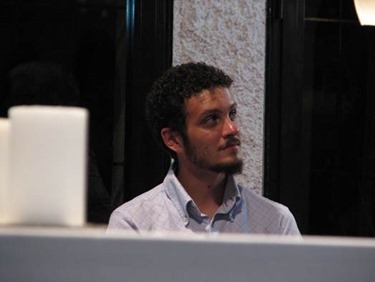 However, I went with an agenda of my own. First, I felt that I could use a break from my life, and second, I went to prove to all these people that God truly does not exist. As it turned out, the opposite is what really happened.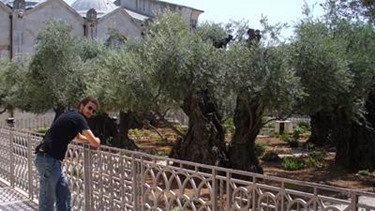 My time in Israel was fantastic. I don't really know how it happened but, little by little, I began to listen to the Word of God and to the words of the priest in charge, Father Rino Rossi. He gained my trust and I began talking to him.
Among the many things we discussed, I remember only two: First, God loved me as I was. I didn't need to be perfect, He made me, He loved me. Second, God is behind every event of our life. He is God after all. And this point really caught my interest because, even if I would never admit it, I was still scandalized by my father's death. Yet, these two things really resonated within me and, little by little, I began to be more open to the idea that maybe God really loved me.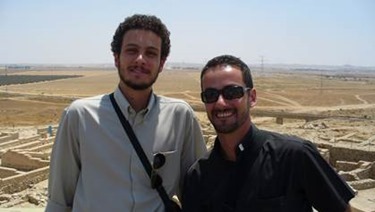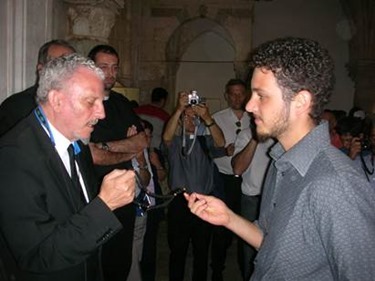 After that summer my life changed. I went back to Italy and began to seriously think about my life and my vocation. Even though I had abandoned the Church, I found out that she was there, waiting for me to come back in the form of my Neocatechumenal Way community. It is exactly through this tool of rediscovery of baptism that God won me back. I began to attend church and participate in the Neocatechumenal Way faithfully and little by little God began to heal my many wounds. To make a long story short, after a time of discernment and another year in Israel, I realized that God was the only one who could make me happy. As I said, I had looked for happiness everywhere, without finding it. Now happiness was coming to me and I knew where to find it! That's why for my diaconate card, I chose the verse from the Song of Songs: "I have searched for the love of my life, I searched but I did not find it. I have found the love of my life, I have embraced him and I'll not let him go" (4, 8ff).
As I further explored my vocation, I found myself entering the Redemptoris Mater Seminary of Rome, which was the first of many such international seminaries inspired by Saint Pope John Paul II to prepare clergy to be sent anywhere in the world there was a need. Here I spent a year discerning my vocation and, the following year in 2007, I was sent by lottery to the Redemptoris Mater Seminary of Boston in 2007. I can say today, that I really won that lottery!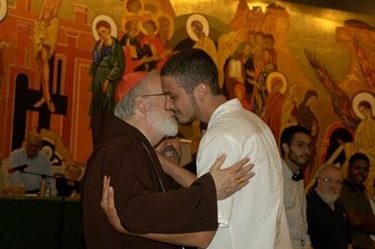 In Boston I had a wonderful formation and I am eternally grateful to my formators and to Cardinal Sean, for his support and inspiration.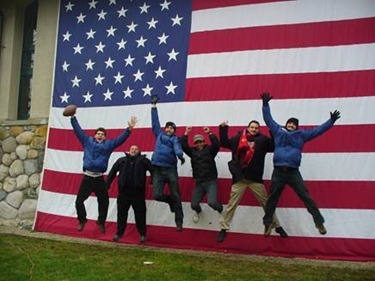 As part of my formation, I spent three years in mission, living and working in Colorado, North and South Carolina, Georgia, Utah, Nevada, Arizona, and New Mexico. This time of mission was pivotal in my vocation. I was able to touch with my own hands the need for priests and for God in people's lives.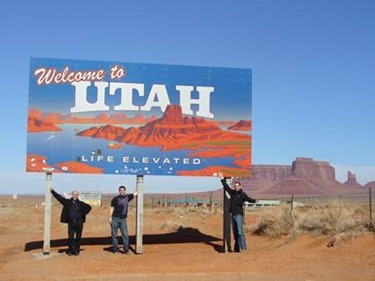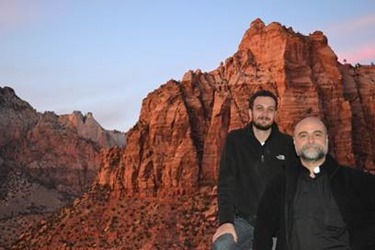 The 40-plus people that came from Italy, together with the 20 people that came from Utah for my ordination to the Priesthood on May 23rd, came to witness what God had done with me and remind me of where the I Lord had rescued me from. I was very happy and am extremely grateful for a new life, a second chance in life better than I could have ever imagined.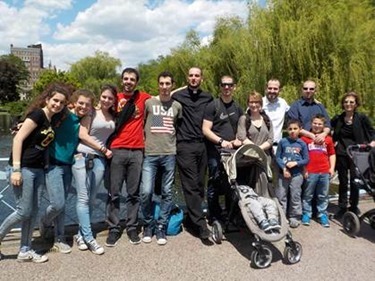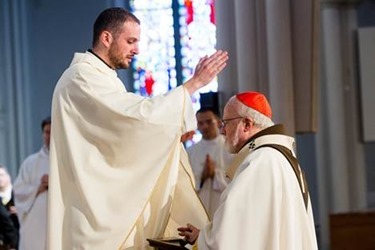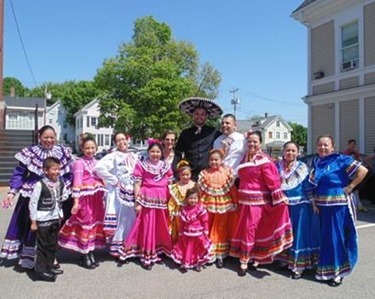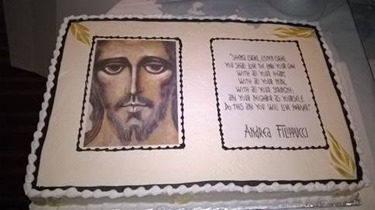 As for my first assignment, I was assigned by the Cardinal as Parochial Vicar at St. Patrick Parish in Lawrence, a great parish with many challenges and lots of work. In the short time that I have spent here, I have already seen the action and the power of the Holy Spirit and I am sure that God sent me here to learn how not to live for myself.
I pray that God will keep me always faithful to what I have received and that He may give me the strength and the wisdom to be a faithful shepherd, "a shepherd after his own heart" (Jer 3: 15). Please remember me in your prayers, especially you, the faithful readers of Cardinal Sean's blog. Please keep me and the other four men ordained with me in your prayers.
May the class of 2015 give glory to God and be forever remembered for its love of God and of His people.
God bless you.